Game improvement drivers are built to maximize distance and boost the accuracy of amateurs off the tee. This post reveals the 10 best game improvement drivers for 2023, which offer exceptional forgiveness, rapid ball speed, low spin, and an enhanced launch.
After reading this post, you will know the overall best game improvement driver and the top picks for budget, accuracy, and distance. In addition, I reveal the top-rated game improvement drivers for seniors and ladies.
Here is what you can expect from our best game improvement drivers review 2023:
The 10 best game improvement drivers for 2023 with pros, cons, and specs
What to consider when purchasing the best game improvement driver
Which is the best game improvement driver for me?
Best game improvement driver for seniors and ladies
Top 3 Best Rated Drivers 2023
Best Overall
Best Budget
Best Super Game Improvement
Callaway Paradym X
PXG 0211
TaylorMade Stealth 2 HD
Pros

Encourages straighter flight
Generates a higher launch
Produces impressive ball speed

Affordable
Launches high
Improved feel

Slice fighting profile
Lowers spin
Adjustable hosel

Cons

Priced at a premium
Not the lowest-spinning driver I have hit

Not the longest driver
The spin could be lower

Expensive driver
Limited alternative stock shaft options

Price Score
90.1
96.5
89.7
Forgiveness
93.2
88.1
92.4
Accuracy
94.6
90.2
93.5
Distance
90.1
87.8
88.1
Rating
4.5 Stars
4.5 Stars
4.5 Stars
Why You Should Trust Us
Our team spends thousands of hours trying out and researching golf equipment to help you take your game to the next level. Here's our product review process.
We can bring these reviews to you through the small commissions we earn if you buy through the links below.
How We Reviewed These Products
Golfspan only shares equipment and brands we trust.
I'm an experienced golfer of 28 years and thoroughly researched and evaluated the products shared below. Then an editor reviewed and fact-checked the list. Finally, we conduct regular content audits to update and revise our reviews to ensure you receive the latest information.
To select these drivers, we considered these criteria:
Cost
Launch
Speed
Spin
Feel
Distance
Accuracy
The Best Game Improvement Drivers for 2023
1. Callaway Paradym X  – Overall Best Game Improvement Driver 2023
Pros
Encourages straighter flight
Generates a higher launch
Produces impressive ball speed
Adjustable hosel
Restricts spin
Cons
Priced at a premium
Not the lowest-spinning driver I have hit
Specs
Lofts: 9°, 10.5°, 12°
Shafts: Ascent 40G, Hzrdus Silver 50 and 60G
The Callaway Paradym X tops our best-rated drivers 2023 edition thanks to its accuracy, moment of inertia (MOI), and high launch. In addition, it proved effective in accelerating ball zip and lowering spin revolutions.
Callaway engineers employed a Triaxial Carbon Crown and a forged carbon sole to reduce mass by 43% of a titanium chassis. The surplus mass is then applied low and back in the clubhead for an improved launch and consistent ball speed on mishits.
The Face Cup and forged titanium clubface aided my velocity, which boosted ball speed across an expansive area. Plus, it constrained spin, encouraging a powerful, high launch and optimal carry distance.
Next, the Speed and Stability Frame construction provided sensational support at impact, with horizontal and torsional stoutness. I appreciated the slice-fighting assistance the Paradym X provided, courtesy of its moderate offset. As a result, the punishment on slices was less severe than usual.
Rating: 4.5
2. PXG 0211 – Best Budget Game Improvement Driver
Pros
Affordable
Launches high
Improved feel
Adjustable hosel
Multiple stock shaft and loft options
Cons
Not the longest driver
The spin could be lower
Specs
Lofts: 9°, 10.5°, 12°
Shafts: Project X HZRDUS Black, Evenflow Riptide CD, EvenFlow Riptide CB, Cypher 40
The PXG 0211 shows that affordable technology fuelled game improvement drivers do exist. A titanium alloy clubface and body offer a durable construction. Plus, forgiveness, speed, and low spin are abundant for this driver.
The Ti412 titanium clubface is the star feature generating sublime velocity and promoting a higher, more powerful golf shot. The golf ball deflects rapidly off the clubface at impact leading to impressive carry distance.
PXG employed the popular Variable Face Design technique to create different levels of thickness across the clubface. High-impact areas are thinner to accelerate ball speed and lower spin, resulting in a consistent launch and driver length.
The surprises continued with the 0211, as it produced an excellent feel and acoustics for an affordable driver. Using a High Modal Frequency Design, PXG engineers shifted weight low and back in the clubhead, creating the ideal high-frequency vibrations.
Rating: 4.4
Pros
Slice fighting profile
Lowers spin
Adjustable hosel
Accelerates clubhead speed
Promotes greater accuracy
Cons
Expensive driver
Limited alternative stock shaft options
Specs
Lofts: 9°, 10.5°, 12°
Shafts: Fujikura Speeder NX Red
TaylorMade changed the course of golf driver innovation in 2022 with the release of the "Carbonwood" Stealth drivers. Their 2023 Stealth 2 High Draw or HD is our best super game improvement driver for its forgiveness, consistent launch, accuracy, and yardage.
Like the previous edition, it features a 60X Carbon Twist Face, but this time, 2 grams lighter and contains advanced Inverted Cone Technology (ICT). ICT effectively enhances the sweet spot, preventing ball pace drop-off and restricting spin.
Further preventing spin is the Nanotexture cover employed to contain revolutions for the optimal launch and carry distance. Next, TaylorMade added a Thru-Slot Speed Pocket, which increases clubface flexibility to control speed on low-face strikes.
The Stealth 2 HD gets its name from its draw bias profile, built to combat slices and produce straighter golf shots. Finally, I find its Asymmetric Inertia Generator is a blessing for slow swing speeds as its lighter, slippery design accelerates on the downswing for an enhanced energy transfer at contact.
Rating: 4.4
Pros
Low CG promotes an easy launch
High MOI
Delivers fast ball speed on mishits
Draw bias design
Adjustable hosel
Cons
Still expensive
The higher launch profile may cause higher swing speeds to balloon shots
Specs
Lofts: 9°, 10.5°, 12°
Shafts: Mitsubishi Tensei AV Blue, Mitsubishi Tensei AV White, Fujikura Ventus Blue
The Rogue ST Max is the predecessor to the 2023 Paradym range and still packs exceptional game improvement technology for an effortless launch. Besides its impressive launch, this big stick provides impeccable stability at impact, accelerated velocity, and minimal spin.
The enhanced lift off the tee is attributed to the 26-gram tungsten weight cartridge positioned low and deep in the clubhead. Besides pushing the CG low and deep, it bolstered MOI to stabilize the clubhead at impact. As a result, I experienced less speed drop-off while containing spin.
Next, I appreciated the support of the Jailbreak Speed Frame that maximized stability across the clubface to maintain speed on mishits. My distance search was improved by the A.I. designed clubface as it minimized spin on off-center strikes to promote a long, powerful launch.
The Rogue ST Max carries a Triaxial carbon crown and sole, as you find in the Paradym X. The lighter material enabled the engineers to save weight and reposition it low and deep for greater MOI and a higher launch. Lastly, the draw bias profile prompted a straighter flight to mitigate sliced shots.
Rating: 4.3
5. Ping G430 SFT – Straightest Game Improvement Driver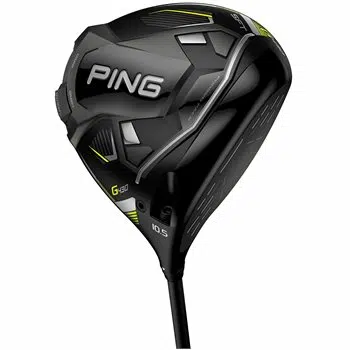 Pros
Promotes straight ball flight
Combats slices
Minimizes spin
Optimizes ball speed
Adjustable hosel and moveable CG weight
Cons
Expensive
The draw bias shape can exacerbate hooks
Specs
Lofts: 9°, 10.5°, 12°
Shafts: Ping Tour 2.0 Chrome 65, Ping Alta CB Black 55
The Ping G430 SFT or Straight Flight Technology is created for high handicappers to improve their fairways in regulations. Of all the top golf drivers 2023 edition, it helped me find the fairway more frequently than its peers.
Ping engineers employed a moveable 22-gram tungsten backweight, allowing you to shift the CG position for your ideal ball flight. In its standard form, it is crafted to produce a draw-bias shape to fight a slice. However, you can alter the position to Draw+ for extra curve and slice prevention.
Besides its accuracy, the Ping G430 SFT was up for the distance challenge, generating a superb combination of low spin and rapid speed. Ping's Spinsistency technology aided in reducing spin to optimize your yardage potential.
Next, an advanced rib structure and crown curvature enabled the manufacturer to amplify acoustics and achieve their trademark Ping sound. Lastly, an adjustable hosel can change your loft and lie angle.
Rating: 4.2
6. XXIO 12 – Best Game Improvement Driver For Women
Pros
Ultra-light feel
Encourages faster clubhead speed
Maximum Forgiveness
Elevates your launch
Optimizes energy transfer
Cons
Super expensive driver
No alternative stock shaft offerings
Specs
Lofts: 9°, 10.5°, 11.5°
Shafts: XXIO 12 MP-1200
The XXIO 12 driver encompasses the essence of a game-improvement golf club, with exceptional innovation packed into one crown. It claims the title for the best game improvement driver for women thanks to its optimal clubhead speed, forgiveness, and ball velocity,
XXIO engineers constructed 12 drivers for ladies with slow to moderate swing speeds, seeking added pace on the downswing. Its ultra-lightweight feel and ActivWing aerodynamic clubhead collaborate to reduce drag and clear the way for a clean strike.
As the clubface hits the impact zone, the Rebound Frame takes over and produces superior flex in high-contact areas. As a result, you maximize energy transfer to impart explosive pace on the golf ball and low spin for a high launch and increased carry yardage.
Next, the 6-Segment Bulge and Roll proved effective on low-face strikes, as our volunteers managed to get the ball airborne and straight. Finally, Weight Plus Technology is applied underneath the grip to position you optimally to unload on the downswing and produce powerful contact.
Rating: 4.2
7. Cobra LTDx Max – Longest Best Max Game Improvement Driver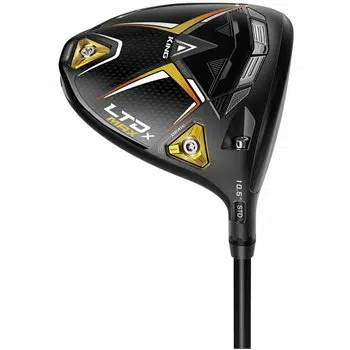 Pros
Produces exceptional distance
Priced lower than its original listing price
Adjustable weight to alter CG
Explosive clubface
Adjustable hosel
Cons
Higher swing speeds may prefer the lower launch of the LTDx LS
The spin was not as low as the LTDx LS
Specs
Lofts: 9°, 10.5°, 12°
Shafts: Project X HZRDUS Smoke iM10 60, Project X HZRDUS Smoke RDX Blue, UST Helium Nanocore 40, 50
Cobra released their LTDx Max driver in 2022, but I still found it longer than any 2023 contender. A lighter chassis and a blisteringly quick clubface partner for optimal carry and total distance by the big stick.
Starting with the Highly Optimized Topology (H.O.T) Face Technology. It applies variable thickness across the clubface for an expansive active zone. The structure provides leniency to off-center hits by reducing spin and preserving ball zip for a desirable strike.
PWR-COR Technology boosted my rapid speed and low spin by placing weight low and forward. Additionally, weight is positioned directly behind the hitting zone to lower the CG and increase MOI for enhanced stability.
I felt the multi-material construction was an intelligent move by Cobra, saving mass and allowing the engineers to position it elsewhere. Finally, the adjustable weighting alters the CG for your desired shot shape.
Rating: 4.1
Read More: Best Golf Driver For Distance
8. Wilson DynaPower – Lowest Spinning Game Improvement Driver
Pros
Super low-spinning clubhead design
Ample ball speed
Classy carbon appearance
Impressive distance
High launch
Cons
Expensive driver
Slower swing speeds may prefer a higher spinning driver for a consistent launch
Specs
Lofts: 9°, 10.5°, 12°
Shafts: Fujikura Ventus Blue
Minimal spin is golden with a driver as it syncs with rapid ball speed to maximize your launch, carry, and total distance. The Wilson DynaPower produced the lowest spin in our 2023 best game improvement drivers test to claim the crown.
These carbon drivers feature a super low spinning clubhead design, prompted by lightweight carbon panels on the sole and crown. As a result, Wilson engineers shifted the CG low and forward, producing limited revolutions per minute.
Low spin aside, the DynaPower faired well in the ball speed contest, producing elevated levels compared to most of its peers. Wilson employed Dynapower AI to identify the ideal thickness for each region of the clubface, prompting rapid speed and low spin off high contact points.
In addition, I found the carbon material of the driver was glare-resistant and limited distractions at address. Lastly, a six-way adjustable loft adapter allows you to alter the loft and lie of the river face to achieve your preferred launch.
Rating: 4.1
9. Cobra AeroJet – Best Neutral Flying Game Improvement Driver
Pros
Produces neutral ball flight
Adjustable hosel
Flexible clubface
Induces an elevated launch
Forgiving
Cons
Priced at a premium
High handicappers may prefer the forgiveness
Specs
Lofts: 9°, 10.5°, 12°
Shafts: MCA Kai'li White 60, MCA Kai'li Blue 60, UST Helium Nanocore 4
Admittedly, many game improvement drivers carry a semi or enhanced draw-bias shape to combat slices. However, many amateurs prefer the versatility of a neutral flight driver, and the Cobra AeroJet thrived in this department for 2023.
The newly released Cobra driver combines a PWR-Bridge Weighting with a PWRSHELL Face Insert and H.O.T Face Technology to deliver staggering ball speed. A flexible face team up with variable clubface thickness to increase velocity and minimize revolutions.
In addition, the PWR-Bridge Weighting allows weight to be shifted low and forward to ensure a higher launching shot with limited spin. Contributing to the speed cause was the aerodynamic shape of the AeroJet clubhead, which eliminated drag and helped me accelerate on the downswing.
Finally, the adjustable hosel on the AeroJet can strengthen and weaken the loft by 1.5 degrees. Plus, you can alter the clubface lie to impact the shape of your tee shot.
Rating: 3.9
10. Cleveland Launcher XL – Best Game Improvement Driver For Seniors
Pros
Effortless launch
Affordable
Explosive ball zip
Adjustable hosel
Maximum MOI
Cons
The oversized club head is not appealing to a host of players
No alternative stock shaft options
Specs
Lofts: 9°, 10.5°, 12°
Shafts: Project X Cypher 50
The average senior golfer requires a driver with an explosive clubface, low CG, and maximum MOI. My senior volunteers praised the Cleveland Launcher XL for its performance in these categories, reporting excellent distance, an easy launch, and accurate results.
Launcher XL drivers carry an oversized clubhead packed with an impressive quantity of MOI. Cleveland suggests it is the most MOI they have ever into a clubhead with 5,200g-㎠. In layman's terms, it helps you keep your clubhead square and stable at impact to maintain speed and minimize spin.
In addition, the low and deep weight setting prompts a towering launch, delivering consistent carry yards. Amplifying your launch is an advanced Rebound Frame, built to increase spring off the clubface at impact, resulting in adequate carry distance.
Another welcome feature for veteran golfers is the 8 grams of Action Mass CB inserted into the grip. It improves control and boosts balance for seamless energy transfer from the clubface to the golf ball.
Rating: 3.6
What To Consider When Purchasing A Game Improvement Driver
Loft
Your preferred loft is the first point to establish in your search for a game improvement driver. While higher swing speeds are better fitted to strong lofts, like an 8 or 9-degree, the average player is better off with a 10.5 or 12-degree.
Slower swing speeds find the added launch assistance of a weaker lofted driver delivers a more consistent carry distance.
Shaft Flex
Next, think about the best shaft flex for your swing. Golfers swinging a driver between 84 and 96 mph often excel with a regular flex shaft. Conversely, a driver swing speed between 72 to 83 mph is best off with a senior golf shaft. On the other hand, velocities below 72 mph should stick to a lighter, ladies flex.
Offset
An offset driver sees the clubface positioned back from the hosel, which is done to help golfers square the clubface at contact. A well-executed shot with a draw bias driver leads to a slight draw shape, which every golfer welcomes.
The aim of offset drivers is to combat slices and promote greater accuracy off the tee. However, a heavily offset big stick reduces workability, a pain for superior golfers. Select modern drivers with the luxury of moveable weights, altering the CG and clubface angle to achieve your desired shot shape.
Launch
Game improvement drivers are often fitted with additional weighting low and deep or low and forward in the golf club. The point of low weighting is to push the CG down to encourage a higher-launching golf shot.
Low and back CG generally promotes a higher degree of spin to drivers with a low and forward position. Therefore, players seeking an excessively low spinning driver should seek low and forward CG.
Conclusion
The best game improvement drivers strive to simplify golf for the average player. Our review revealed several trends, including consistent ball speed, low spin, a high launch, and improved accuracy off the tee.
However, one driver stood out in our 2023 edition, with the Callaway Paradym X dominating the competition. It delivered straighter ball flight, rapid ball speed, reduced spin, and a high launch for consistent results.
In addition, the draw-bias profile of the Paradym X proved handy in combating slices and promoting straighter shots.
Read More: