You don't have to break the bank to get high-quality golf shoes. But you also want to avoid getting a pair that will hurt your game.
Here are your 10 best cheap golf shoes for 2023:
Besides revealing the best overall and most comfortable cheap golf shoes, I'll recommend which footwear will keep your feet dry in the rain and cool in the sun before diving into the pair with the finest grip.
The best cheap golf shoes review delivers a list of the top 10 affordable options for golfers on a budget. By the end of this post, you will have a robust selection of entry-level spikeless and cleat golf shoes that generate optimal traction and provide superb cushioning for a comfortable feel on the golf course.
Top 3 Best Budget Golf Shoes 2023
Best Overall
Best Budget
Most Comfortable
Adidas Tech Response 2.0
Asics Gel-Preshot Boa
Skechers Go Skech Air
Pros

Moderately affordable
Exceptional traction
Cushioned midfoot

Affordable
BOA closure
Outstanding midsole cushioning

Skech-Air cushioning
Breathable
Relaxed fit design

Cons

Standard color offering
My socks got wet from the early morning dew, highlighting limited water resistance

Not very breathable shoes
The colorful designs may not suit traditionalists

The traction pad struggles in severely wet conditions

Not available in wide sizes

Price Score
92.6
93.2
88.4
Comfort
89.7
87.5
93.1
Traction
92.1
91.9
85.6
Rating
4.7 Stars
4.5 Stars
4.4 Stars
Why You Should Trust Us
Our team spends thousands of hours trying out and researching golf equipment to help you take your game to the next level. Here's our product review process.
We can bring these reviews to you through the small commissions we earn if you buy through the links below.
How We Reviewed These Products
Golfspan only shares equipment and brands we trust.
I'm an experienced golfer of 28 years and thoroughly researched and evaluated the products shared below. Then an editor reviewed and fact-checked the list. Finally, we conduct regular content audits to update and revise our reviews to ensure you receive the latest information.
To select these shoes, we considered these criteria:
Cost
Traction
Cushioning
Design
Breathability
Colors
Waterproofing
Consider checking out the latest Nike shoe sales to see if you can pick up a great deal.
The 10 Best-Priced Golf Shoes In 2023
Pros
Moderately affordable
Exceptional traction
Cushioned midfoot
Affordable
Breathable design
Cons
Standard color offering
My socks got wet from the early morning dew, highlighting limited water resistance
Specs
Sizes: 7 – 15 W
Colors: Grey, Black, White
Cleats/ Spikeless: Cleats
Closure: Lace
The Adidas Tech Response 2.0 claims the title of our overall best cheap golf shoes in 2023, thanks to their durability, comfort, and traction. In addition, they proved highly breathable on a hot day to keep my feet cool and dry in summer.
For starters, my feet relished the comfort underfoot induced by the Cloudfoam Midsole, which absorbed the impact of every step prompting a soft landing. Plus, I felt the synthetic and textile upper was comfy on my dorsum, preventing a rash and blisters.
Padding aside, the tops and side of the shoe contained numerous perforations, which encouraged airflow through the interior. The result was a refreshing feeling and dry feet despite the navigating temperatures in the mid-90s.
Next, the Tech Response 2.0 delivered outstanding traction in dry and wet conditions, thanks to its Traxion lugs and cleats. The Adiwear and Traxion lugs supported the highly stable Thintech EXP cleats to keep my feet firmly rooted to the turf for optimal grip around the links.
Adidas crafts the Tech Response 2.0 in regular, grey, black, and white colors to appeal to traditionalists. However, neutral colors pair easily with a variety of patterns and colors. Finally, they are available in sizes 7 to 15, catering to small and large foot golfers.
Rating: 4.7
Read More: Best Golf Shoes
2. Asics Gel-Preshot BOA – Best Inexpensive Golf Shoes For A Budget
Pros
Affordable
BOA closure
Outstanding midsole cushioning
Waterproof upper
High traction cleats
Cons
Not very breathable shoes
Not suited to golfers with big feet.
Specs
Sizes: 6.5 – 11.5
Colors: Imperial, Peacoat, Classic Red, White
Cleats/ Spikeless: Cleats
Closure: BOA Lacing
Three factors stood out after trialing the Asics Gel-Preshot BOA. Namely its affordability, waterproof upper, and BOA lacing system. In addition, their design reminded me heavily of the Asics track spikes I used in my days as a 400-meter sprinter, which I appreciated.
Its BOA lacing system simplifies securing the shoes and fastening laces, providing a dial to tighten or loosen the fit. The lacing system also reduces the total weight of the golf shoe and navigates over a highly padded tongue, which offers superior cushioning to your upper foot.
In addition, a low-profile construction reduces your center of gravity and bolsters stability for better balance during your swing. I felt my grip was further enhanced by the traction pads and seven spikes, which keep high impact points rooted in the turf to optimize leg drive and rotation on the downswing.
Besides traction, the Asics Gel-Preshot BOA shoes provided the exceptional comfort I enjoyed from their shoes as an athlete. Gel Technology cushioning gently catches your heel as it descends to earth for restricted vibrations and a soft feel.
Lastly, these shoes contained perforations on the side, promoting breathability, although they lagged compared to the Adidas Tech Response 2.0. However, the Asics shined in the wet, offering a waterproof upper to keep your feet warm and dry in the rain.
Rating: 4.5
3. Skechers Go Skech Air – Most Comfortable Affordable Golf Shoes
Pros
Skech-Air cushioning
Breathable
Relaxed fit design
Water-resistant upper
Soft steps
Cons
The traction pad struggles in severely wet conditions
Not available in wide sizes
Specs
Sizes: 7.5 – 14
Colors: White/Black, Black/Gold, White/Blue, Black/Red, Black/White
Cleats/ Spikeless: Spikeless
Closure: Lace
Moving on to the higher priced section of our review, we encounter the most comfortable, affordable golf shoes. Skechers claim the title in 2023 with their Go Skech Air shoes which are cushioned underneath and on top and offer a relaxed fit and enhanced breathability.
The star performer was the Air-Cooled Memory Foam Insole which gave me the impression that I was walking on a cloud. It was a far cry from the thin, hard insoles I grew up playing, which often resulted in blisters.
In addition, the Relaxed Fit Design impressed me as it offered sufficient space to store my toes and forefoot. The fit was not excessively tight, but my phalanges remained secure and comfy for 18 holes.
Apart from cushioning, the Go Skech Air shoes boast a durable construction thanks to their duraleather upper. Besides its robust nature, the duraleather helps the shoe repel light moisture levels, keeping your feet dry and warm in morning dew.
Finally, the Skechers team added a durable rubber traction plate to enhance grip and stability on every swing. While it was impressive for a spineless design, it did struggle to maintain traction in heavy rain.
Rating: 4.4
4. FootJoy Flex – Top Inexpensive Golf Shoes For Wide Feet
No products found.
Pros
Available in multiple wide sizes
Superior cushioning
Breathable design
Affordable
Impressive traction for non-cleat shoes
Cons
Limited variety of colors
Not waterproof
Specs
Sizes: 7 – 15
Colors: White, Navy, Grey, Black, Heather Grey
Cleats/ Spikeless: Spikeless
Closure: Lace
FootJoy is well-versed in crafting affordable golf shoes that grip hard, feel soft, and keep your feet cool and dry. The FootJoy Flex ticks all these boxes and goes one step further to provide the best offering to players with wide feet.
Their cushioned soft EVA midsole was the first feature that impressed me as I slid my feet into these shoes. Apart from generating a spectacularly padded feel on every step, it maximized my stability underfoot for improved balance while walking and swinging.
Next, its Toe Spring design boosted my leg drive on the downswing and lowered friction between the toe and the padding for fewer blisters. However, the shoes carry a fully rounded tour which secured my front toe but may be too tight for some.
I thought the lightweight Performance Mesh effectively enabled air to flow into the shoe to keep your feet cool and dry. Although FootJoy offers the Flex in multiple designs, the colors are mundane and better suited to traditionalists.
Finally, despite my gripe with the limited color options, I felt the traction pad performed well for a non-cleat design. Although I fought an uphill battle in significantly wet conditions, it kept my feet well-rooted to the turf in light rain and dry conditions.
Rating: 4.2
5. Puma Ignite Fasten8 – Best Affordable Golf Shoes Without Spikes For Traction
Pros
Advanced rubber traction pad
Provides maximum stability
Comfortable padding
The TPU Saddle keeps your feet stable on each step
Breathable upper mesh
Cons
Priced at the higher end of the cheap golf shoes market
Despite their performance, the rubber traction pads lose effectiveness in heavy rain.
Specs
Sizes: 7 – 14
Colors: High Rise, Quiet Shade, Navy Blazer, Puma Black, Puma White, Quarry,
Cleats/ Spikeless: Spikeless
Closure: Lace
The effectiveness of spikeless shoes has improved exponentially in recent years enabling golfers to maintain traction in most conditions. The Puma Ignite Fasten8 are proof of this evolution, and its multi-color design makes them look attractive while doing it.
Although not a BOA design, the Fasten8 is a genius closure design introduced by Puma to ensure security, comfort, and convenience. Webbing straps are adjusted to tighten or loosen the fit of your shoe to keep your feet secure during your swing and while walking.
Moving on from laces, I found the Ignite Fasten8 extremely comfortable due to its revolutionary midsole foam. The foam boosted my stability during my swing, and its responsive nature absorbed the impact of each step and imparted a soft, cloud-like feel underfoot.
Further supporting my feet were the PWRCAGE Mesh and a TPU Saddle, which kept the sides of my midfoot secure. The TPU is a non-stretch waterproof material that keeps out moisture on the sides of your feet. However, the breathable upper undoes this work as it exposes your socks to the rain.
Lastly, Puma expertly positioned Organically Altered Traction pads for enhanced grip and stability to this spikeless shoe. As a result, I found they held up well in the dry and light rain, preventing a loss of swing power due to slipping.
Rating: 4.1
Pros
Exceptionally comfortable
Water-resistant upper
Absorbs the vibration of every step
Durable construction
Affordable
Cons
Not the most breathable shoes
Limited bright or bold color offerings
Specs
Sizes: 8 – 13
Colors: Black, White, Grey, Charcoal,
Cleats/ Spikeless: Spikeless
Closure: Lace
We switch back to Skechers for the best spikeless budget golf shoes, which claim the title for their traction, water resistance, and lightweight construction. Plus, I appreciated the plushness of the midsole foam and enjoyed comfortable wear over 18 holes.
My favorite feature was the incredibly responsive Ultra Go Cushioning which eradicated vibrations and prompted a soft feel on every landing. Further enhancing the comfort of my footsteps was the revolutionary Goga Max technology which mastered the rebound of every step and absorbed the impact for a softer landing.
Skechers employed a bald synthetic upper design and threw in a few perforations to provide an element of breathability. Although I would not recommend operating them on a hot day, they make amends for the reduced airflow with a water-resistant H2GO finish to shed moisture from the surface, retaining heat and dryness on the interior.
The Pivot Spikeless shoes increase grip thanks to its molded rubber grip bottom plate and a translucent turf traction control sole. I found they produced substantially better grip in heavy rain than most of their spikeless peers.
Lastly, Skechers offers the Pivot Spikeless shoes in 7 colors, mainly covering traditional options like grey, black, and white. In addition, their golf shoes are available in a host of small, medium, and large sizes that incorporate options for wider feet.
Rating: 4.0
7. New Balance Striker V3 – Best Budget Golf Shoe For Wet Conditions
Pros
Waterproof material
Maximum traction in the wet
Superb insole cushioning
Crafted in wide and extra-wide sizes
2-year waterproof warranty
Cons
It could offer more airflow
No other complaints
Specs
Sizes: 8 – 16
Colors: Grey, Black, White
Cleats/ Spikeless: Cleats
Closure: Lace
If I can possibly help it, I do not tee off in the rain, but when I do, I demand cleats for enhanced traction and waterproof material. The New Balance Striker V3 ticked these boxes, going the extra mile by providing outstanding responsiveness and cushioning to earn the title of the best budget golf shoes for rain.
A Waterproof Microfiber Leather does the hard yards in preventing moisture from seeping into the shoe. My socks and feet appreciated their service to the cause as they remained dry and warm during a rainy round. The cherry on top is a 2-year waterproof warranty, highlighting the confidence of New Balance in its material.
My performance in the rain received an extra boost thanks to the Exoskeleton TPU Outsole and FTS 3.0 Pulsar cleats. The TPU Outsole ensures enhanced secondary traction support each step of the way. In addition, the FTS 3.0 Pulsar cleats adapt to the natural motion of your feet and grip the turf for superior stability.
Next, I was seriously impressed with the cushioning on the Striker V3, led mainly by the CUSH+ insole. The foam compound produced outstanding responsiveness and eliminated vibrations upon impact, resulting in a pleasant feel and less post-round foot pain.
Further adding to the responsiveness of the shoes is their REVlite 10mm Drop midsole equipped with extra lightweight cushioning. The cushioning ensured a plush underfoot feel and absorbed the shock of each step.
Rating: 4.0
8. FootJoy Flex XP – Best Looking Cheap Golf Shoes
Pros
Attractive design
Breathable material
Outstanding midsole cushioning
Available in wide and extra-wide styles
You can wear the shoes to the golf course
Cons
Reduced grip in the wet
Difficult to keep clean
Specs
Sizes: 7 – 15
Colors: Grey, Navy, White, White/Black/Red, Black
Cleats/ Spikeless: Spikeless
Closure: Lace
Since most manufacturers stick to traditional colors like grey, black, and white, the FootJoy Flex XP had little to compete with on the fashion front. However, despite the lack of competition, this casual-looking, relaxed-fitting, and soft-cushioned shoe is our best-looking budget golf shoe for 2023.
My favorite design was the Royal blue construction which looked fresh and earned me compliments from my fashionista buddies. Adding to its attractive coastal style design is a high-performance mesh built to optimize breathability and keep your feet dry and cool.
I relished the presence of the soft EVA midsole, which ensured a softer feel underfoot and boosted my stability. In addition, the reactive midsole cushioned the impact of every step and prevented cramps and foot pain after my round.
Next, FootJoy employed a Versa-Trax outsole which builds up traction on the links to keep you stable during your swing. Plus, their non-invasive design allows you to wear the shoes to the course without worrying about blunting your cleats.
The full rounded toe character and narrow heel design present an athletic golf shoe style that suits a diverse range of golfers. Finally, FootJoy crafts the Flex XP in a wealth of wide, extra wide, and standard width options ranging from 7 to 15.
Rating: 3.9
Pros
Optimal breathability
Soft midsole cushioning
Partly crafted from recycled plastic
The standard color offerings pair with an array of sock and pants colors
Ideal for warm days
Cons
Reduced grip in wet weather
No wide or extra-wide options are available
Specs
Sizes: 7 – 13
Colors: Grey Three, Core Black, Grey Two
Cleats/ Spikeless: Spikeless
Closure: Lace
A summer round of golf demands a comfortable, breathable pair of golf shoes that keep your feet cool and dry. Although Adidas faced stiff competition in this department, the Solarthon Spikeless shoes demonstrated the best airflow, comfort, and dryness in hot weather in 2023.
The comfort begins with a breathable upper which sends a consistent breeze through the interior to keep your feet cool and dry. In addition, its water-repellent qualities shone through to repel moisture from the interior to prevent moisture build-up and discomfort.
I felt the Boost Midsole played an integral role in my comfort by responding to the impact of my footsteps and eliminating vibrations. Plus, the advanced Boost Midsole encouraged a soft landing to reduce the risk of plantar fasciitis.
Adidas enhanced the traction of the Solarthon shoes by fitting a spikeless rubber outsole to increase friction with the grass. While it offered ample grip in dry conditions, its efficiency rapidly unraveled once the heavens opened.
The Adidas Solarthon Spikeless golf shoes are offered in two shades of grey and a core black color, which match an array of socks, pants, and belts. Finally, it would be rude not to mention the presence of Primegreen material, crafted from recycled materials, to reduce the brand's carbon footprint.
Rating: 3.8
10. Callaway Balboa – Best Value Golf Shoe For Stability
Pros
Exceptional stability
Waterproof upper
Super soft foam
Impressive traction in the dry and wet
Responsive midsole for smoother steps
Cons
Limited color offerings
More expensive than most cheap golf shoes
Specs
Sizes: 8.5 – 13
Colors: White, Black/Grey
Cleats/ Spikeless: Spikeless
Closure: Lace
We conclude our review of the best cheap golf shoes by looking at the best value option for stability during your swing. The Callaway Balboa claims the prize for the most stable golf shoe thanks to its molded PLUSfoam insole, waterproof outer layer, and its dura rubber spikes.
Callaway roped in a 5mm molded PLUSfoam insole to enhance comfort and stability. The reactive foam absorbed the voracity of each step, ensuring my soles were protected and comfortable throughout my round of golf.
Further bolstering my stability was the Opti-Soft EVA midsole which helped reduce my center of gravity and replicate the feel of natural ground. Although spikeless, the dura-rubber outsole with multi-directional traction lugs generated ample traction in the dry and more than most spikeless shoes in the wet.
On the topic of the wet, the Balboa shoes conduct themselves superbly in the rain, stemming from its waterproof, micro-fiber upper. In addition, the waterproofing is supported by an Opti-Dri protection finish to help keep your socks and feet dry on a rainy day.
Callaway constructs the Balboa shoes in two traditional colors, black and white, which works for traditionalists. Finally, the golf shoes are crafted in numerous standard and wide editions that fit small, medium, and larger feet.
Rating: 3.6
Would one of the latest Nike shoes fit your game? Check them out now!
What To Consider When Purchasing Good Inexpensive Golf Shoes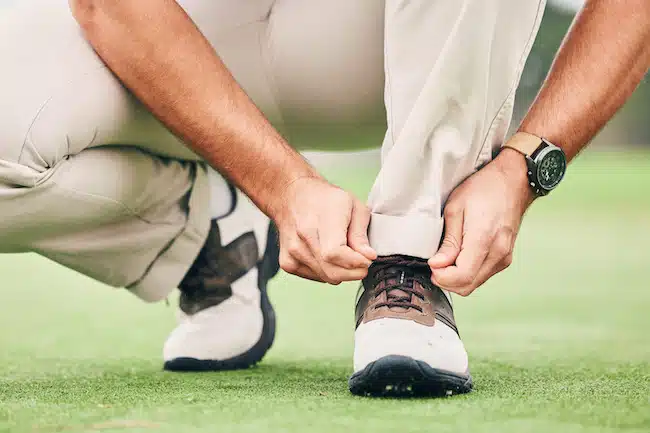 Shoe Fit
The first place to start is your desired shoe fit to ensure your feet are secure yet comfortable on the golf course. Besides the shoe size number, you must determine whether you require a standard, wide, or extra-wide design.
For example, I have a wider foot than usual, and a standard offering causes my midfoot and toes to be cramped. When I operated with standard golf shoes, I frequently gained blisters and toe cramps for days after every round until I switched to a wide fit.
The wider fit accounted for the extended width of my feet, giving me the space to enjoy a cramp-free walk. If you find the wide fit offers insufficient width, you can search for extra wide designs like the FootJoy Flex golf shoes.
Cleats Or Traction Pads
Next, consider whether you desire the optimal grip produced by cleats or the superior comfort of a rubber outsole and traction pads. Cleats offer exceptional grip in all conditions because they dig into the turf and often twist with your body movement during your swing, keeping your feet rooted to the earth.
I prefer the consistency of cleats and never have to worry about sufficient traction on the golf course. Conversely, many of my peers prefer the cushioning, comfort, and versatility offered by golf shoes with a rubber outsole and traction pads.
Traction pads are typically softer under the feet, and you can wear shoes with them to and from the golf course. However, when the traction pads wear away, it is near impossible to replace them, and it requires purchasing a new set of shoes.
Breathability
Breathability is essential for summer golf shoes because they encourage airflow through the shoes, keeping your feet cool and dry. Air can generally enter the shoe's interior through lightweight performance mesh placed on the shoe's upper part.
A breathable shoe eliminates moisture build-up, wet socks, and subsequent discomfort. However, the presence of perforated mesh leaves the inside of the shoe susceptible to rain and morning dew, which can leave your feet wet and uncomfortable.
Waterproofing
The final feature to ponder when purchasing cheap golf shoes is waterproofing. This factor is ideal for golfers playing in high rainfall areas or morning dew. Given the cost of waterproof material, these shoes are typically more expensive than their breathable counterparts, but you can still access affordable options.
One example of an affordable waterproof golf shoe is the phenomenally comfortable New Balance Striker V3.
FAQ
How Many Pairs Of Golf Shoes Do You Need?
Golfers need two pairs of golf shoes for the best-case scenario to operate in dry and rainy conditions. I suggest looking for a breathable, lightweight, and comfortable spikeless pair of shoes for sunny days and adorable, waterproof construction for the rain.
Is It Better For Golf Shoes To Be Tight Or Loose?
You want your golf shoes tighter than loose to secure your feet and prevent sliding around while you walk or swing. However, I advise against tightening the shoe excessively to avoid discomfort, cramps, or aches in your foot.
Conclusion
Our best cheap golf shoes review provides evidence ten times over that affordable footwear does not necessarily lack quality. From breathable, refreshing, and soft summer shoes to robust waterproof constructions, there is plenty to choose from for under $80.
Despite the strong showing from our finalists, the Adidas Tech Response 2.0 stole the overall show. It kept my feet firmly rooted to the turf through its EXP cleats. Moreover, the breathable design kept air flowing through the interior and my feet refreshed and comfortable.
Finally, the Tech Response delivered superb comfort underfoot and was simple to fasten using the BOA design. Golfers seeking a breathable, high-traction pair of golf shoes for the summer can take a closer look at the Adidas Tech Response 2.0.