Are you tired of hitting the same old shots on the golf course? Then get ready to elevate your game to new heights with the FlightScope Mevo Plus!
Our team of expert golfers and equipment testers have thoroughly examined this cutting-edge launch monitor to bring you an unbiased, in-depth FlightScope Mevo Plus review.
Employing cutting-edge Doppler radar technology and an integrated camera, the FlightScope Mevo Plus meticulously captures and dissects your golf game, providing precise data and insights into your swing and ball trajectory.
What is FlightScope Mevo Plus?
The FlightScope Mevo Plus is an innovative launch monitor that employs Doppler radar technology and an integrated camera to obtain accurate data on club speed, ball speed, spin rate, and launch angle.
User-friendly and versatile, this monitor is compatible with multiple golf simulators and offers invaluable insights for golfers to hone their swing and elevate their overall performance.
With a user-centric interface, compatibility with a multitude of golf simulators, and an exhaustive list of features, the FlightScope Mevo Plus is the essential accessory for any golfer's arsenal.
Performance Rankings —  Mevo Plus Review
Based on FlightScope Mevo+ launch monitor reviews and our own assessment along with our rigorous testing process, we've given the Mevo plus the following score:
| | |
| --- | --- |
| Category | Score |
| Price | 8/10 |
| Setup | 7/10 |
| Tracking | 9/10 |
| Ease of Use | 9/10 |
| Compatibility | 10/10 |
| Simulation Options | 9/10 |
| Indoor/Outdoor Use | 9/10 |
| Customization Options | 9/10 |
| Support and Updates | 8/10 |
| Overall Score | 8.6/10 |
Verdict: Should You Invest in the FlightScope Mevo Plus?
The FlightScope Mevo Plus is a fantastic launch monitor that offers professional-level data, user-friendliness, and versatility at a competitive price. But beware – the abundance of data points may overwhelm some users!
Pros:
Accurate and reliable performance
Wide range of data and metrics
User-friendly interface and app
Excellent simulation options
Cons:
May be overwhelming for casual users
Slightly less accurate with drivers
FlightScope Mevo Plus Release and Overview
The FlightScope Mevo Plus first made its appearance in 2020, with the 2023 edition bringing significant enhancements in performance and user experience. This state-of-the-art launch monitor employs advanced Doppler radar technology and a built-in camera to supply accurate, detailed data for golfers at all skill levels.
With its vast array of features and compatibility with a variety of golf simulators, the Mevo+ is a versatile tool for practice and entertainment.
Why You Should Trust Us
Our team spends thousands of hours trying out and researching golf equipment to help you take your game to the next level. Here's our product review process.
We can bring these reviews to you through the small commissions we earn if you buy through the links below.
How We Reviewed These Products
Golfspan only shares equipment and brands we trust.
I'm a PGA-certified golfer and instructor, and I thoroughly researched and evaluated the Mevo+. Then an editor reviewed and fact-checked the review. Finally, we conduct regular content audits to update and revise our reviews to ensure you receive the latest information.
When researching this review, we considered these criteria:
Ease of Setup and Use
Tracking
Customized Metrics and Data
Indoor and Outdoor Performance
Compatibility
Pricing and Plans
Simulation Options
Support and Updates
Key Features: FlightScope Mevo Plus Review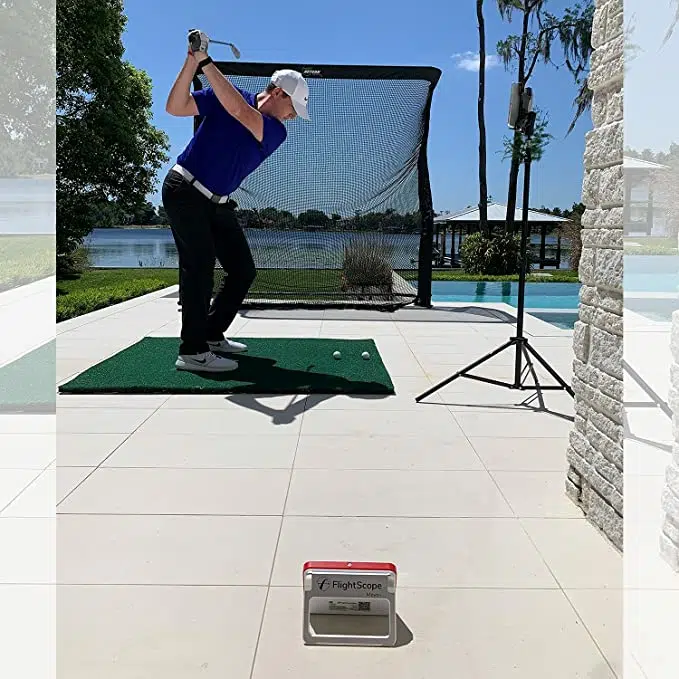 Ease of Setup and Use
Setting up the Mevo+ is a breeze, requiring only some initial fine-tuning. Once configured, navigating and accessing the data you need with a user-friendly interface is effortless.
Advanced Tracking and Fusion Tracking System
The Mevo FlightScope integrates Doppler radar technology and a built-in camera to deliver precise, trustworthy data. Its Fusion Tracking system fuses these technologies with unmatched tracking capabilities.
Customizable Metrics and Data
The Mevo+ showcases extensive data and metrics that would work with any good launch monitors. You'll find it customizable to display only the most pertinent information. This versatility makes it perfect for golfers across the skill spectrum, from novices to seasoned professionals.
Indoor and Outdoor Performance
Engineered for both indoor and outdoor use, the Mevo+ consistently yields reliable results in diverse environments and conditions.
Compatibility with Golf Simulators
The Mevo+ is compatible with numerous golf simulators, including E6 Connect, TGC 2019, and Creative Golf 3D. This versatility adds value to the device, allowing you to enjoy a realistic golf simulation experience.
Pricing & Plans
Priced around $2,000, the Mevo+ offers excellent value considering its professional-level features and performance. Additional packages, such as the Pro Package and Face Detection, are available for those seeking more detailed data and analysis.
Mevo Plus 2023 Edition: What's New?
The 2023 edition of the FlightScope Mevo Plus boasts improved battery life, enhanced accuracy, and seamless integration with the FS Golf app. These improvements make the Mevo+ an even more attractive option for golfers seeking a top-notch launch monitor.
During our research, we came across several FlightScope Mevo+ launch monitor reviews that emphasized the value of the Mevo Plus Pro Package. This comprehensive bundle includes the Mevo Golf Simulator, enhancing the overall experience for users.
The Mevo Plus Pro Package allows golfers to access advanced features and an immersive simulation experience. It is a popular choice for those looking to elevate their game to the next level.
In-Depth Look at Simulation Options
The Mevo+ offers a wide range of simulation options that can transform your practice sessions into immersive, interactive experiences closely mimicking real-life golf courses. Let's take a closer look at some of the most popular golf simulation software compatible with the Mevo+.
E6 Connect
E6 Connect is a popular golf simulation software that provides realistic graphics and physics. With over 90 meticulously designed golf courses, various practice modes, mini-games, and online tournaments, E6 Connect offers a comprehensive golf simulation experience.
The software is available as a subscription, with various plans tailored to different users' needs.
TGC 2019
The Golf Club 2019 is a distinguished golf simulator software boasting an expansive collection of courses encompassing many esteemed real-world locations. TGC 2019 delivers true-to-life graphics, physics, and weather conditions, forging an immersive golfing experience. The software also incorporates a course designer tool, allowing users to devise and share their own tailor-made courses with the community.
Creative Golf 3D
Creative Golf 3D is a multifaceted golf simulation software that melds authentic graphics and physics with extensive practice modes, games, and challenges. The software encompasses over 100 golf courses, accompanied by various practice facilities, mini-games, and skill-enhancing exercises.
Comparing FlightScope Mevo Plus to Other Launch Monitors
To help you make an informed decision, let's compare the FlightScope Mevo Plus to other popular launch monitors available on the market.
The Garmin Approach R10 is a portable launch monitor priced slightly lower than the Mevo+. It offers accurate data, metrics, and simulation options through the Garmin Golf app. However, the R10 provides fewer data points and lacks the same level of compatibility with third-party golf simulation software as the Mevo+.
SkyTrak, a more expensive launch monitor, boasts a remarkable array of data points and simulation options. While its reputation is solid for accuracy and performance, its elevated price point may deter some users. Additionally, SkyTrak necessitates a separate subscription for golf simulation software, adding to its overall cost.
TrackMan 4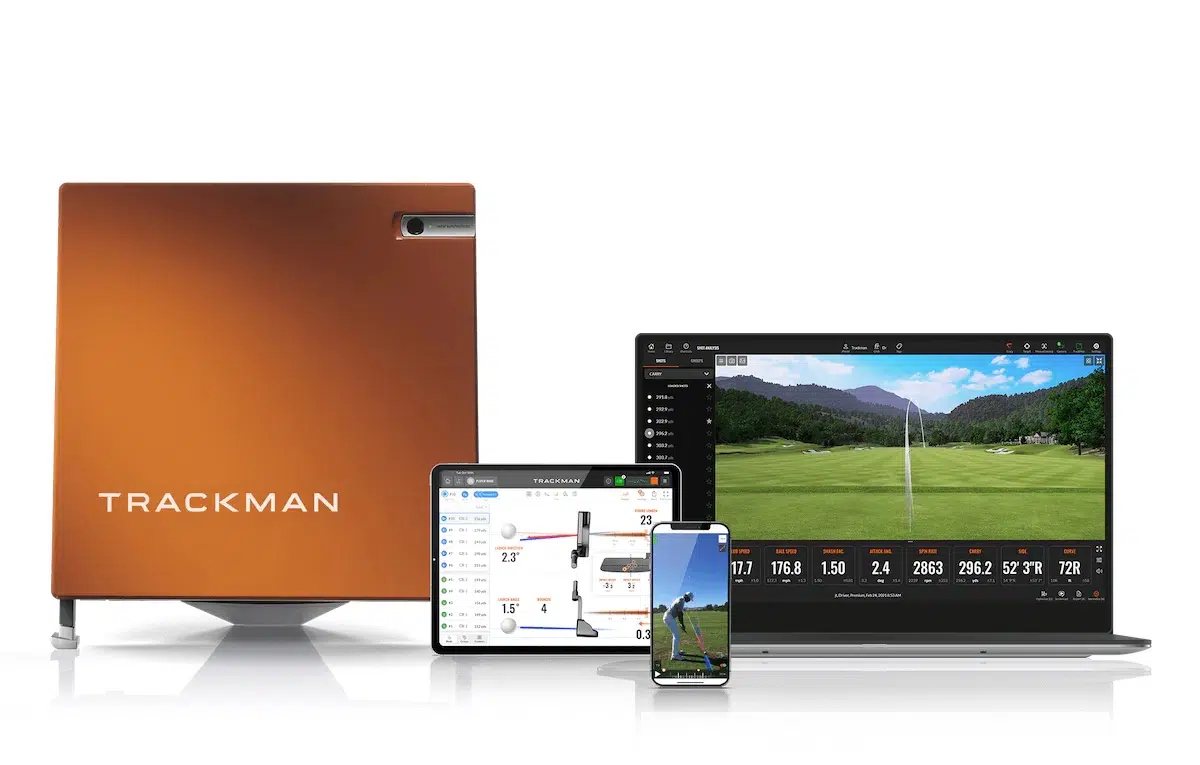 The TrackMan 4, a professional-grade launch monitor favored by elite golf coaches and tour players, provides the most all-encompassing data and analytics on the market. However, its price tag renders it unattainable for most casual golfers. For those seeking a budget-conscious option with professional-level data and simulation capabilities, the Mevo+ presents a more accessible alternative.
Unique Features Of The FlightScope Mevo Plus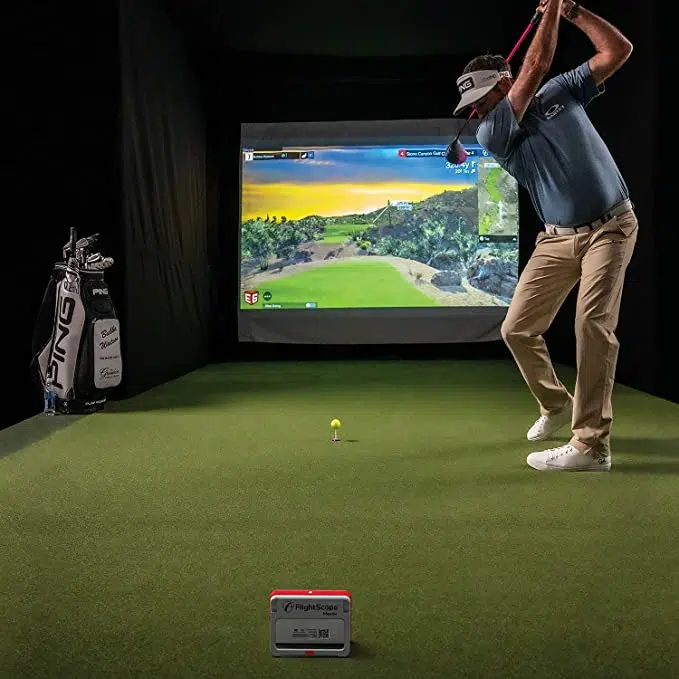 Let's explore some unique features of the FlightScope Mevo Plus that showcase its versatility and value.
Coaching and Training: Professional coaches and trainers can use the Mevo+ to help their students better understand and analyze their golf swings. The launch monitor's complex data and metrics can be harnessed to pinpoint areas for enhancement and develop individualized training programs.
Home Golf Simulators: For those yearning to build a home golf simulator, the Mevo+ is the quintessential choice. Its compatibility with popular golf simulation software allows users to transform their practice space into an enthralling, true-to-life golfing experience.
Golf Club Fitting: The Mevo+ serves club fitters in assisting golfers to discover the perfect club for their swing. By examining data points like club speed, ball speed, and launch angle, club fitters can recommend the optimal equipment to maximize a golfer's performance.
Data-Driven Improvement: For analytically-minded golfers who wish to scrutinize their performance and make well-informed decisions about their practice, the Mevo+ is an invaluable instrument. Its extensive data points can be utilized to identify trends and patterns in a golfer's swing, leading to targeted practice sessions and accelerated improvement.
Tips and Tricks for Using FlightScope Mevo Plus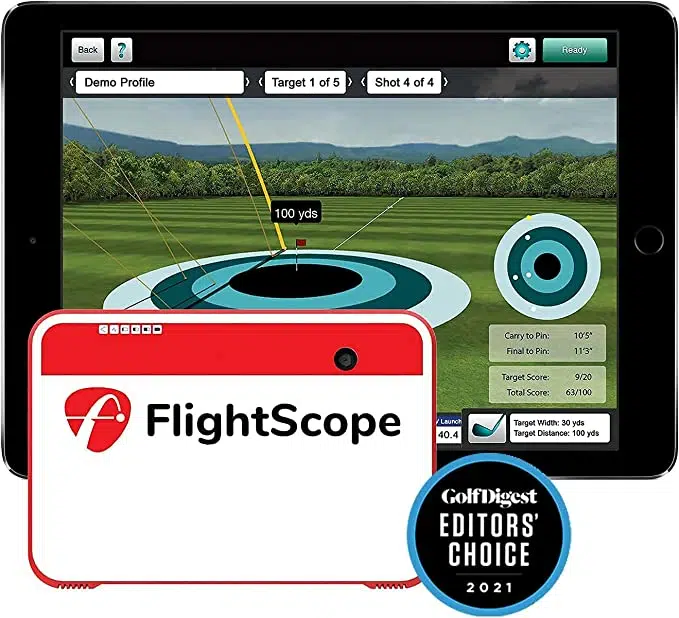 To ensure you reap the full benefits of your Mevo+ experience, here are some tips and tricks for effectively using the Mevo launch monitor.
Ensure proper setup: Make sure to follow the manufacturer's guidelines for setting up the Mevo+. Proper alignment and distance between the device, ball, and golfer are crucial for accurate data capture.
Use the metal dots: FlightScope provides metallic stickers to place on your golf balls for enhanced tracking. Using these stickers can improve the Mevo+'s accuracy, especially when practicing indoors.
Experiment with different views: The FS Golf app offers various views and data layouts. Find the best view for you and customize the data displayed to focus on the metrics that matter most to your game.
Record your swings: Use the built-in video feature to record your swings alongside the captured data. This can help you visualize your swing and better understand the impact of adjustments.
Use the provided practice drills: The FS Golf app includes practice drills designed to help you improve specific aspects of your game. Utilize these drills to target your weaknesses and track your progress over time.
Frequently Asked Questions
How Does The Flightscope Mevo Plus Stack Up Against Other Launch Monitors On The Market?
The FlightScope Mevo Plus offers an unparalleled fusion of accuracy, data, user-friendliness, and portability, outperforming some of the best golf launch monitors like the Garmin R10 and Rapsodo MLM Pro 2.
The Mevo+ is the perfect option for golfers eager to elevate their game, boasting professional-level data and an intuitive interface.
Can I Use The Mevo Plus For Both Indoor And Outdoor Practice?
Absolutely! The Mevo+ is engineered for both indoor and outdoor use, leveraging advanced tracking technology and the Fusion Tracking system to guarantee precise and dependable performance in diverse environments and conditions.
This versatility makes it an invaluable asset for golfers striving to improve their game.
Is The Mevo Plus Golf Suitable For All Skill Levels?
Yes, the Mevo+ caters to golfers of all skill levels, offering comprehensive data and metrics that can be tailored to display only the most relevant information for each user. This allows for targeted feedback and improvement without inundating the user with superfluous data.
What Devices Are Compatible With The Flightscope Mevo Plus?
The Mevo+ is compatible with both Android and Apple devices, encompassing smartphones, tablets, and even the Apple Watch. This broad range of compatibility enhances its convenience and user-friendliness, allowing users to access and control their FlightScope Mevo+ launch monitor with their preferred device.
What Kind Of Support And Updates Can I Expect With The Mevo Plus?
FlightScope is renowned for its exceptional customer support and ongoing product updates. This ensures that users can access the latest features and enhancements for their Mevo+ launch monitor, helping them stay current and maximize their investment.
Conclusion
The FlightScope Mevo Plus is ideal for golfers seeking a dependable and feature-packed launch monitor. Its professional-level data, user-friendly interface, and compatibility with various golf simulators make it a versatile and valuable tool for practice and entertainment.
Based on our exhaustive FlightScope Mevo plus review, we wholeheartedly endorse the Mevo+ for golfers who are serious about improving their game and reveling in a realistic golf simulation experience. Don't hesitate–elevate your game with the Mevo Plus today!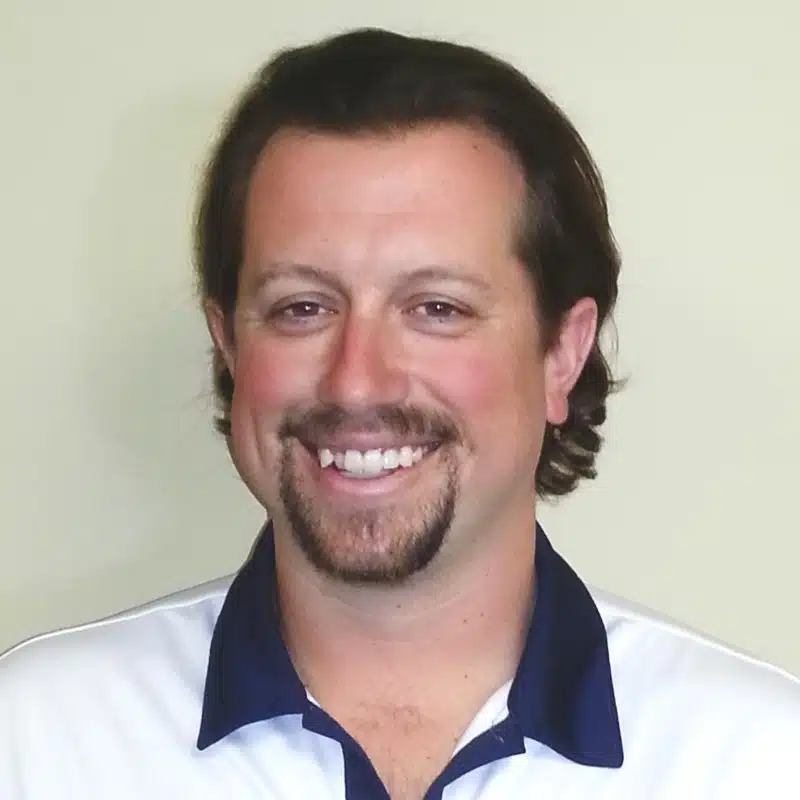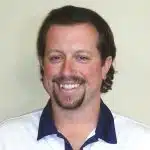 Clint became the Head Teaching Professional at one of Toronto's busiest golf academies and was featured on Canada's National Golf TV program, "Score Golf Canada," twice. He now tests and reviews golf equipment and gets to enjoy the game he loves whenever he wants while helping people lower their scores.