20% of the market
, a significant and growing number.  In this article, we will look at where you can buy used ladies' golf clubs at the best price and service offering.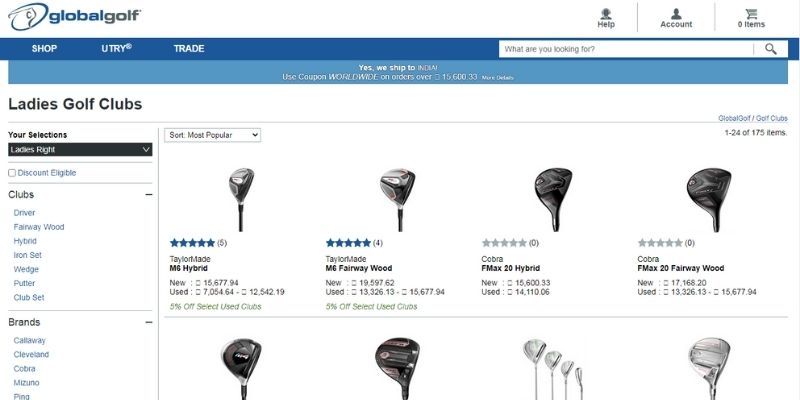 There are currently 87 ladies' clubs on the website which you can filter by club type (the selection can then be sorted by 'Most popular', 'Ascending Price', 'Descending price', 'Newest listing', 'Best reviews received', and 'Most discussed' on the website).
Shipping Guidelines
Orders will only be processed on weekdays excluding holidays while both residential and commercial deliveries will be made from Monday to Friday. Some residential deliveries can be done on Saturdays.
Domestic deliveries to the United States, excluding Alaska, Hawaii, and the territory of Puerto Rico can be done under the Economy Delivery option. The average delivery time is 5 business days, but remote areas may take slightly longer. Standard/Ground deliveries within the continental U.S. Delivery times vary by location with the average delivery 4 business days after dispatch.
Shipment to non-continental states and territories, Alaska, Hawaii, and Puerto Rico, are usually delivered within 3 to 7 business days to most areas. No ground service is available due to remote location limitations
Military APO/FPO Shipments must be shipped via the U.S. Postal Service Priority Mail and delivery will take place between 2-4 weeks from dispatch.
International Shipments are made to more than 125 countries. Orders will be dispatched within one business day of payment verification provided all equipment is in stock.
Delivery to most locations within Canada is generally completed within 2 to 3 business days after dispatch and most major international metropolitan areas within 2-5 business days after dispatch.
You are responsible for all duties, taxes and other import fees levied on shipments upon delivery. These costs are non-refundable.
Domestic shipping is charged at a flat rate for all shipments within the continental U.S. irrespective of the number of items purchased.  The rates vary between $4.99 for Economy and $29.99 for Next day service. Deliveries to Alaska, Hawaii, and Puerto Rico is charged at a flat rate of $9.99
International deliveries are based on the weight of the items ordered as well as the zone of the shipping destination. International Express is the quickest delivery option with deliveries made between 2 and 5 days after dispatch; International economy  option delivers between 5 to 10 business days after dispatch; International Standard between 4 and 9 business days after dispatch; International Priority between 3 and 7 days from dispatch;
Customs duties and taxes are not included in the quoted rates.
Returns Policy
Items that are in their original condition, packaging, and contains all the accessories that it was sold with can be returned within 60 days after receipt, for a full refund. No questions asked. This does not apply to items that have been modified, customized, or personalized.
If the clubs are not in the original condition, a 15% restocking fee will be charged irrespective of whether the club has been used or not, alternatively, the return may be refused. Products sold under the Playability Guarantee does not have to be in the original condition.
The returns are inspected upon return and refunds will be issued within 5-7 days of receipt in the original form of payment. 30 Day Playability items returned will be refunded via a GlobalGolf e-gift card.
Incomplete orders will not be dispatched until all items are in stock. Backorders from the suppliers have to be completed before your order will be shipped. This may take between 4 to 6 weeks after payment has been received.
The return shipping and/or pickup costs will be deducted from your refund
Condition Rating
Mint condition clubs have not been used previously but may have minimal shop wear markings, excellent condition clubs have had limited use, very good condition clubs have been played with and cared for appropriately, and may show typical cosmetic wear for the age of the club. No impact on performance is expected. Value condition clubs have been played frequently, are in 100% playable condition, cosmetic blemishes, and no impact on performance
Poor conditions show significant wear to the point of not being playable and will not be sold by Global golf.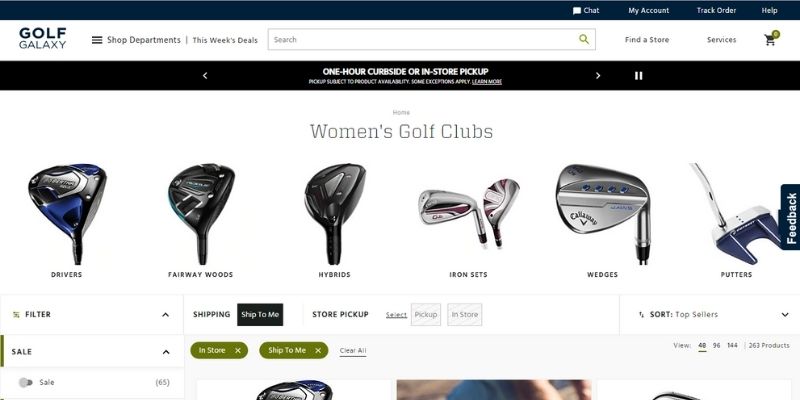 Golf Galaxy has a section that is dedicated to women's golf and is easily accessible. There are 227 women's golf clubs. You can filter by Brand, Product type, Dexterity, Special features, or price. The selection can then be sorted by Top sellers, Savings in descending sequence, Price from low to high, Price from high to low, New products, Brand, and Most relevant
Orders to P.O. Boxes; APO or FPO addresses; or destinations outside of the United States can not be executed.
Shipping
Clubs bought online are shipped by carriers like UPS and FedEx, Gift cards are shipped via parcel service.
The delivery options available are Ground shipping, 2nd day, or 1-day service.
The cost of non-bulk order shipping within the contiguous 48 states for Ground service is $5.99; 2nd Day delivery $10.99; 1 Day delivery $25.99.
Shipments to non-contiguous states, Alaska or Hawaii, are available on 2nd Day service at $15.99 and1 Day service at $25.99
Returns Policy
Returns with an original sales receipt or pack slip will receive a refund in the initial form of payment; f items bought with a gift receipt will be offered a gift card or even exchange; where a ScoreCard Reward or coupon was redeemed, will result in an adjusted refund amount.
Items requiring repairs should be returned to the manufacturer or an authorized service center.
Pre-owned and demo golf clubs may be exchanged in the same conditions they were sold within seven (7) days of purchase with the original sales receipt. All exchanges are subject to approval.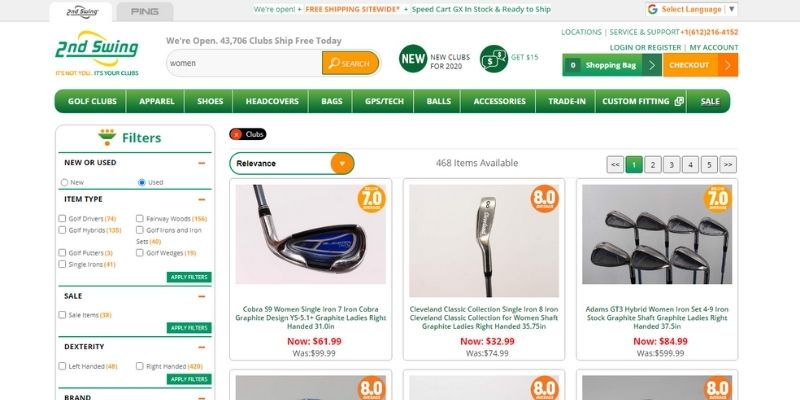 2nd Swing has 357 women's clubs available on their website which can be filtered by Item type (e.g. driver, fairway wood, etc.), Dexterity, Brand (e.g. Ping, Callaway, etc.), Model, Type, Shaft flex, Loft, Shaft material, Shaft model, and Condition rating, Price range, Location, Head size, Cast or Forged, Lie angle, Shaft length, Bias (draw or fade), Year released and more.
The list returned can be sorted by ascending or descending condition rating, relevance, and ascending or descending price.
Each item is rated on its condition to assist you with your selection before completing your purchase. The ratings vary from New which refers to brand-new items that have never been used on a golf course but unboxed in the shop; Mint conditions have only been hit between 1 and 3 times in total and shows virtually no traces of wear; Above-average has been used less than 10 rounds and is in top used condition; Average condition is clubs that have seen normal usage for an extended period, are well taken care of, and is still in good used condition.
Shipping Guidelines
Free shipping is offered for standard ground shipments within the contiguous United States for all clubs except Ping and Titleist equipment. This offer excludes Alaska, Hawaii, and Puerto Rico.
Orders are processed within 48 business hours after receipt of payment and shipped from Monday to Friday excluding holidays.
Shipping Options
Domestic shipping is available as Standard shipping which is sent via FedEx Ground or USPS Priority. The delivery is generally completed within 2 to 6 business days.
Orders over $200 will receive free standard shipping.
Shipments outside the contiguous United States such as Alaska, Hawaii, and Puerto Rico are sent via USPS. No FedEx Ground shipping options are available to these areas.
Expedited international shipping is delivered by FedEx. No FedEx deliveries are done on weekends or holidays.
The Standard domestic shipping rate for golf clubs and shoes is $9.99 for orders below $200. Orders exceeding $200 will carry no delivery charge.
International shipments will incur additional costs for duties and taxes on every item and are subject to local taxes, import duties, and other fees. These fees will be paid by FedEx and you have to refund FedEx upon delivery.
Returns Policy
All-new, custom or used clubs can be purchased on a 30-day trial period to enable them to try out the items before committing to the purchase. If you are not 100% satisfied you can return the item(s) to the store within 30 days of purchase. An instore credit for the full purchase amount will be issued if you use the credit on the day of the issue. If not used on the date of issue all fees waived on the original purchase will be deducted from the credit.
For online purchases, the 30-day period commences upon delivery to you.
Only 1 club can be returned per annum and a 20% restocking fee will be applicable for every club exceeding 1.
The condition of the clubs is verified before the credit is issued.
Returns after 30 days will not be eligible for the 30-day play guarantee. The credit passed will depend on the trade value of the item at the time of return.
Items have to be in the original packaging, unused and contain all accessories to qualify for a refund after the 30-day exchange window.
Customized products that have not been used may not be refunded or be charged a 20% restocking fee. If the customized club has been used, the value of the club will be refunded and not the full amount.
Unopened items returned within 7 days of receipt and still in the original condition with all accessories will receive a full refund. Returns initiated between 7 and 30 days after receipt will qualify for an in-store credit.
New products that have been used before return will incur a minimum 20% restocking fee.
Items are no longer eligible for return after 30 days of receipt but can be traded in at current trade values.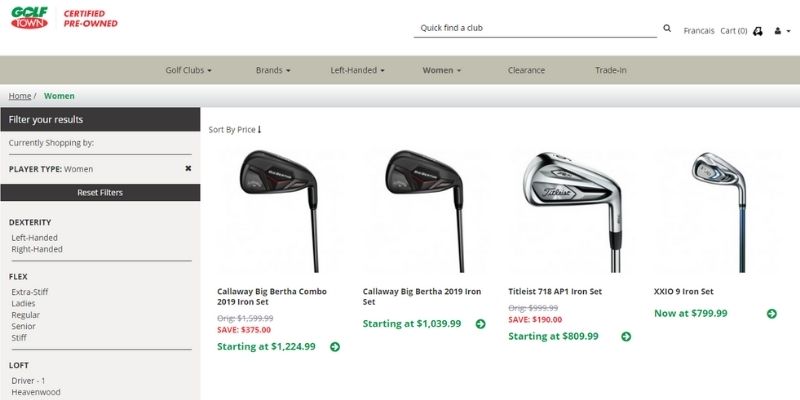 Items on the website can be filtered by Dexterity, Player type (Man, Woman, Junior), Shaft flex, Loft, Shaft material, Overall condition, Brand, and Price. Results can be sorted by ascending or descending price.
For any item that decreases in price within 15 days of your purchase, you will receive a credit for a future purchase. This does not apply to items that are on sale.
Orders are dispatched Mondays to Fridays during business hours within 24 to 48 hours after receipt of payment. If an order is received on a Friday, Saturday, or Sunday it will be dispatched on the following Monday or Tuesday.
Only the most renowned shipping companies are used such as UPS and Canada Post.
The shipping methods offered are Standard shipping with delivery between 3 and 7 business days, Express shipping with delivery between 2 and 3 business days. Remote locations may take longer.
Shipping costs are based on the size and weight of the item, selected shipping method, and the delivery location.
UPS World Saver is used for international shipping outside of Canada and the United States and is generally delivered between 2 and 5 business days after dispatch. Insurance is included in the quoted price.
All international customs duties and taxes remain the customers' responsibility and are payable upon delivery.
Commercial purchases that are leased through financing are final and the return policy is not applicable. Returns must be initiated and shipped within 7 days of receipt by the customer. These returns must be authorized by the company before shipping the items. Insurance and shipping charges must be paid before shipping and these fees are not refundable.
Non-commercial items can be returned within 30 days for a refund for the full price of the item. Items returned between 30 and 45 days will be charged a 15% re-stocking fee. No returns will be accepted after 45 days.
Final Thoughts
Some specialized stores cater to selling used women golf clubs and have easy to use websites. Some online stores have dedicated lines for women that make it easy to navigate and find the selection criteria.
The selection criteria to filter the clubs and sort options vary considerably between the reviewed vendors.
We have found Global Golf to be a full service, easy to navigate, and a well-stocked option for women's clubs.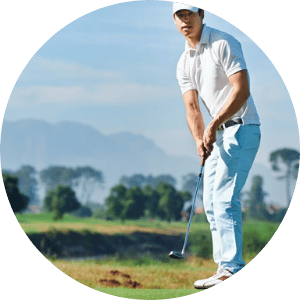 Nick Lomas is the founder of GolfSpan, an avid golfer, not quite a pro but has over 15-years of experience playing and coaching golfers from all over the world. His mission is to bring the golfing community a better experience then it comes to choosing the right golf gear, and finding the right set up for your game.