Golf is one of the most followed sports by parents and kids alike with many golfing, and non-golfing, parents inspiring their children to participate in the sport.
The rise of Tiger Woods from his first TV appearance at the age of 2 brought loads of excitement to the golfing community and encouraged parents to introduce their kids to the sport from an early age.
To minimize the entry cost of kids participating in golf manufacturers offer a variety of clubs aimed at specific age groups and lengths of players.
Although not all kids grow at the same pace the length of the clubs is better guidance as to the suitability of the club for the age of your 5-year-old.
At a glance: Best Golf Clubs For 5-Year Old
The average height of a 5-year old male is 43 inches while the average height of a 5-year old female is 42 ½ inches.  On average a male child grows by approximately 2 ½ inches per year between the ages of 4 and 6 while a female child grows approximately 3 inches per year during the same time
The number of clubs in the set should be suitable for the experience and skill level and can range from 3 clubs to 11 clubs per set for junior golfers.
Best Kids Golf Clubs 2021 is recommended that 5-year old carry no more than 5 clubs in their bag, a high lofted driver, a hybrid, 7-iron, wedge, and a putter. The strength, capability, and swing speed of the child may necessitate you to vary from the guidelines set above.
It is not only lower-level brands such as USKids and Flynn Golf that produce clubs for kids since some of the premium brands such as Ping, TaylorMade, and cobra entered this market in the last few years.
The age of 5 is not too early to have a promising golfer fitted for a set of golf clubs since Tiger Woods had his first set of fitted clubs at the ripe old age of 4, and then re-evaluated biannually.
Depending on the skill level of your child and the budget that you set you can select between 3 broad categories namely advanced, intermediate, and beginner golf club sets.
The general price range for each category is as follows:
Intermediate to Advanced range from $110 for a 6-piece set to $1,300 for an 11-piece Ping set
Intermediate-range from $150 for a 3-piece set to $665 for a 10-piece set
Beginner ranges from $50 for a 4-piece set to $230
Advanced sets are aimed at kids that participate in a competitive tournament that want high-quality clubs, sufficient gapping of approximately 10 yards between clubs, and provides maximum coverage.
Quick Overview: Best Golf Clubs For 5-Year Old
IMAGE
PRODUCT
DETAILS

OUR RATING: 4.8/5

Ray Cook

easy-to-align putter
lightweight stand bag with rain cover
lofted driver with matching headcover

VIEW ON AMAZON →
Flynn Golf VTMax Velocity and ALTO Junior Clubs

customized shafts and grips
junior shafts with adapters fitted for OEM drivers
2 sets

VIEW LATEST PRICE →
Cleveland Golf Junior Package Set

3-piece set
7 Iron
Fairway (22°)

VIEW LATEST PRICE →
Cobra King Junior Golf Clubs

375cc driver
Sleek, low-profile hybrid feature
Perimeter weighted

VIEW LATEST PRICE →

OUR RATING: 4.8/5

Callaway XJ Golf Clubs

7 Piece Set
Leading Performance Technologies
Ultra-light Clubs

VIEW ON AMAZON →

OUR RATING: 4.7/5

Aspire Junior Set 5-year

GRAPHITE SHAFTS
AIRCRAFT GRADE ALUMINUM
LIGHTWEIGHT JUNIOR GOLF BAG SET

VIEW ON AMAZON →

OUR RATING: 4.7/5

Confidence Junior Golf Club Set

DELUXE STAND BAG
MALLET PUTTER
#7 and #9 irons with cavity back design

VIEW ON AMAZON →

OUR RATING: 4.6/5

TaylorMade Rory Junior Package Set

400Cc titanium driver
Oversized, perimeter-weighted irons
Center-shafted mallet PUTTER

VIEW ON AMAZON →

OUR RATING: 4.5/5

Powerbilt kids golf club set

Package length: 95.885 cm
Package width: 26.035 cm
Package height: 18.288 cm

VIEW ON AMAZON →
Best Golf Clubs For 5-Year Old
Ray Cook is another brand that offers two options ion the Golf Gyro Teen Package Set and the Ray Cook Golf Manta-Ray Package Set.
Comprising of a 460cc oversized driver, fairway wood, hybrid, and premium cast irons from a 6-iron to a PW, the Gyro Teen Package Set is suitable for golfers from ages 3 up to the age of 12.  Irons offer a large sweet spot and steel shafts making them easy to hit.
The Manta Ray is a 5-piece set that is a more colorful and durable set aimed at golfers between 3 and 5 years of age to provide maximum forgiveness.
2. Flynn Golf VTMax Velocity and ALTO Junior Clubs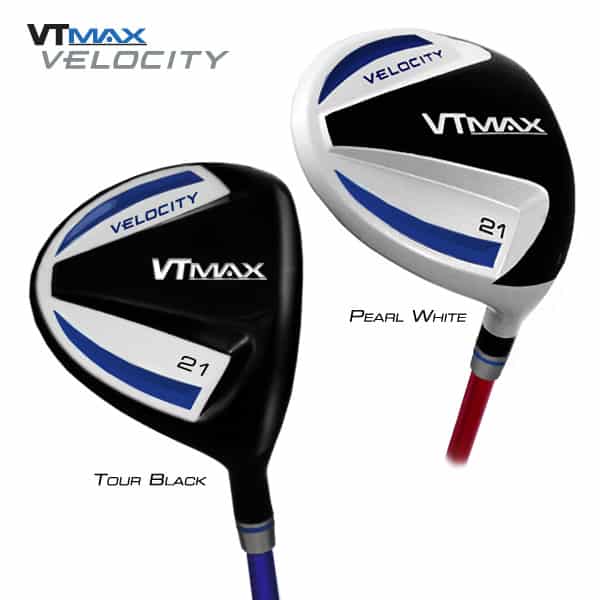 Flynn golf offers 2 sets for golfers in the 5-year age group, Flynn golf VT Max and the ALTO junior ranges
It is constructed from high-quality materials with customized shafts and grips, all while being budget-friendly.
Golfers that have proven to be skillful at a very early age will benefit from the advanced features provided in Flynn golf clubs.
High-quality junior shafts with adapters fitted for OEM drivers are available for purchase separately.
Fitting of clubs is available to juniors but may be rather complicated for beginners, but Flynn Golf has built a reputation for its experience in guiding young golfers through this process.
3. Cleveland Golf Junior Package Set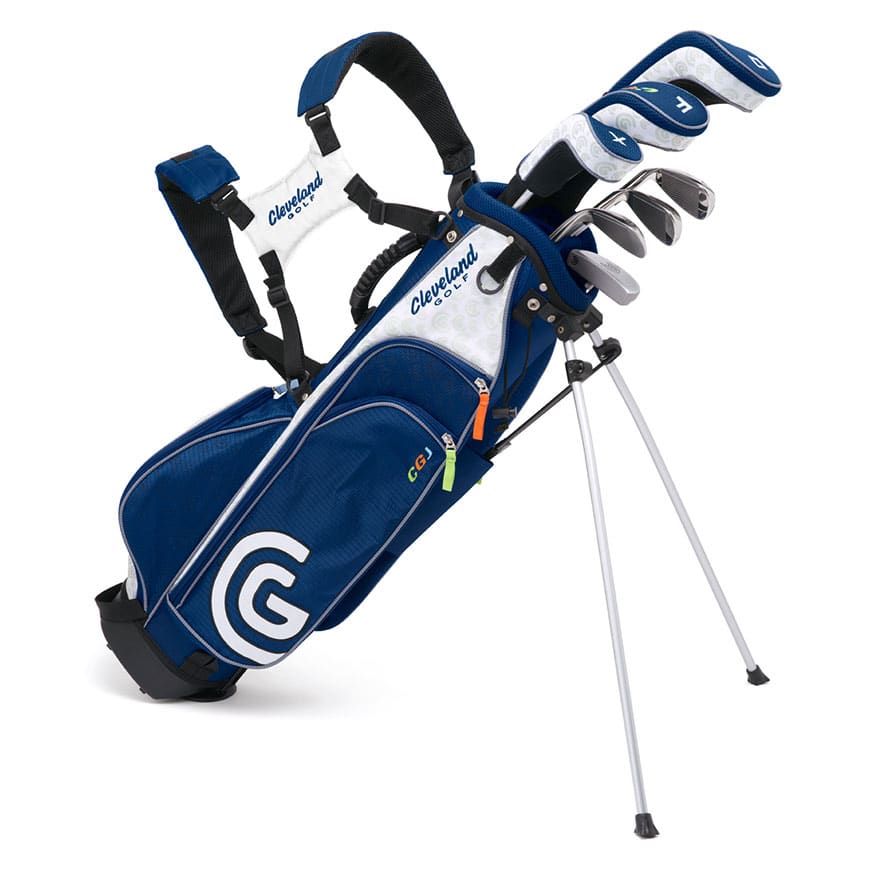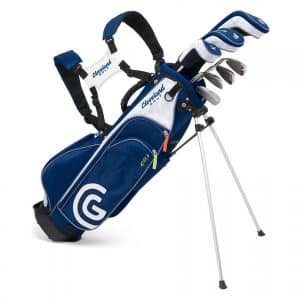 Cleveland Golf Junior Package Set is a 3-piece set aimed at golfers between the ages of 4 and 6 ranging from 36 inches to 43 inches in height. You can upgrade to the 6-piece or 7-piece sets as your child grows and grow older.
The quality is what you would expect from a top brand such as Cleveland and quality materials are used in the fabrication without pushing the prices into an unaffordable price bracket.
Cavity-backed irons enhance the playability for young golfers around the 5-year-old age group.
To make it easier to carry a durable bag is supplied as standard.
As a popular set, there may be a limited number of sets available at times.
4. Cobra King Junior Golf Clubs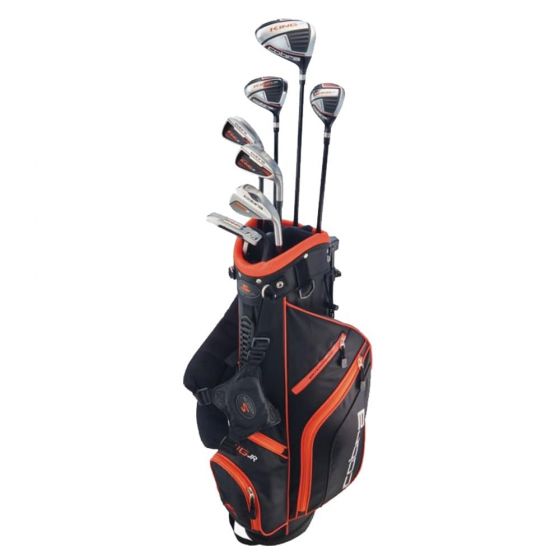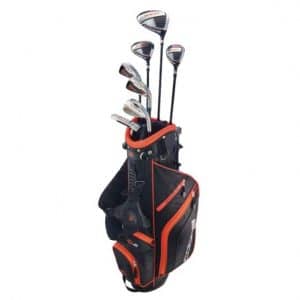 Cobra king clubs are extremely popular and the availability of a junior set for age 5 through 15 will set the groundwork for these golfers to go on and stay loyal to the brand as they grow older.
As to be expected, Cobra uses quality materials in the construction of the junior sets as they do in the professional and other sets.
Renowned for its looks, Cobra does not disappoint even in the junior category. The quality set includes a golf bag at an affordable price.
5. Callaway XJ Golf Clubs
Callaway Golf is a premium brand that offers a 7-piece set of clubs in the XJ3 that is available for boys and girls. Golfers can be assured that the quality standards set for professional golfers are followed throughout the age ranges ensuring that a Callaway branded club will be durable.
As a premium brand, you can expect to pay a premium price for the quality clubs irrespective of the age group that you buy into.
The XJ range is available in various lengths of which Level One is aimed at golfers between 38 and 46 inches tall making it ideal for 5-year old golfers.
Lightweight Callaway XJ golf clubs include an oversized 3 wood, 7-iron, putter, and a stand bag weighing a mere six pounds. This is easy to carry without causing too much fatigue, even for 5-year old golfers. More advanced juniors can upgrade to the Level 2 or Level 3 options.
6. Aspire Junior Set 5-year
ASPIRE Junior Plus Complete golf club set for children is aimed at golfers in the 5-year age group, both boys and girls, whether left and right-handed. Although specifically targeted at the 5-year age group it's versatile enough to be used by golfers from the age of through up to the age of 12.
It comes standard with a Junior Golf Bag and a full set of clubs with lightweight graphite shafts.
The woods generate speed and distance to inspire confidence in any young golfer while all clubs provide precise balance with smooth, clean contact in the impact zone.
7. Confidence Junior Golf Club Set
Confidence Junior Golf Club Set is a simple starter club set for golfers between the ages of 4 and 7.
The set comprises a wood, two large irons, and a putter thus making it an ideal first set for golfers around four or five years of age.
Perimeter weighting in the irons, woods, wedges, and putter assists with the amount of forgiveness and allows slower swing speed golfers to get the ball airborne for farther shots.
The additional weighting of the putter keeps it low to the ground for consistent putts
8. TaylorMade Rory Junior Package Set (Currently Out Of Stock, Will Update Soon)
Young kids that adore Rory McIlroy Rory and want to follow in his footsteps will love using a set named after their favorite golfer.
It comes in 2 configurations aimed at golfers in the 4+ year age bracket and the 8+ year age bracket. The sets are designed to provide optimal shaft lengths, flexes, and clubhead lofts to encourage the best swing mechanics for junior golfers.
Included in the set is a 16-degree 400cc Rory titanium driver to offer young golfers the self-confidence to produce high launching drives off the tee.
Irons are designed with loft arrangements that give launch angles for high and straight ball flight.
A center-shafted mid-mallet putter provides young golfers with increased stability and easy alignment.
9. Powerbilt Kids Golf Club Set
Powerbilt offers a 5-piece kid's golf club set, including a bag, ideal for golfers ranging from 4 to 8 years in age. This range offers 4 different-sized sets making it easy to have consistency as the golfer grows.
Powerbilt is known for using decent materials and quality construction providing good value for money
Satisfaction is part of the deal as can be seen from the nearly 90% positive customer that rates the clubs 4 ½ stars out of a possible 5
Final Thoughts
Selecting the best golf clubs for golfers in the 5-year age group is not an easy task. Considering that these kids are in a growing phase you have to balance the quality with your budget and take cognizance of the fact that you are likely to have to invest more money within a couple of years.
Many good clubs will allow your child to play good golf without breaking your budget.
Although the TaylorMade Rory Junior set will attract the attention of many youngsters, the cost involved may be slightly prohibitive if you are on a budget.
The clubs that meet the best criteria for golfers in the 5-year age group are the Flynn Golf Junior Clubs with the quality of materials and the fitting service that makes it easier to get talented youngsters on a good footing from the start.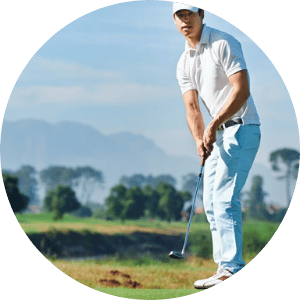 Nick Lomas is the founder of GolfSpan, an avid golfer, not quite a pro but has over 15-years of experience playing and coaching golfers from all over the world. His mission is to bring the golfing community a better experience then it comes to choosing the right golf gear, and finding the right set up for your game.