Wet and cold feet are a sure-fire way to ruin your round before you even finish the first hole. Trust me, I have endured my fair share of miserable rounds in the wet, thanks to underperforming footwear. To ensure you don't suffer the same fate, I have compiled a list of the five best waterproof golf shoes.
At a glance: Best Waterproof Golf Shoes
This article will equip you with the necessary knowledge to make better-informed decisions. With the help of this list, your feet will stay dry and warm in the rain.
Quick Overview: Best Waterproof Golf Shoes
Best Overall Waterproof Golf Shoes
FootJoy's Superlites XP golf shoe bag the prize as the best gripping spikeless waterproof golf shoes. Thanks to its signature soft mold rubber plate.
On top of the superb grip, the Superlites XP shoes provide superior comfort and performance. These slick, spikeless golf shoes comprise a durable, waterproof construction with enhanced underfoot cushioning.
Features of Footjoy Superlites XP Shoes
Waterproof
To find a balance between comfort and dryness, FootJoy searched for materials that were soft and waterproof. As a result, they employed easy-care synthetics which shield your socks from torrential downpours.
According to FootJoy, the waterproofing of your shoe should hold for at least one year if you frequently use them. Last but not least, the softness of the material is easy on your feet and lowers your risk of blisters.
Turf Grip
For the most part, my advice to leisure golfers is to wear spikes when playing in the wet. I feel that the twist grip technology in most soft golf spikes increases your traction with the soaked turf.
FootJoy took a different approach and opted for rubber traction plates, which are fitted across the sole. This design uses the power of numbers to grip the turf and stabilize your feet while walking and swinging.
Laser Plus Fit
If your feet slide around in your shoes while you walk, it won't be long before you are nursing blisters. Plus, this action causes you to lose balance, which impacts the strength of your shot, and ultimately total distance.
The Large Plus fit keeps your heel secure with a narrow design. While a wider insole maximizes the cushioning provided to the sole of your feet.
Value For Money
The FootJoy Superlites XP falls into the category of mid to high-priced golf shoes. However, as someone who has owned many pairs from this brand, I can vouch that the products last an age.
Given the lifespan of FootJoy products and the quality of these shoes, I am happy to certify it as a value-for-money buy.
Verdict
The Superlites XP delivers optimal waterproofing, comfort, and turf grip, ideal for those who prefer spikeless golf shoes. The downside is that when the rubber grip wears away. You will need to purchase a new pair, unlike spiked shoes, where you simply replace them.
2. Skechers Go Golf Torque
Skechers top our list for the best overall waterproof golf shoes with their Go Golf Torque kicks. The standout feature of these golf shoes is Skechers trademark H2Go waterproof protection to keep your feet dry in soggy conditions.
Added to its exceptional waterproofing is the optimal comfort that these shoes provide. The Goga Max cushioned sole combines with ultra-flight cushioning to provide your feet with the protection they need for 18-holes.
Finally, the soft spike construction of these Skechers golf shoes produces optimal traction for improved stability during your swing.
Features of Skechers Go Golf Torque Shoes
H2GO Waterproof Protection
To produce waterproof golf shoes that stood apart from its competitors, Skechers had to bring their A-game. So, the design team decided to add H2GO Shield waterproof protection into the mix. H2GO is 100% waterproof and can withstand copious gallons of water.
Thanks to the H2GO waterproof protection, your feet stay dry and warm in the wet. Plus, to sweeten the deal, they threw in a one-year warranty on the waterproof, should it not perform as expected.
Goga Max Technology Insole
Skechers roped in their Goga Max technology to increase the cushioning of the inner sole. The soft feel of the sole improves the comfort of your shoe to limit the risk of blisters and foot aches.
Ultra Flight Cushioning
The Goga Max insole cushions the impact of your feet. However, Ultra-Flight cushioning adds stability to your feet and provides extra spring to promote optimal leg drive for maximum power at impact.
Replaceable Softspikes
The design team at Skechers felt that soft-spikes were the best approach to maximizing your grip in wet weather conditions. However, as we know, soft spikes break easily, and if they are not replaced, leave your golf shoes futile.
It is for that reason that the Go Golf Torque shoes contain replaceable spikes. Enabling you to fit new ones on with ease.
Moulded Rubber Bottom Plate
The addition of a molded rubber bottom plate is a stroke of genius by Skechers. They substituted soft spikes under your heel and toes for a rubber plate to reduce pressure on your feet while walking. Plus, the expertly positioned mold promotes more twist during your swing.
Value For Money
A pair of Skechers Go Golf Torque shoes are moderately priced for all golfers to enjoy. Their quality and comfort, combined with their waterproofing, make them good value for money shoes.
Verdict
The Go Golf Torques are 100% waterproof, comfortable, and deliver additional spring with every step. Therefore, if you demand all-around waterproof golf shoes that keep your feet dry and help you optimize your performance, they are worth looking into.
3. New Balance Minimus SL Golf Shoes
The next category on our list is the most comfortable waterproof golf shoes. New Balance claimed victory with their Minimus SL Golf shoes. The company is best known for their road running shoes and know-how to support your feet for hours on end.
The upper is constructed with waterproof microfiber leather, while the REVlite drop midsole enhances your comfort. And, finally, to maximize your tractions with the turf, New Balance applied an NDurance spikeless rubber sole.
Features of New Balance Minimus SL Golf Shoes
FantomFit Upper
New Balance's FantomFit Upper features a combination of comfort and waterproofing. The expertly crafted waterproof upper delivers ultra-light support to your ankles, which helps to prevent blisters.
To ensure that rain or morning dew doesn't enter your shoes. Waterproof microfiber leather was employed. As a result, your feet and socks stay dry and comfortable in any condition.
Revlite Midsole
The focus of comfort did not stop with the FantomFit Upper. They proceeded to install an innovative REVLite Midsole to maximize cushioning and stability. Although REVLite foam is lighter than most, it provides superior cushioning by absorbing the impact of every step.
Furthermore, the foam adds stability to the shoes to help you stay grounded through your swing for optimal results.
Ortholite Insole
Capping off the comfort features of the Minimus SL golf shoes is their Ortholite insole. The polyurethane insoles produce long-lasting cushioning and wick moisture away from your feet to stay dry during your round.
On top of its moisture-wicking characteristics, the Ortholite insole is breathable, allowing air to flow through the shoes to keep your feet cool in wet, humid conditions.
NDurance Rubber Outsole
The downside of spikeless shoes is the lack of traction they generate in wet conditions. New Balance attempted to combat this by fitting an NDurance Rubber outsole to the Minimus SL's.
The rubber compound keeps your feet grounded to optimize your stability and is provides durability in high-contact areas. However, in heavy rain, they do not hold the way soft spike shoes do.
Value For Money
Those who cherish comfort and dryness above all else will find that the Minimus SL's are an attractive option. Overall, considering the quality of the waterproofing and support, they offer good value for money.
Verdict
While there is no denying the quality of workmanship and the comfort of the New Balance Minimus SL's. The grip is susceptible to wet conditions. Since this review is focused on waterproof shoes, I would prefer soft spikes in these conditions.
4. NoxNex Waterproof Golf Shoes
NoxNex is not a brand that often comes up in a discussion about golf shoes. But their unique design is worthy of a place on this list. After reviewing a variety of laceless waterproof shoes, these were the clear winners of the category.
Its dial-lacing system offers the ultimate convenience for taking your shoes on and off, and waterproof leather keeps your feet dry and warm.
From a comfort perspective, the NoxNex features a breathable insole that allows air to circulate, keeping your feet cool and dry when they start to perspire.
Features of NoxNex Waterproof Golf Shoes
Dial Lacing System
Although the focus of this post is on waterproof golf shoes, I cannot deny that it is secondary with these shoes. NoxNex added a dial-lacing system, which at first seems like a gimmick. However, its practicality grows on you.
To put them on, you press the dial until it clicks and then slide your feet in. After that, you turn the dial right on your right foot. And repeat the opposite for your left foot. To loosen the lacing system, pull the dial out, and your feet are free to air.
Waterproof Leather
As you would expect, the upper's on these golf shoes are constructed from full-grain leather and mesh. This combination improves the breathability and waterproof qualities of the leather to keep out the rain and turf moisture.
Breathable Insole
While the external features of the NoxNex golf shoes increase your convenience and keep you dry, the insole enhances your comfort.
The breathable contents of the insole allow air to flow through the shoe and keep your feet cool and dry while wicking away moisture from your feet and socks.
Soft Spikes
Throughout my time as an amateur golfer, I have experienced firsthand how spikes perform better in the pouring rain than their spikeless counterparts.
The presence of soft spikes in the NoxNex Waterproof golf shoes maximizes your traction with the turf to keep you stable through your swing.
Furthermore, the spikes feature metal thread insert systems, which are simple to replace and ensure grip in the long term.
Value For Money
These NoxNex golf shoes fetch a moderate price, which keeps you going for a couple of wet seasons. They are convenient to use, comfortable, and deliver the goods. When it comes to warmth, grip, and dryness. Therefore, they earn the right to be called a value for money purchase.
Verdict
My knowledge of NoxNex before testing these shoes was limited. However, I am a fan of their out-of-the-box construction, traction, and comfort. If laceless golf shoes appeal to you, these are worth a look at.
5. Ecco Biom G3 Golf Shoes
If you demand quality and have the budget to pay for it, these are the shoes that you have come here to read about. The Ecco Biom G3 spike golf shoes bagged our nomination for the best quality waterproof golf shoes.
As a premium quality product, the Biom G3's offer superior comfort, support, and feel. Ecco paired their lightweight leather with Gore-Tex waterproof technology to ensure dryness and comfort.
Furthermore, a removable and washable Ortholite inlay provides soothing support to your feet. While Zarma Tour spikes, optimize your traction while walking and swinging.
Features of Ecco Biom Golf Shoes
Gore-Tex Waterproof Protection
When a fabric is solid enough for spacesuits, it can repel rain and dew to keep your feet dry and warm. Since 1976 manufacturers have used Gore-Tex to create breathable, waterproof, and windproof apparel.
Ecco understands this approach and applied Gore-Tex waterproof technology to the Biom G3's. The protection provides repels water to ensure that trotters remain dry.
Biom Natural Motion Technology
Using an anatomical last, the team at Ecco produced a shoe that keeps you closer to the ground to optimize your stability during your swing.
Zarma Tour Spikes
In the early days of my golfing journey, I endured excruciating pain around my midsole. The root cause was warped spike screws digging into my foot. Fortunately, Ecco has found a way to optimize traction without impacting the health of your feet.
Four spikes appear on either side of the shoe, while the midsole features a groove design that is comfortable and keeps your feet on the turf.
Ortholite Inlay Sole
Added to the stability, comfort, and water repellent qualities of the Biom G3 golf shoes, it also includes an Ortholite Inlay Sole.
Not only does it deliver exceptional cushioning and protection, but it is also breathable and ensures that your feet stay dry and cool. Plus, you can remove it and wash it whenever you start experiencing an undesirable odor.
Value For Money
Clearly, the Ecco Biom G3 is an exceptional golf shoe that is comfortable, waterproof, and grips to the turf like glue. However, it is not a value for money buy, as it is the highest-priced item on this list, and there are suitable options for three times less.
Verdict
To use a car metaphor, the Ecco Biom G3's are the Ferrari of waterproof golf shoes. As a result, they are priced for few to enjoy.
However, if you have the budget, then spend away. But, the reality is that the average golfer on a tight budget can enjoy one of the other picks on this list.
Conclusion Of The Best Waterproof Golf Shoes
After searching high and low, we have concluded our hunt for the top five waterproof golf shoes on the market. Topping the list was the Skechers Go Golf Torques. Thanks to its outstanding comfort, cushioning, waterproofing and traction.
The FootJoy Superlites XP took the crown as the spineless waterproof golf shoes with the best grip. After that came the New Balance Minimus SL's for their superior comfort, while the NoxNex's topped our list as the best waterproof laceless golf shoes.
Rounding out the five best waterproof golf shoes was the Ecco Biom G3's, which earned our pick for its best overall quality.
In conclusion, if you are on a moderate budget and need an all-around performing pair of waterproof golf shoes. Take a closer look at the Skechers Go Golf Torques here.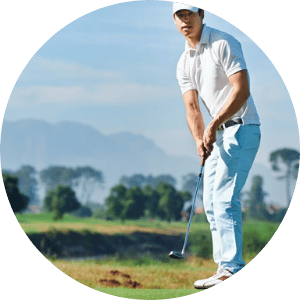 Nick Lomas is the founder of GolfSpan, an avid golfer, not quite a pro but has over 15-years of experience playing and coaching golfers from all over the world. His mission is to bring the golfing community a better experience then it comes to choosing the right golf gear, and finding the right set up for your game.