Datapoint measurements are made possible through the use of the FlightScope 3D radar motion tracking technology and advanced industrial electronics.
The patented phased array tracking technology that is used in all FlightScope radar units is the most advanced in the industry today.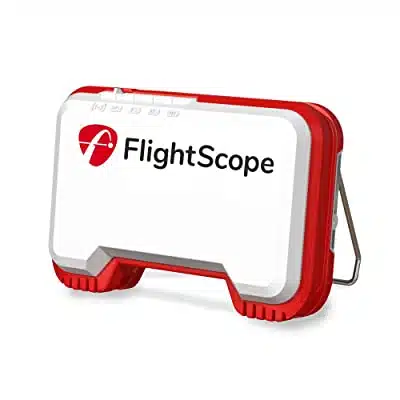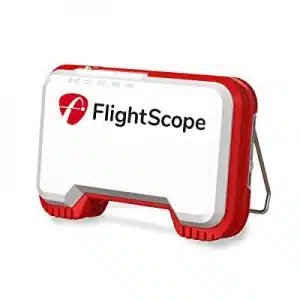 FlightScope was originally founded in 1989 to measure projectiles for the defense industry. They soon found that their technology could provide valuable information in a variety of sporting codes, particularly golf. We look at one of their leading products in this category in out FlightScope X3 Review.
Even though the company branched out into various sporting codes it remains prominent in the defense industry in more than 24 countries and continues to develop the technology.
Using 3D Doppler ball-tracking technology, it measures bowling speed for cricket; pitching, hitting, and pop time analysis to baseball; ATP tournaments' chair-umpire scoring systems for tennis; and of course something that we are interested in, ball and club head parameters in golf.
The FlightScope X3 is one of the most sophisticated systems to evaluate all aspects of your game from tee to green, whether it relates to the ball or your swing.
It is wireless, portable, and very lightweight allowing you to take it to any place that you can swing a club freely whether indoors or outdoors.
Getting the information from the FlightScope X3 to your laptop or tablet device is straightforward through the built-in 5GHz Wi-Fi hotspot. You can now get immediate feedback on every shot to assess the changes required to improve your next swing.
For ease of assessing your golf swing and the impact thereof on the ball flight, the FlightScope 3D motion tracking device measures 27 variables related to the golf ball, club path, and impact.
All levels of golfers, including professional golfers, benefit tremendously from the feedback received. Using these devices have become instrumental in golf coaching to fine-tune your swing.
Features
Fusion Tracking
FlightScope's patented Fusion tracking is an innovative combination of radar tracking and image processing that represents advanced measurement technology of fast-moving objects.
Fusion tracking is a high-performance 3D Doppler tracking radar with low power consumption. The combination of phased array antenna technology and advanced ballistic flight analysis software provide accurate performance data while creating a full picture of your swing and track the golf ball for its entire trajectory after impact.
Data Points
The X3 software provides feedback on a large variety of data parameters of your full swing, chipping, pitching, and putting data parameters. This will assist you to identify areas that need improvement.
Data points being measured cover
Full Swing and Ball Blight
Club and Swing
Angle of attack
Club acceleration profile
Clubhead speed
Club path
Club speed profile
Dynamic loft
Face angle
Face to path
Smash factor
Vertical descent angle
Vertical launch angle
Skills score
Vertical swing plane
Face to target
Launch
Flight time
Horizontal launch angle
Horizontal swing plane
Lateral landing
Launch angle
Launch direction
Ball
Apex height
Ball speed
Low point
Shot dispersion
Shot type
Spin Axis
Spin loft
Spin rate
Curve
Distance
Carry distance
Distance to pin
Roll distance
Skills distance to the pin
Total distance
Short Game
Chipping and Putting
Club path
Clubface angle
Clubhead speed
Launch speed
Launch direction
Lateral position
Smash factor
Skid distance
Roll distance
Total distance
Distance to pin
FlightScope Environmental Optimizer
Change your environment without changing your location
Not all golf is played in perfect weather conditions and it is imperative to recognize the influence environment variables have on ball trajectory.
You can now prepare for conditions expected during your next round.
FlightScope Environmental Optimizer allows you to configure the impact of
Altitude
Temperature
Humidity
Relative landing height
Wind speed
Wind direction
E6 Connect
When you purchase a FlightScope X3 unit, the E6 Connect Bundle comes as standard at no additional cost. It is possible to upgrade the E6 Connect Bundle for access to additional courses and features.
E6 Connect Bundle is magnificent golf simulation software with 4k graphics integrated with FlightScope to deliver precise data for game improvement and a gaming experience.
You can now partake in competitions with other golfers from FlightScope's massive network around the globe.
Included in the FlightScope E6 Connect Bundle is:
5 Golf Courses
Aviara
Stone Canyon
Wade Hampton
Sanctuary
Belfry
Driving Ranges
A selection of 17 driving range layouts and skill challenging games
Online Games
Allows you to play a variety of courses, games, and compete in matches against anyone from around the glove on the following iOS versions
iOS
iPad Pro 1 or later
iPad 5 or later
iPad Air 3 (Current Version)
iPad Mini 5 (Current Version)
iPhone 8 or later
MultiCam
Data and video clips are automatically captured and synchronized from multiple camera feed for a full analysis and breakdown of each swing. This will enable your coach to work from a different locale to identify areas that will generate the most improvement in your golf game.
MultiCam provides a customizable interface with various data and video screen combinations for display during your golf lessons.
Club and Ball Trace
View actual club and ball trace overlay on video along with the accurate data, pressure shift, and mental training for an all-in-one solution
Wedge D-Plane
FlightScope's wedge D-Plane provides valuable insight into your wedge play to assist you in eliminating missed wedge shots with the most accurate and consistent data in the industry.
Alternatives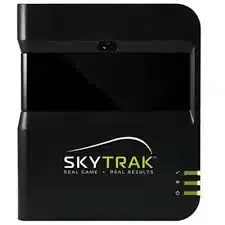 The SkyTrak is a photometric golf launch monitor that uses a succession of tiny cameras that transmits heaps of pictures of the impact between golf ball and clubhead.
These images are used in SkyTrak' s proven algorithms to calculate the flight of the ball and provide data that is accurate to within 2 yards at the end-point.
Every shot is tracked and stored in the database for future reference.
Launch monitors data can be affected by prevailing wind conditions if they track the ball for the total duration of the flight. To determine the impact of weather and wind conditions on your golf ball trajectory, the conditions can be set on the SkyTrak launch monitor.
Since SkyTrak only uses the photographs at the time of impact, SkyTrak' s technology is unaffected by weather conditions. The device can be used indoors or outdoors.
SkyTrak provides limited club data and swing data. Speed is the only clubhead measurement SkyTrak provides.
Data points provided by SkyTrak are
Carry distance
Total distance
Launch angle
Side angle
Ball speed
Clubhead speed
Backspin
Sidespin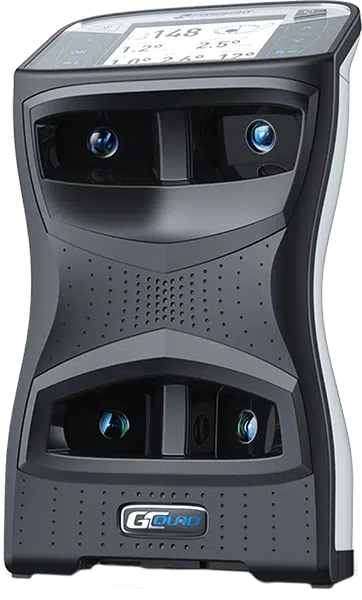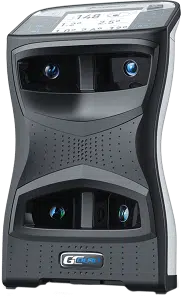 The GC2 is a photometric launch monitor using a stereoscopic camera that locks onto the dimple pattern of the golf ball. It has been an enormously popular launch monitor due to the accurate data it provides and its robustness.
The device is equally usable indoors and outdoors.
You will only get ball flight data from the base version of the GC2.
For more advanced data on your swing and the impact of the clubhead on the golf ball, you have to purchase the HMT (Head Measurement Technology) clubhead analysis version.
HMT instantly provides feedback on critical information relating to clubhead speed, horizontal club path, smash factor, dynamic loft and lie, and impact location.
The Foresight GC2 FSX software package is not standard with the purchase but can be acquired separately. This will provide the following additional categories.
The club fitting tracks and stores data effortlessly and is perfect for all pros and club fitters
Golf simulation.
Performance Simulation with more than 80 golf courses
Creative Golf 3D with more than 50 courses and 19 practice areas
Data points provided by Foresight GC2
Ball speed
Horizontal launch angle
Vertical launch angle
Spin
Sidespin
Carry distance
Final Thoughts
Launch monitors enable you to fine-tune your golf swings and achieve consistency while allowing the family and friends to have fun playing games.
The FlightScope X3 offers you the opportunity to track more than 50 data points related to your swing, clubhead, and ball flight.
With the E6 Connect Bundle, you can now record your swing and send it to your coach for analysis and feedback on what you need to work on to improve your game.
A variety of golf courses are available for international competitions with the golfing community on FlightScope's network.
Treat yourself to some great fun on the FlightScope X3 launch monitor by clicking on the link below.
Nick Lomas is the founder of GolfSpan, an avid golfer, not quite a pro but has over 15-years of experience playing and coaching golfers from all over the world. His mission is to bring the golfing community a better experience then it comes to choosing the right golf gear, and finding the right set up for your game.