I often play with my two buddies, so knowing about the most fun golf games for three players can be advantageous. We had a great time doing stroke play on the course, but we wanted to up the ante a bit to make it even more fun. I looked up these games because I wanted to know a few 3 person golf games I could play with my friends.
Here are the 7 best golf games for 3 players:
Three Ball
Bingo-Bango-Bongo
Wolf
81
Rabbit
Stableford
Split Sixes
Knowing these games will help you have more fun and could also help you improve your game since you'll think about golf in new ways.
Read on for the rules and tips for each of the best golf games for three players.
Related article: Can You Play Golf with 5 Players?
The 7 Best Golf Games for 3 Players
1. Three Ball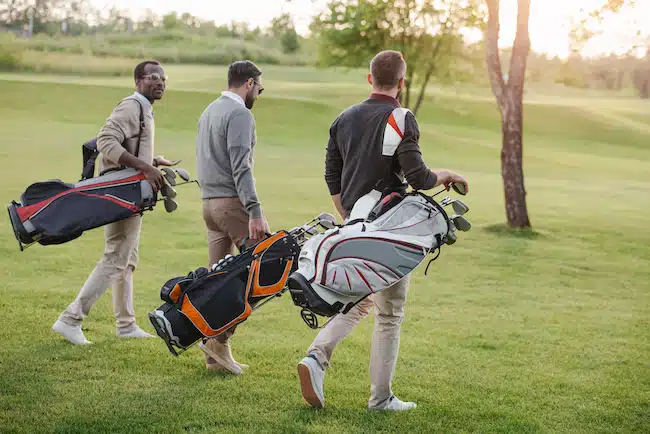 Pros
Great choice for tournaments
Makes the game more exciting
Cons
Can't pick up the ball after a shot until all players have taken their shots
This is one of those three-person golf games that you will love. Three Ball sets you up to where you play against two other players. Each person will play as an individual against the other two. Each golfer will play in simultaneous matches against the other two players. Interestingly, Three Ball receives a mention in Rules of Golf. It's the only game among stroke play and match play that they mention.
How Three Ball Pairings Work
To make this easier to understand, we'll call each Player 1, Player 2, and Player 3. To understand the pairings:
Player 1 might play a match against Player 2 and Player 3.
At the same time, Player 2 is playing one match against Player 1 and one match against Player 3.
Player 3 is playing one match against Player 1 and one match against Player 2.
In other words, every golfer will play two matches simultaneously at the same time. Due to that fact, don't pick up your ball if one player concedes because you need to play both of them. Along with that, don't confuse Three Ball with Threesome. In Threesome, you play as one person against a team that alternates each shot.
Related article: The Most Helpful Golf Driving Range Games
2. Bingo-Bango-Bongo
Pros
Everyone who plays has a chance to win
Three chances to score for every hole
As much fun to say as it is to play!
Cons
Better players may feel the game itself is against them
This is one of those famous golf games for three players that you hear about often. You can play this game in several variations. The game works like this: They award you a point on three separate things (bingo-bango-bongo). You can score three points for each hole. You can play this game with three players, but you can also play it with two or four players. I've heard of people playing this one in foursomes.
Some golfers like Bingo-Bango-Bango because even the less skilled golfer can win points. The less skilled receives an advantage because the one farthest from the hole gets to play first. If your shot was the farthest away, you could win the Bingo. The same thing goes for the Bongo element. This element neutralizes low-handicap players versus high-handicap players.
How the Scoring System Works
The player who first hits the ball onto the green will receive the first point (Bingo). Be careful here because they don't count landing on the fringe of the green. Once every player puts their ball on the green, the next point goes to whoever put it closest to the pin (Bango). Getting the third and final point means hitting the golf ball into the hole (Bongo).
One variation of Bingo-Bango-Bongo is that you double your points if you hit all three consecutively.
3. Three-Player Wolf
Pros
Everyone gets the chance to play as the captain
Each player acts independently despite being on a team
Cons
Inequitable distribution of the holes
You can play Wolf with 3 players, even it's commonly thought of as a golf game for 4 players. A three-man Wolf game mirrors the traditional style of Wolf, where you have the rotating captain format, and you will need to make decisions even looking outside of your own score. This style goes beyond a simple golf wager game because you need to account for time, score, and individual situations.
How the Scoring Works
To begin the game, the first player will hit the ball, and they need to decide if they want to take on the other two competitors as a team (1 vs 2 ). This is one of the team golf games. If he chooses not to go Lone Wolf, he loses the chance. It passes on to Player 2 to take his shot, and Player 1 can at that point choose if he wants to make Player 2 his teammate. If he rejects Player 2 as his teammate, he must take on Player 3 as his teammate without seeing his tee shot.
Let's look at what happens if Player 1 goes Lone Wolf and wins the hole. Each hole will always be worth a total of 6 points. His score will outdo either of the other two players at 6 points. If either Player 2 or Player 3 beat Player 1, they will split the points in half at 3 and 3. Lone Wolf has the advantage in that you can score the highest at 6 points, but you also take on both of the other players.
If you're playing on the Team versus the Lone Wolf, the highest you can ever score is 3 points because you split the 6 points with your teammate. This is one of the fun golf games for 3 players where you get a lot of variations in the rules. The order on the tee will vary for each hole so that every player will rotate as Player 1.
The one issue with Wolf as one of the golf games for 3 people is that it can lead to inequitable distribution of the holes. Everyone receives an equal number of holes because 9 or 18 holes will both go into 3 players without a problem. However, the 3-par holes tend to be the most desirable. As an example on 9-hole golf courses, Player 1 might start with a par-5 and get two par-3s. Player 2, in contrast, will receive three par-4s. Finally, Player 3 will have to play two par-4s and one par-5. This doesn't exactly make for equal gameplay, but it's still a fun game to play.
Related article: How Long Does a Round of Golf Take?
4. 81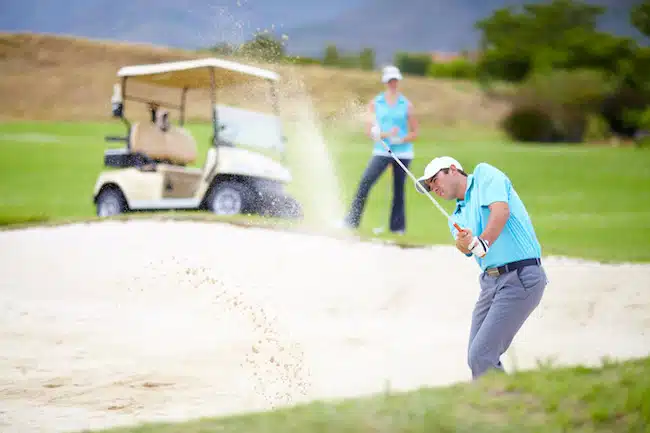 Pros
Simple and straightforward game to play
You score higher and receive a higher payout
Cons
Lacks strategy and can get boring after a while
You play 81 similarly to the Six Point Game, but the difference here is that every hole is worth 9 points instead of 6 points. 9 points multiplied by 9 holes equals 81, so this is more of a 9-hole game than 18 holes, but it's one of the best 3-person golf games because it was meant for 3 players.
Another difference from the Six-Point Game is that you score higher, which gives you a higher payout.
How the Scoring System Works
In 81, whoever wins the hole receives 5 points. The player who comes in second place receives 3 points. The player who finishes the hole in last place will receive 1 point. That's how the official point distribution goes for each of the holes 5-3-1. However, you do have exceptions to this rule. For example, if two players tie for the low score on that hole, they will distribute the points as 4-4-1. You also have situations where all 3 players will tie. In that case, they distribute the points as 3-3-3.
You have a final circumstance that can happen in 81 where Player 1 takes first place and Player 2 and Player 3 tie for 2nd place so that there is no last place. In cases like that, you distribute the points as 5-2-2.
5. Rabbit
Pros
Increased competition and excitement
Easy to learn
Flexible betting
Good for individual competitions
Cons
No points system
Can get expensive
No handicap considerations
When you play rabbit, the first golfer to win the hole without handicaps or ties will have "The Rabbit." The rabbit is the side bet for those holes, and you want to keep the rabbit for the front nine. For those who choose to play 18 holes, you will create a new rabbit for the back nine holes. If someone other than the player with the rabbit wins the following hole, it sets the rabbit free. You can then grab the rabbit on the next hole. Some golfers choose to play a different variation where you don't need to free the rabbit to take it.
You can play this either on 9 holes or 18 holes. You can either choose to make the gambling pot contributions either the same for each hole, or you can make it increase with each progressive hole. You will occasionally hear someone call this game "Bear" or "Chasing the Bear." It means the same thing either way.
This game doesn't have a points system, and instead, you want to hold the rabbit on the 9th hole and the 18th hole, where you receive the payout.
6. Stableford
Pros
Keeps the game competitive
You can have a bad hole without falling behind
Cons
Must stay focused, or you will lose a good score
Frank Barney Gorden Stableford invented this game in 1898. The golfer with the most points at the end of 18 holes wins when you play Stableford. Rather than counting the strokes, you score points based on the number of strokes taken at every hole. Stableford differs from traditional golf in that instead of trying for the lowest score, you aim for the highest.
I know some golfers who choose this as their game because it speeds up the pace of the play. Others like it because you can stay in the game even if you have a bad hole. You see it used at tournaments as a way to keep them competitive.
The Stableford Point System
This is one of those 3 man golf games where the scores work like in basketball, football, or baseball. You win points depending on the score for each hole. Use the following as a common point system used:
Double-bogey — 0 points
Bogey — 1 point
Par — 2 points
Birdie — 3 points
Eagle — 4 points
Albatross — 5 points
You win the game when you score the most points at the end of the 18 holes.
How To Play
You can play as individuals, or you can choose to play as a team, but if you're doing golf games to play with 3 players, you probably wouldn't create a team with uneven numbers. You can account for handicaps in the game as well.
For example, let's say that you take six shots on a par-4. You may receive one shot because of your handicap. Instead of scoring six shots, they would count it as five shot, which will give you a bogey—you scored 1 point.
Finally, Stableford is more than a threesome golf game. It's also a fun golf game for 2 or 4 players.
7. Split Sixes
Pros
Straightforward scoring
Engages all players
Strategic play encouraged
Cons
Scoring can be challenging
No team aspect
Can get repetitive
Split Sixes is a thrilling game for a trio of golfers, making each hole a small competition in itself. This game enhances individual competitiveness and keeps the interest alive till the last hole. Below is a simple breakdown of how to play Split Sixes:
Formation:

Three players set out to play, with each hole being a competition among them.

Scoring:

Each hole is worth 6 points, which are split among the players based on their performance.
The lowest score earns 4 points, the middle score gets 2 points, and the highest score gets none.
In case of ties, the points are split accordingly. For example, if two players tie for the lowest score, they get 3 points, leaving the third with none.

Winning:

The player with the most points at the end of the round emerges victorious.
Split Sixes lends itself well to a threesome, ensuring everyone has a stake in every hole. The game's competitive nature keeps everyone on their toes, making for an exciting day on the course. Whether out with friends or with fellow enthusiasts, Split Sixes makes for a great golfing day out.
FAQs
Can You Play Golf with 3 People?
You can play various golf games for 3 people, including Stableford, Wolf, Three Ball, Bingo-Bango-Bong, and 81.
What is 3 People Playing Golf Called?
Any time 3 people get together to play a game of golf, you will commonly hear it called a threesome.
Related article: Golf Card Game: A Must-Play for Golf Lovers
Final Thoughts
The best golf games for 3 players are Stableford, Wolf, Three Ball, Bingo-Bango-Bong, Rabbit, and 81. You may want to try a couple of them to see which you like the most. You can even play team golf games, and golf is one of the few games where you can do 2 versus 1 and still have it be a fair game.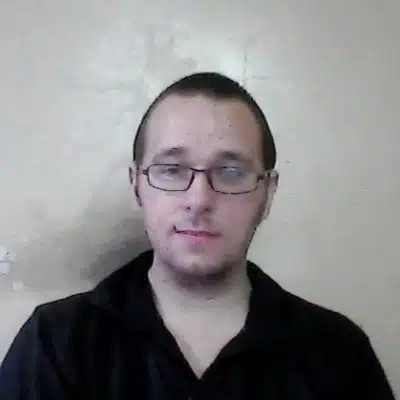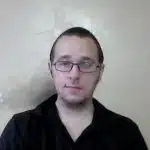 Matt
travels the world as a professional writer and blogger trying out different golf courses in exotic spots like the Philippines. He loves the challenge and tranquility in the sport of golf. Golf, for him, is a way of relaxing and enjoying life.