I have taken the each-way betting approach for years in golf and horse racing, but for the sake of this article, I will focus on the former.
What is each-way bet in golf? Each-way bets allow you to wager on a golfer to win the tournament or finish in a certain place. The number of places that are paid out varies, but it is typically the top five finishers. Odds for the win bet and the place bet are lower than the odds for a straight win bet.
After reading this post, you will understand the each-way bet golf term and why it is a smart strategy to optimize earnings potential.
Besides exploring the definition of an ew bet and how it works, I will also offer a few strategies along the way. My mission is to help you understand how the odds work and what your potential returns may be. Finally, I will guide you through picking the best players for specific course layouts and weather conditions and how to identify value bets.
What You Will Learn About An Each Way Bet
An each way occurs when you back a player to win and place
Your odds are lower than for an outright win
Each way betting increases your chances of receiving a payout
A payout for an each way bet is less than for an outright win
The highest position for a payout varies between sportsbooks
Sportsbooks often reduce your odds in the event of a tie
Exploring An Each Way Bet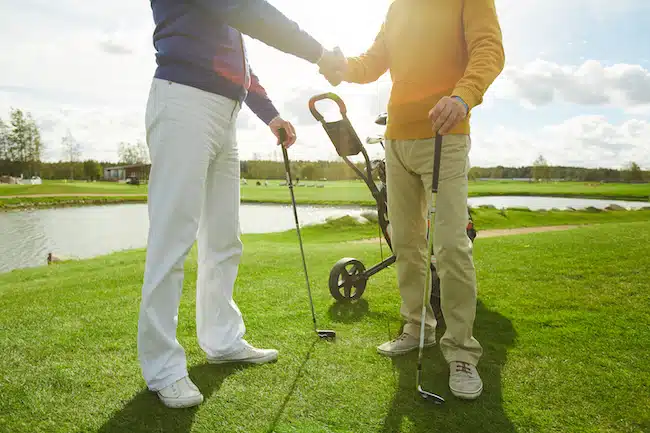 Definition Of An Each Way Bet?
An each way bet occurs when you split your bet on one player into wins and places. Instead of backing a player to win the tournament outright, you leave yourself room for error by including a place bet. That means you can still enjoy returns if your chosen player finishes typically within the top 5, 8, or 10.
Sportsbooks determine the cut-off point for places depending on the size of the field. For example, if we look at Unibet for the RBC Canadian Open, 6 is the highest placing spot they payout for. Conversely, Sky Bets offers an each way bet up until 10th place.
Although I like spreading my risk, the downside of an each way bet is that your total stake is double than an outright punt. That is because you are staking for a win/place golf bet. For example, if you drop $10 on an outright win, you must cough up $20 for each way betting.
Each Way Bet Payout Structure
I will use the example of Rory McIlroy's odds for the RBC Canadian Open to detail the payment structure. Rory is priced at 5.50 for an outright win, and Unibet is offering ⅕ of those odds for a player who finishes in the top 6.
Therefore, if I decide to take a $10 stake at 5.50 for an outright win, I stand to win $45 and my initial $10, giving me a total of $55.
If I switch to golf each way betting, I would pay $20 for the bet to cover the wins and places stake, and my payout potential is $54, plus my original $20 stake, giving me a total of $74. That translates to odds of 3.7 compared to the 5.5 offered on an outright win.
How Each Way Bets Differ in Golf
The most significant difference between each way bets in golf and other sports is how many places the bookies offer. For example, in horse racing, a cut off for a place is 3rd in a standard race and maybe 4th in larger fields. However, in Formula 1, your places are limited to the top 2.
However, in golf, each way betting extends places to 5, 6, 8, or sometimes 10 players, depending on the prominence of the tournament and field size. Places are limited at the discretion of the sports book.
For example, Unibet offers payouts on each way bets for golfers finishing in the Top 6 at the RBC Canadian Open. Conversely, SkyBet allows for a Top 8 finish, while Bet365 cuts off at 5th place.
Read More: What Is A Calcutta In Golf
Essential Factors in Golf Betting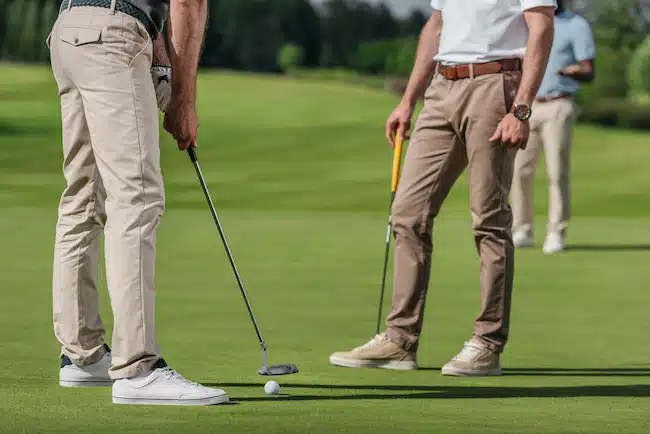 Player Performance and Form
The best golf punters dedicate their time to scouring PGA and DP Tour Websites for statistics on golfers, courses, and past tournament results. We are gifted with a wealth of data metrics to analyze a golfer's strengths and weaknesses. However, I find the PGA Tour is worlds ahead of their European counterparts.
You can use these statistics to identify which golfers have achieved the most victories, top 5, 10, and 20 finishes. In addition, it helps determine the quality of the player's tee strikes, approach shots, and short game, with metrics on strokes gained, scrambling, and putts per round.
If you find that the course for this week's tournament suits long hitters, quality scramblers, and consistent putters, then search for these players. Use the filters on the PGA and DP World Tour sites to find the most consistent performers in this area. Plus, identify if they carry other necessary qualities for success on the upcoming layout.
Analyzing Recent Tournament Results
Analyzing the results of recent tournaments is an appropriate starting point to determine which players are currently in form and brimming with confidence. Although past form does not guarantee success, these players obviously have a higher shot at success than a golfer who has missed consecutive cuts and struggled to find his swing.
Considering Course and Playing Conditions
Considering the golf course on hand and the playing conditions is more essential for me than past form. Every golfer on tour has the ability to win at some point. That is why they compete weekly with the game's best.
When you research, determine what qualities are vital to delivering a solid performance on this course. What trends do you notice from previous winners? Were they accurate off the tee or on approach? Or was their scrambling and putting performance strong.
Once you have this information, identify the best players on tour in those categories. One experience that comes to mind is my punt on Bryson DeChambeau to win the U.S. Open win at Winged Foot in 2020.
Winged Foot exceeds 7,400 yards, which is relatively long even for Pros, and that rough was so thick that you needed speed and power to escape it unscathed. DeChambeau was the only player to break even by Sunday afternoon, causing him to win by 6 shots. Ultimately, nobody else suited the course better than Bryson.
Course Analysis and Setup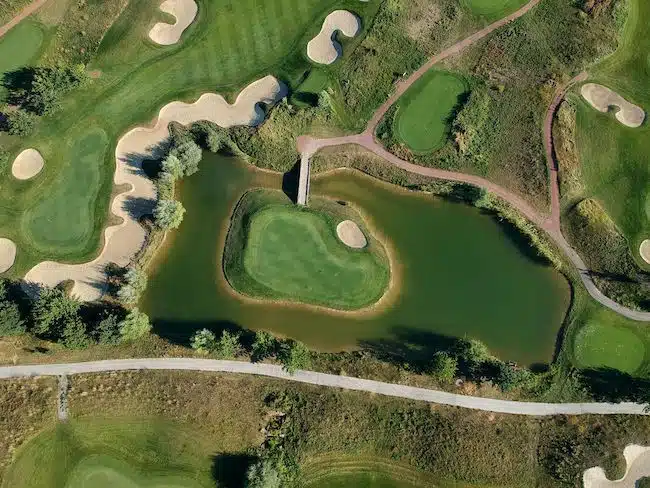 Course Length and Design Features
Besides analyzing a player's performance, dive into the detail of the golf course for that week, including length, hazards, grass grains, and doglegs. If the golf course is exceptionally long, you want to look at accurate long hitters on tour who will have a better chance to attack flagsticks and make birdies where their peers have to play safe.
In addition, if the layout is tight, fairways and greens in regulations become a key factor. Plus, you may consider players with a quality scrambling game who can escape trouble off the tee and still get down for par.
Another micro-detail to consider is a golfer's preferred shot shape. If a course is packed with left to right doglegs and a player likes drawing the ball, they sit at a disadvantage and may not be the most astute choice.
Finally, when the greens are large, fast, and undulated, you should pick a player with a solid one-putt record or minimal putts per round. Greens of this nature can quickly implode a player's day, and you want a cool, consistent head with the flat stick.
Impact of Weather Conditions
Whenever I create golf betting tips for my clients, I search for a 10 forecast at the proposed venue to see what we have to deal with. If rain or wind is forecast, I look and see how my possible pick has performed in these conditions in the past.
It may appear random, but I also consider where the pro grew up or went to University to judge how they will fair in the rain, wind, and sun. For example, players who grew up or studied in coastal areas may have a grasp on how to play in windy conditions better than those who were raised in calmer cities.
While a player coming off a few positive results may possess confidence, inclement weather can disrupt their momentum and onset undesirable swings and shots.
Green Speed and Difficulty
As I mentioned previously, the undulation, speed, and grass on the greens are worth analyzing. When the tour heads to courses like Augusta, where green speeds elevate the stimpmeter, you want players with minimal 3 putts to their name and a strong record of holding longer putts.
In addition, look at the total putts per round and one putt record. You want players who can navigate the quick, curving greens without leaking strokes to continue troubling the leaderboard.
Understanding Golf Betting Odds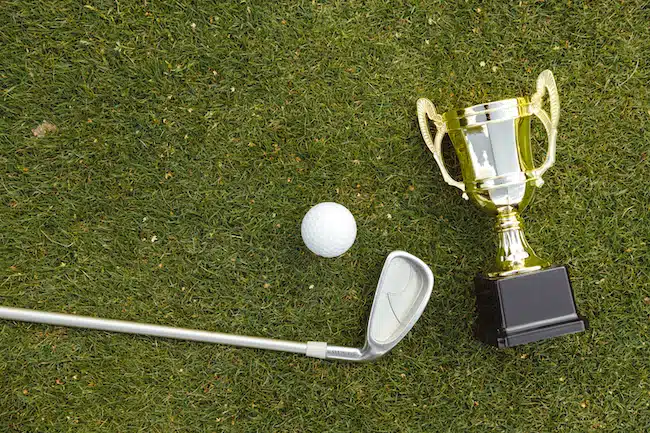 Decimal and Fractional Odds
Golf betting odds are displayed in fractional, decimal, and money line format. The latter is predominantly used in North America. An example of fractional odds would be 10/1, meaning for every dollar you stake, your gain $10. As a result, you earn your $10 profit and your original $1 stake back, making it a total of $11.
Regarding $11, 10/1 decimal odds are written as 11.0 or 11. That is because you earn a $10 profit on top of the $1 you bet. If you apply the same odds in the money line format, it reads as +1000.
The final way to display odds is implied probability, which assigns the winning percentage chance to each player. 10/1 fractional odds translate into 9.1%. However, I rarely see odds displayed in this fashion.
Odds Conversion Table
| | | | |
| --- | --- | --- | --- |
| Fractional | Decimal | Moneyline | Implied Probability |
| 1/5 | 1.20 | -500 | 83.3% |
| 2/9 | 1.22 | -450 | 81.8% |
| 1/4 | 1.25 | -400 | 80% |
| 2/7 | 1.29 | -350 | 77.8% |
| 3/10 | 1.30 | -333.3 | 76.9% |
| 1/3 | 1.33 | -300 | 75% |
| 4/11 | 1.36 | -275 | 73.3% |
| 4/9 | 1.44 | -225 | 69.2% |
| 1/3 | 1.33 | -300 | 75% |
| 5/4 | 2.25 | 125 | 44.4% |
| 11/8 | 2.38 | 137.5 | 42.1% |
| 9/1 | 10.00 | 900 | 10% |
| 10/1 | 11.00 | 1000 | 9.1% |
| 20/1 | 21.00 | 2000 | 4.8% |
| 50/1 | 51.00 | 5000 | 2% |
| 100/1 | 101.00 | 10000 | 1% |
How Are Returns On Golf Way Bets Calculated
Returns on golf way bets are calculated by multiplying your stake by the odds. For example, Rory McIlroy has each way odds of 3.7 to win or place in the top 6 at the RBC Canadian Open. If I stake $20 on him, $10 for a win, and $10 for a place, my potential payout grosses $54. Plus, I receive the $20 from my original stake, totaling $74.
Let me use an example with fractional odds. If the odds on a player for an each way bet are 3/1, it means that for stand to earn $3 for every $1 you bet. Therefore, if you wager $20, your potential payout is $60, plus your initial stake of $20, giving you $80 back.
The PGA Tour website has an odds calculator to determine your potential returns if you are not up for doing calculations.
Identifying Value Bets
Using my individual player research, course layout, and forecasted weather, I have a clearer picture of who is well-positioned to excel that week. You want to scan down the list and identify golfers who are cheaply priced for the occasion.
For example, I identified Corey Connors as a value play at the RBC Canadian Open because his win/place golf bet odds are 11.8. In addition, it is his home Open, where he will thrive off the crowd's support, and the Oakdale Golf Course is narrow and demands accuracy on approach. Connors is among the top 15 on tour in this department.
Besides my reasoning for picking Connors, I stand to make a decent return if he finishes in the top 6. If I place a $10 each way bet, with a total stake of $20, I stand to accumulate $216, along with my original $20 wager if he places.
Strategies for Successful Each Way Betting in Golf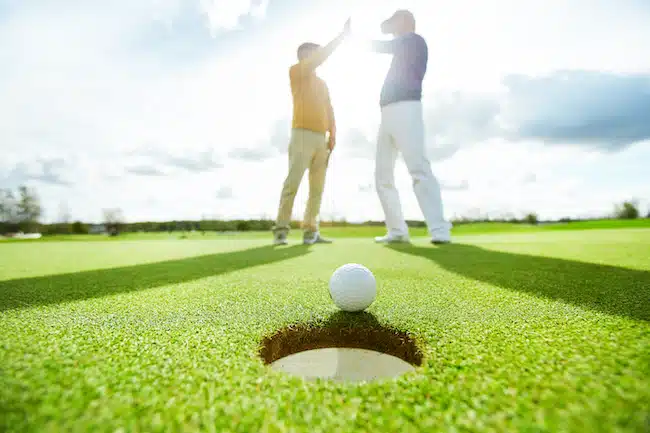 Identifying Dark Horses and Outsiders
Golf tournaments are no strangers to dark horses upsetting the leaderboard and punters. You can take calculated risks with cheaply priced golfers with the necessary factors to succeed on a specific course.
For example, in the Masters, you want golfers with an accurate tee and approach game. In addition, it is wise to consider golfers with a solid lag putting game, who can face up to lengthy, speedy putts and get down for a par or birdie.
Look at the rookies still making a name for themselves and identify if their game may suit the course and forecasted weather. In addition, consider out-of-form players who tend to thrive on similar golf courses and in the weather forecast conditions.
Researching Lesser-Known Players
The PGA Tour and its affiliates offer a wealth of statistics to help you analyze individual players' performances. I suggest making the PGA Tour stats site your first port of call to identify the capabilities of lesser-known players.
However, if you struggle to find information, I recommend finding which tour the individual played before teeing it up on the PGA Tour. Look at the DP World Tour site if the individual is European or the Sunshine Tour site for African players.
In addition, you have the Asian tour records at your disposal and the PGA Tour Latinoamérica. Next, if the individuals in question are from North America or graduated from a US College, you may find insight into them on the Korn Ferry Tour website.
Assessing Recent Improvements in Performance
Golf is a confidence game, and often players hit a hot streak, which sees them constantly challenging the leaderboard. When researching players to back for a tournament, take note of their recent form and see if it is on a downward spiral or an upwards trajectory.
If they are improving every week, analyze why that is. Were the courses similar during that period, or did the golfer change something in their game to induce this change?
Managing Bankroll and Staking Plans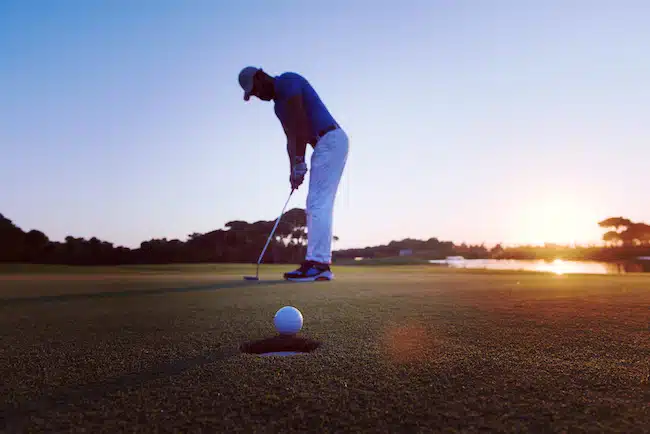 Setting Realistic Betting Limits
As tempting as it is to bet aggressively in the hope of hitting big, it is vital to gamble responsibly and set realistic betting limits. I suggest setting aside a monthly fund after paying your essential expenses and divide the total budget by 4 to see how much you have to play with every weekend.
For example, if you have $100 extra to burn monthly. That leaves you with a budget of $25 per weekend. You can start using $20 a week on an each way bet, and use the $5 towards your next weekend. As you win, you can gradually increase this figure but never spend more than your monthly budget on one tournament.
If you prefer the more astute approach, I recommend using a formula like the Kelly Criterion, which I will detail in the next section.
Applying the Kelly Criterion
The Kelly Criterion is designed to help you identify the ideal mount to stake for a bet. The higher the probability of winning a bet, the more you intend to wager. However, the model dictates that you do not bet if your chances are less than the bookies.
The downside of the Kelly Criterion is accurately determining a player's win or place probability before the tournament, given the quantity of players on the tee sheet. You can obviously use the implied probability percentage from the bookies.
However, the price is often based on current form or past performances, not factoring in course or weather suitability. That leads you to generate incorrect calculations, which provide limited assistance to our strategy.
Kelly Criterion Formula
Here is the Kelly Criterion Formula for you to test it out.
Stake = ((Decimal Odds x Implied Probability %) -1) / (Decimal Odds – 1) * 100
If I apply the example of Rory McIlroy in the RBC Canadian Open, with each way odds of 3.7, implied odds of 27.03%, and a losing probability of 72.97%.
Stake = ((3.7 x 0.2703) -1) / (3.7 – 1) * 100
Stake = (1.00011 – 1) / 2.7) * 100
Stake = 0.004%
Essentially, the formula would advise against the bet at that minuscule percentage because you need a sizable bank to make meaningful returns.
Using a Progressive Staking Strategy
Positive and negative progressive staking are popular strategies in sports betting, with the former proving more successful for me. A positive progressive staking strategy sees you assign a base stake value to start. If you win your bet, you increase the stake of your next bet by the original stake value.
The trend continues until you lose and retreat to the original stake value. Then you repeat the process. The negative progressive staking strategy is reckless in my eyes. However, the idea is fabricated on the belief that the more you lose, the closer you are to winning.
Instead of returning to your base stake value when you lose, you up the ante and increase the stake. Unfortunately, I know many punters who have fallen into this trap, only ever ending badly for them. I am curious to hear if you know any successful gamblers employing this strategy?
Common Mistakes to Avoid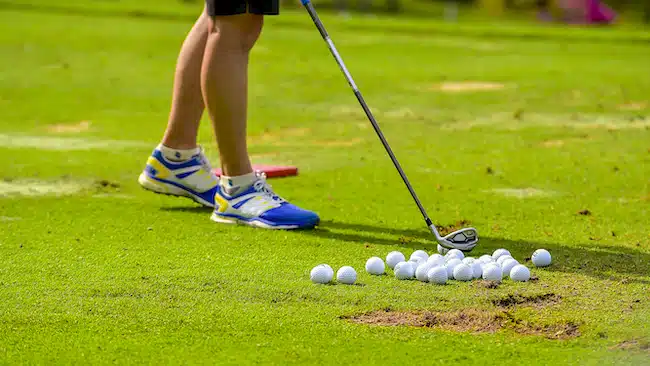 Chasing Longshots Without Reasoning
Although you may have a gut feel about a player, I recommend avoiding betting aimlessly without research. That is tantamount to throwing your money away. And in most cases, the long shot does not come off.
Instead, do your research, and know the strengths and weaknesses of the player, along with the course conditions and weather forecast. Identify value bets with underpriced players and take calculated risks.
Overlooking Course Compatibility
It is easy to get caught up in the hype of a player on a hot streak, but always check that their game suits that course. For example, if the golf course is lengthy, you want to back a long hitter like Rory McIlroy, as he will hold a better advantage over a shorter hitter like Brian Stuard.
In addition, make sure the player excels on the fairway and green grass varieties, and their shot shape suits the layout. Picking on previous form alone is lazy and can backfire in the form of losing your money.
Ignoring Recent Player Form
Personally, I find course compatibility the most essential factor in my strategy. However, I cannot deny I never ignore recent player form. When a golfer is hot, they have momentum in their favor, and even a poor round still looks pretty compared to their peers.
While recent form is significant, it has no bearing on the outcome of the upcoming tournament. However, it does give the said player the belief that they can overcome any challenge and lift silverware.
A prime example in 2023 is Scottie Sheffler, who has only finished outside the top 10 on 3 occasions in his last 15 events.
Exploring Each Way Betting Markets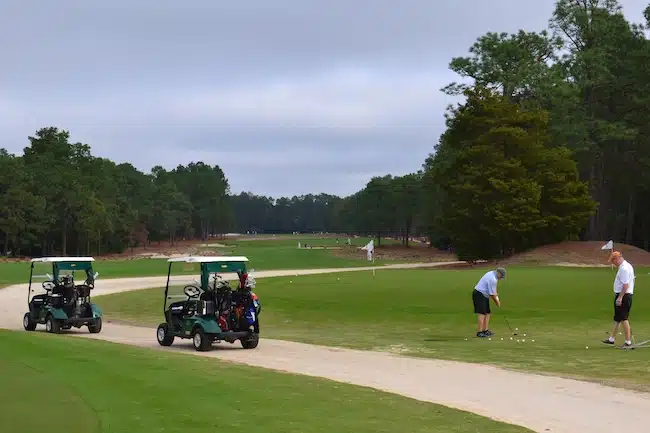 Pre-Tournament Each Way Bets
The best moment to place bets is before a golf tournament starts because this is when you will typically receive the best odds. Naturally, it carries a higher risk because you are betting before getting a feel for how a golfer performs that week or if the weather conditions suit their swing.
Conversely, you could find a player like Rory McIlroy for the Canadian Open who is a hot pot favorite. If you take those low odds and he has a poor Thursday, the money may flow away from him, causing his price to drop and making it a more favorable option.
Live Betting and In-Play Opportunities
The challenge with placing an each way bet during the competition is that the odds may drop if a player starts to run away with the tournament. Let us say Tony Finau holds an 8-shot lead after Saturday, the likelihood of him placing outside the top 5 or even losing the tournament is minimal.
At this point, it makes no sense to place an each way bet as it is almost a foregone conclusion that he will finish on the podium. Therefore, the odds will be next to nothing.
Understanding the Top-5 and Top-10 Markets
There is more to golf betting than just backing a player to win or place. There are also safer bets like top 5, 10, and 20. The odds are less attractive for these punts, giving the increased room for error, but it does increase your chances of generating a payout for the week.
Top 5 and 10 bets are great options to find an outsider or value pick who suits the golf course but may not have it in them to win. I actually took this approach with my countryman Louis Oosthuizen in 2021.
He has the ability to bring his A game in the big tournaments, and in 2021, I backed him to place in all three majors. However, by the time the Open Championship rolled around, his price had diminished significantly for a place, and there was almost no point in picking him.
Where Can I Place An Each Way Golf Bet?
Each way bets are most popular with European and British sporting books. I find Unibet, Skybet, and Bet365 are the best options. However, if you reside in the United States, Unibet, BetRivers, and Fox Bet operate in most states.
You have a backup option if BetRivers, FoxBet, Unibet, SugarHouse, or Bet365 do not operate in your state. Simply place two bets. One for a win and another for a top 5 or 10 finish. It is practically the same approach.
What Happens To My Each Way Bet When There Is A Tie?
Most bookies reduce the odds of your wager if a player ties, but BetMGM pays out in full for a tie. If your each way bet odds were 9/1 for a 1, 2, 3, 4, 5 finish on Corey Connors, and he ties for fifth with Shane Lowry and Justin Rose, the odds are altered.
Since 3 golfers share the spoils, your odds may drop to 3/1. The sportsbooks reach 3/1 by dividing the number of tied players by the original odds. Therefore 9/1 divided by 3 leaves you with 3/1 odds.
If you initially staked $20 to win $180, that now drops to $60, and you receive your original stake back for a total of $80.
FAQ
Are Each-Way Bets Worth It?
Yes, I find each-way bets are worth it in golf because picking an outright winner in golf is a difficult challenge, given the quantity of the field in each tournament. The each-way bet lowers your risk slightly but it also reduces the odds you receive.
What Place Does An Each-Way Go Up To?
An each-way bet goes up to 5 or 10th place, depending on the Sportsbook. Bet365 caps the places at 5th, while Unibet goes up to 6th place. Finally, Sky Bet offers a payout on a 10th-place finish.
What Does 1/4 Or 1/5 Each Way Mean?
¼ or ⅕ each way means you receive that fraction of the outright odds. If Rory McIlroy is priced a 5.5 to win the Canadian Open, his price drops to 3.7 when the ⅕ discount kicks in for the each way bet, as seen in the Unibet example below.
What Does E Mean In Golf?
"E" refers to even par in golf, which is a score a player every player starts our round on. When you make a bogey, you move to +1, but a birdie sends you to -1. However, "E" also refers to each when talking about an each way bet.
Final Thoughts
An each way bet in golf is a wise approach if you want to reduce your risk and give yourself room to play with. Instead of risking picking an outright winner among the robust field, you can take lower odds and stand a higher chance of enjoying a payout.
Each way betting will not allow you to quit your day job, but it is a better way to make calculated risks. Before you rush off and place your first stake, visit the PGA Tour stats department and research individual players' form and suitability to the course.
Next, always check the weather, and ensure your chosen player has the ability to navigate the conditions and deliver a win or a place. Although each way bets are less common in the United States, you can take a win and place a bet on the same player, or if BetRivers is licensed in your state, give them a go.
Read More: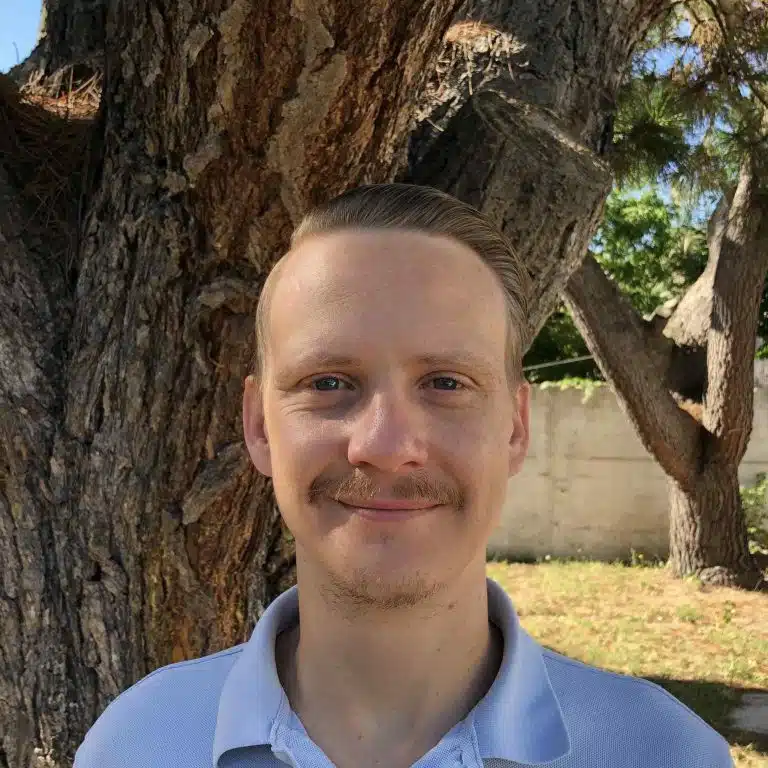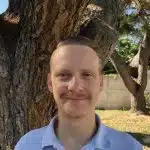 Matt is a seasoned golf equipment writer and sports fanatic. He holds a Postgraduate in Sports Marketing and has played golf for over 28 years.