Golf 3 ball betting is a fun way to increase your chances of winning by betting on one player to reign supreme in their grouping. Since most professional tournaments switch to a 2-ball format over the weekend, 3-ball betting is typically only offered on Thursday and Friday of an event.
In this post, I explain what 3 ball betting is, why it is a safer way to gamble and leave you with strategies to employ for greater success. I will also detail what to look for when making your picks and where you can find the necessary statistics to make better-informed decisions.
What You Will Learn From Our Golf 3 Ball Betting Review:
A 3 ball bet in golf matches 3 players against each other
You pick 1 player to shoot the lowest round of the 3
Payout potential is low compared to an outright bet
Research the statistics to understand the strengths and weaknesses of golfers
Factor in weather, course layout, and player health into your decision
Golf 3 Ball Betting Rules And Tips
What Is A 3 Ball Bet In Golf?
A 3 ball bet group allows you to back one player in a grouping of 3 to shoot the lowest score for that round. The groups are dictated by the pairings assigned by the PGA Tour. Instead of watching the overall field, you can focus on the 3 players in question.
For example, the image shows Adam Svensson, Mackenzie Hughes, and Adam Hadwin set to tee off at 1:59 PM. Since they are in a 3-ball, you can back one of the group's players to reign supreme over the other two.

Since Mackenzie Hughes is historically the best in the grouping, his odds are super low, and there is almost no point in backing him. However, Adam Svensson ranks one place higher than Hughes on the FedEx Cup rankings, and his long approach shots and putting game are solid.
Alternatively, some sportsbooks may create a 3-ball of players not paired together on the day. Instead, they are grouped according to their skill level and generally see players of similar caliber going head to head. Naturally, these are more challenging to call.
Besides picking an outright winner for the round, some sportsbooks allow you to opt for the winner of a hole or closest to the pin on select par 3 holes.
Exploring the Basics of Golf Tournaments with 3 Ball Betting
Strokeplay PGA tournaments are played over 4 days, with the event teeing off on Thursday morning and culminating on Sunday afternoon. The first two days of a standard event will see a field of over 140 players battle it out to make the cut for the weekend.
Given the size of the field, golfers are typically grouped in the 3 ball pairings on Thursday and Friday. They generally keep the same pairing for the first two days. After the cut line is drawn, the survivors are grouped into 2 ball pairings. The pairing with the highest score after two rounds is assigned the earliest tee time, while the leaders tee off in the late afternoon.
The groupings are adjusted again after Saturday, but the same methodology applies. The last and second last placed golfers tee off first on Sunday, while the leaders earn a late start on the final day.
Introducing 3 Ball Groupings
3 ball groupings refer to 3 players who play a round of golf together. On the PGA and DP World Tour, 3 ball golf bet is only possible on Thursday and Friday of an event. The field is cut for the weekend, and since there are fewer players, organizers place the remaining players into 2-ball pairings.
Analyzing Odds and Betting Markets
Not every sportsbook offers 3 ball golf betting, and DraftKings provides the best selection of bets in North America. Check what odds they are giving on your preferred pick to shoot the lowest round in the group, and compare it to other sites to find the best odds.
Using your knowledge of a player's form and course and weather compatibility, you can determine whether it makes sense to place a wager. Often the favorites in these groups carry a low price, and you have to up the stakes to see any meaningful returns.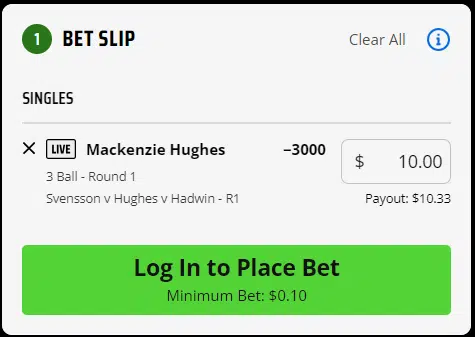 For example, as I write this, Mackenzie Hughes is about to close out round one of the Canadian Open with the lowest score in his 3-ball. His odds are -3000, which means he is a sure thing. If I bet $10 on him at this price, my payout would amount to $0.33, plus my original stake back.
These bets are generally not worth the trouble, so I recommend picking a quality 2nd or 3rd favorite with a suitable game for the course and conditions. Instead, you want a player with positive odds, like Adam Svensson at the start of round 1.
Key Factors to Consider in Golf 3-Ball Betting
When considering a 3 ball golf bet, ponder the strengths and weaknesses of your proposed pick relative to the golf course and weather conditions. In addition, I recommend considering current form and the health of the golfer.
If Rory McIlroy wins a tournament but picks up a niggle in the process, he may not be at 100% for the current tournament. Another factor I consider is the mental state of a player. Are they entirely focused, or are their external factors distracting them from delivering the best performance?
After analyzing their overall game, you need to determine how those strengths and weaknesses compare to the 2 remaining players in the group.
Read More: Golf Terms Every Golfer Must Know
Getting Started with Golf 3-Ball Betting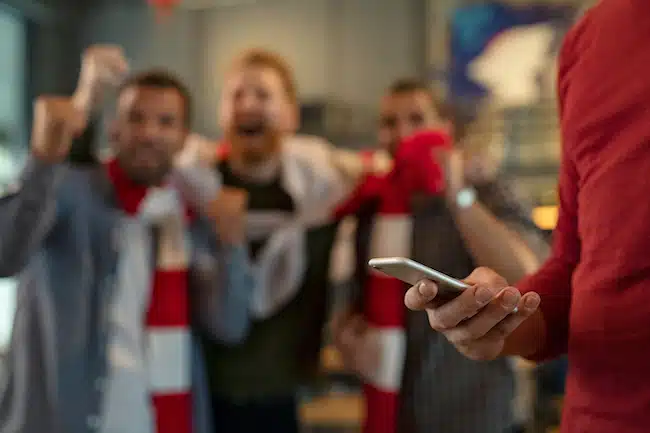 Choosing a Reputable Sportsbook
Now that you have an answer to what is 3 ball betting in golf, you need to find a reputable sportsbook before you can stake a wager. Start by seeking a licensed and regulated sportsbook bound by state and federal law. You should see their license number in the footer of their website.
Next, I recommend reading through the terms and conditions to ensure your data is secure and you understand what you are getting into. Finally, search around sites like DraftKings, BetMGM, and Bet365 to see who offers the best odds on your pick and then place a stake on the said player.
Creating an Account and Depositing Funds
Once you have identified the sportsbook with the best odds for your wager, you must create an account and top up the funds. Next, you are required to input some personal information like a social security number and address. Then you can deposit funds into your wallet via bank transfer, credit card, and with some sportsbooks, PayPal.
Analyzing Golf 3-Ball Betting Opportunities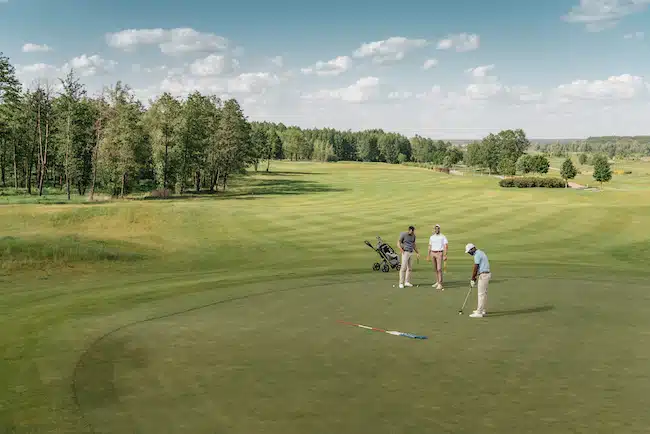 Researching Players and Their Form
The PGA Tour and its affiliates possess a wealth of player statistics on their website, allowing you to analyze their game from tee to green. You can use this to identify the strengths and weaknesses of the player and learn the common denominators for success at the course hosting the event.
You can even use the Tour Cast feature on the PGA Tour to see where the previous tournament winner hit every shot for the week. RickRunGood is another fantastic source to follow at the start of each week, as he provides insight into the most significant factors for success at the course in question.
For example, if a course has tight greens and nowhere to bail out, you want to focus on players with a solid green in regulation (GIR) record. Plus, you may consider quality scramblers who can still get down for par after missing a green with challenges around.
Read More: The Best Golf Podcasts
Assessing Course Conditions and Layout
Before you take a stake in a wager, identify the compatibility level between the golf course layout and your proposed pick. If the course is long and narrow, does the player in question have the distance and fairway in regulation consistency to score low?
In addition, think about the greens and the surroundings. Are the greens big and fast, requiring quality lag putters? Alternatively, is the green narrow, and does it demand precision on approach to post a decent round?
Examining Weather and Tee Times
One factor I often see rookies overlook is the weather and tee times. If your proposed pick is set to tee off at 2pm on a Thursday and there is a downpour forecast, it may change your strategy. Maybe the player you considered struggles in the rain and wind, now making them seem an unattractive option.
In addition, if the player finished late on Thursday afternoon, with a dew-sweeping tee time on Friday, they may not have recovered fully to bring their A-game. You may want to look at a 3 balls golf bet for golfers who have enjoyed more recovery time and are rested for a strong performance.
Evaluating Recent News and Updates
Statistics and form aside, I always evaluate a golfer's news and mental state. It is one reason I seldom back Rory McIlroy. He is undoubtedly one of the best of his generation. However, he often gets emotionally charged about issues dear to him, which distracts him and hampers his performance.
In addition, find out if the player is in good health and how they feel in the build-up to the event. Maybe a family member is ill, or the golfer is going through a divorce. These factors impact a golfer mentally and reduce their ability to perform optimally.
Popular 3 Ball Golf Betting Rules And Strategies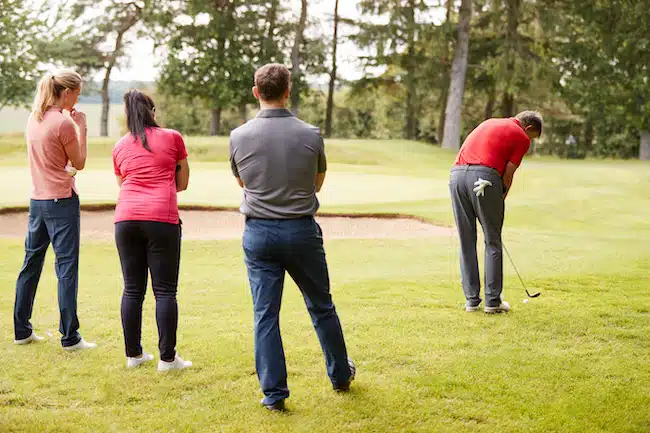 Backing the Favorite
The safest 3 balls golf bet is to pick the favorite in the grouping. I find this easier to determine in regulation PGA Tour events, where one player may be substantially better than his peers. Given the chances of the favorite posting the lowest round, their odds are minimal, and a hefty stake is necessary to receive a satisfactory payout.
I find that backing the favorite is more complex in majors when you find quality players grouped together. In the 2023 PGA Championship, we saw Dustin Johnson, Xander Schauffele, and Tyrrell Hatton paired up. These are 3 quality players who all have the potential to post the lowest round, reducing the safety of the favorite bet.
Identifying Value Bets
Use your knowledge of an individual player's strengths relative to their rivals in the 3 ball. Look for a player who is not the favorite but possesses the necessary qualities to excel in the conditions and the layout and post a low round.
Rank outsiders are not value bets unless you know they have proven themselves on similar courses and weather.
Utilizing the Contrarian Approach
The contrarian approach is a solid strategy when you know the money is following the hype and not accounting for every factor. With the knowledge you have gained from analyzing statistics, you can find a pick that is less popular among punters but is suited to the golf course and is in form.
Considering In-Play Betting Opportunities
In-play betting opportunities provide live odds, given the situation of the round. If you keep up to date with the scoring, you can find some fantastic odds on solid players.
For example, Rory McIlroy is priced at +100 before the round, which is even money, making the bet less attractive to fortune seekers. He proceeds to bogey the first 2 holes while his partners remain at even par. All of a sudden, McIlroy shoots up to +350.
If I take a $100 stake in the Northern Irishman, I stand to enjoy a payout of $350. However, I had bet pre-round that payout would have been unthinkable.
What Happens In A Dead Heat?
The sportsbook typically halves your stake and applies the original odds if 2 players in the 3-ball card have the same total for the round. If I stake $20 on Rory Mcilroy to shoot the lowest round at +350 odds, my stake is reduced to $10 with the +350 odds.
Therefore, I initially stood to win $70, plus my original $20 stake back, making it a payout of $90. However, if McIlroy ties with Spieth for the round, my stake drops to $10, and my payout is $35, plus the $10 stake, bringing the total to $45.
FAQ
Is It Better To Bet 2 Or 3 Balls In Golf?
2 Balls golf betting in golf is better from a risk perspective, as your chances of winning now increase to 50% instead of 33.33%. Golf 3 ball betting is only available on Thursday and Friday, while you can play 2 ball betting throughout the week. I like to stake a 3 ball golf bet on the opening days and switch to 2 ball bets over the weekend.
How Does Group Betting Work For Golf?
Group betting sees 5 or 6 players with similar odds added into one pool. Your mission is to select the player who will shoot the lowest round out of the group. Since your chances of winning are far lower than golf 2 or 3 ball betting, you stand to receive a higher payout if your golfer wins.
What Is A 3 Ball In Golf?
A 3 ball in golf occurs when 3 players are grouped together and tee off during the same slot. For example, Rory McIlroy, Brooks Koepka, and Jordan Spieth form a 3 ball and tee off at 1:15 PM.
1st Round 3 Balls Meaning?
1st round 3 balls refer to a group of 3 players paired together during an event's inaugural round.
Final Thoughts
Golf 3 ball betting offers a fun, less risky approach to punting on the first two days of a tournament. It is easier to pick one player to shoot a lower round than his 2 partners compared to picking a winner against the entire field.
However, since your chances of winning increase, the odds of these bets are generally unflattering. That means your payout potential is significantly lower than picking an outright winner.
I recommend checking out DraftKings for the latest odds and opportunities for weekly PGA Tour events if the lower risk of 3 ball betting sounds attractive.
Read More: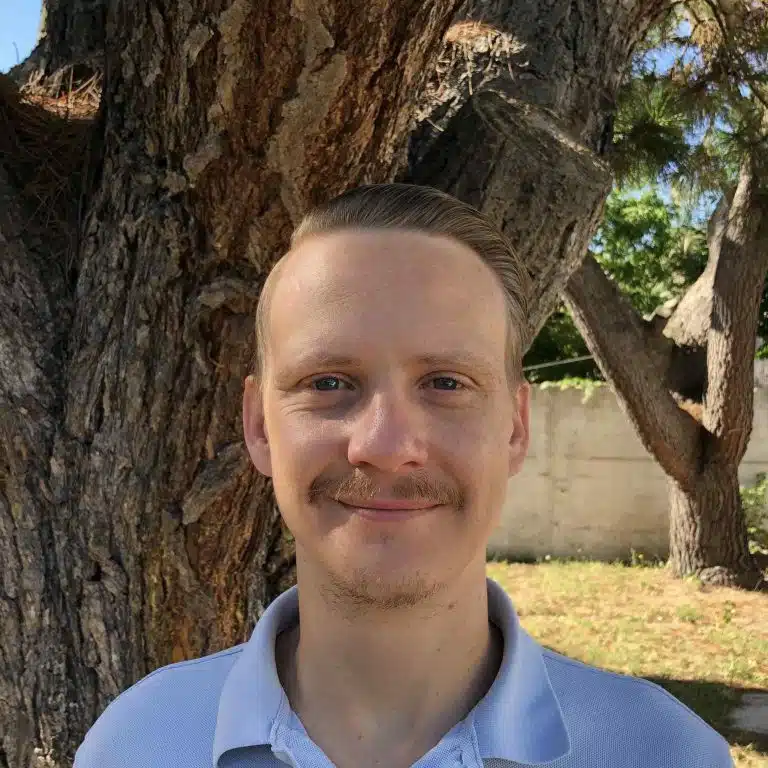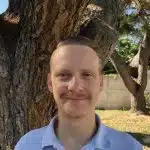 Matt is a seasoned golf equipment writer and sports fanatic. He holds a Postgraduate in Sports Marketing and has played golf for over 28 years.