To assist golfers that want an out-of-season experience at an affordable price, Skytrak Optishot provides some of the most affordable and versatile golf simulators and taody we take a deeper look in our Skytrak Optishot 3 Review…
The Skytrak OptiShot 3 is a portable infrared golf simulator with a state-of-the-art Swing Pad containing two lines of infrared sensors to track the path of the club, face angle, swing path, and clubhead speed.
The more reflective the sole of your club, the more accurate the reading will be. If you experience difficulty with the accuracy, add some reflective tape to the sole of your club for increased accuracy.
Simulation software turns your mobile device or computer into a fully functional golf simulator that provides a graphical representation of the calculated ball flight and displays this on an authentic-looking golf course.
For ease of indoor use, you can select whether you are using normal golf balls, foam practice balls, or even no balls in the impact zone. By tracking the path of the clubhead only, Optishot software calculates amongst others, the projected ball flight, distance, and spin rate.
If you decide to use the Optishot 3 indoors you will require a substantially sized room to swing all your clubs, including your driver, without hitting any obstacles.
What's Included And What's Not
A 14 x 10-inch swing pad with artificial grass
OptiShot CD software
10 foot USB cable
2 foam practice balls
Integrated/removable tees
Mounting plate
0 cable connection
Ethernet camera connection
Power cable
Additional components required but not included in the standard purchase:
CPU and installation are required (included by some resellers)
Projector
Hitting net or impact screen
Setup
Optishot Vision uses the same launch monitor as Optishot 2 but requires additional space to house the 3 overhead cameras and 3 halogen lights. The optimal height for the cameras and lights is approximately 9-11 feet high and between 9 and 11 feet away from the impact area.
The Optishot 3 weighs approximately 20 pounds and will require you to secure it to the frame or ceiling with at least 4 bolts. To enable you to watch your shot on your big screen TV you have to run an HDMI cable from your computer to your TV.
The connection between your computer and Optishot 3 is simply via 1 ethernet and 2 USB 3.0 connections.
Software installation is required and can be done while you are installing the overhead unit. Once the software and overhead installation are completed, all you have to do is just plug in the swing pad and play.
You should peruse the installation and instruction manuals before using the Optishot 3. This may delay the start of your gameplay but enhance your overall golfing experience.  Detailed guidance and club setup instructions are provided in the menu functions.
Experiment with the setting for each club to get the most accurate distances to your real-life experience.
Ease Of Use
Should you decide to use real golf balls it is recommended that you set up a hitting net or an impact screen to protect your walls. If you decide on an impact screen it may be worth your while to invest in a projector to display the target area in front of you rather than a TV on the side. That will provide for the ultimate simulation experience.
Foam balls and airstrikes will obviously create less of an impact and damage hence the use of a hitting net is optional.
The hitting mat consists of an artificial surface with two rows of infra-red sensors, a tee area between the sensors.
A green light behind the sensors will indicate when it is ready to read the next shot.
The sensors capture information about your clubheads such as the club head angle, position, and speed to calculate the data points provided.
These calculations and data are then converted into a graphical representation that appears on your selected output screen.
Graphics shows the ball flight compared to the background of the course selected with some audio. You will easily be able to view your golf ball flying over hazards, fall in the fairway, or roll out on the green.
For an authentic experience, Optishot enables you to set club information such as loft and swing speed percentage to mimic your real-life swing outcomes.
Additional feedback provided is where the ball struck the clubface whether it's center, toe, or heel to enable you to see where impact trends towards.
The 2 modes available are:
Driving/practice range
Gameplay
It is highly advisable to use the driving range feature to become accustomed to how the Optishot 3 reads your swing data and the differences between using foam balls, real golf balls, and no ball at all.
This will also provide you the opportunity to play around with the swing speed and the loft of the various irons that you have pre-set. Good golfers wanting to shape their shots will especially benefit from the practice range mode.
Practice mode offers a variety of flags at various distances that you can aim at. You can select the club you are hitting and strike the ball. The feedback will graphically display the ball flight, carry-distance, and roll-out.
Once the ball has rolled out, the system will display feedback on the club path, attack angle, and impact area on the clubface.
Gameplay provides access to the preloaded golf courses where up to 4 players can join in for a round of golf.
You can select the course, the difficulty of the course setup, units of measure (yards/meters), wind conditions, weather conditions, and scoring method (Stroke play, match play, etc.)
Once you have selected a hole on the course it displays a detailed view including teeing areas, trees, fairway, green, and rough. To make it an authentic experience it will show water flowing, clouds drifting, and more.
OptiShot +3 software is not aimed at commercial fitting use or to compete with top-end simulators, but it does provide an option for the average golfer to enjoy time with friends and family.
Once you are accustomed to the basic use of the gameplay option many shortcuts will make your life a lot easier.
Testing your skills against golfers from around the globe is made simple with the competition play that links to other golfers using the Optishot system.
Additional Features
Indoor use
Full course play
Stroke play and putting
Two- and three camera availability
Ball and club data
Camera technology
Minimum System Requirements
Windows 10 64 bit
Intel® Core i7
NVIDIA® GeForce® Geforce GTX 1060 (or equivalent) or better
OpenGL 2.0 Support
250GB Hard Disk Drive Storage
8GB DDR3 RAM
4 USB 3.0 Ports
The vision system operates from 100-240 volts
Internet connection for software installation, updates, and Platinum course delivery
At this time, Mac Play is NOT supported
Accuracy
OptiShot Vision data for club head speed is accurate within 2 mph, face angle within 1.5 degrees, and swing path within 1.9 degrees.
Data Points
Real-time ball tracking provides feedback after every swing utilizing a real-time video of the impact between your club and the ball.
Optishot Vision provides the following data points
Club path
Face angle
Face impact location
Angle of attack
Smash factor
Sidespin
Backspin
Ball speed
Vertical launch angle
Horizontal launch angle
Clubhead speed
Carry distance
Roll distance
Total distance
Graphics/Sound Effects
At the start of every hole, Optishot offers you the opportunity to do a flyover to get a bird's eye view of the layout.
Although the graphics display every detail of the hole, there are no people or galleries that follow you to worry about.
Birdsong, the sound of your clubhead impacting the ball, and spectator applause for good shots, birdies, and other excellent shots are what you can expect from the clear audio.
What Can Be Better?
Optishot 3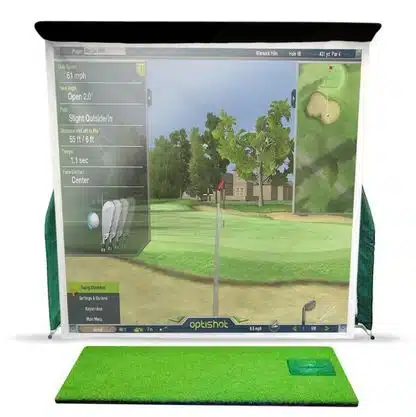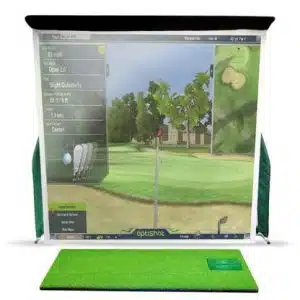 Pros
Simple to set up
No hitting mat required
Fantastic user experience
You can change ambient factors such as wind and temperature
Accurate
Integrates well with software packages
Preloaded with the required software
Loads of handy practice features
Cons
Hardware installation required
Can only be used indoors
Optishot 3 does what the box says and performs well within what is promised.
Bunker shots, short pitches, and putting requires you to have a good feel for the short game, as is required on a real golf course.
The game can be faster when used in multiplayer mode, but it is acceptable and allows for time to dissect your shot before the next player tees it up.
Alternatives
1. SkyTrak HomeCourse Net Package
SkyTrak is an industry-leading provider of high-quality home golf simulators including the HomeCourse Net Package.
Its commercial-quality launch monitor connects easily via a built-in Wi-Fi hotspot and is compatible with iPad, Android, and personal computers.
No need to fuss with wires as the unit contains an internal battery for easy portability.
Two camera angles provide accurate data points making it ideal to practice at home.
Components Included:
SkyTrak Launch Monitor
WGT Play & Improve Plan (subscription for the first year)
SkyTrak Metal Protective Case
HomeCourse Pro Series Net (Remote controlled retractable system)
No hitting mat included
Minimum space required to use it safely: 8 feet high, 10 feet wide, and 8 feet deep. It is recommended that you allow for extra depth, ideally between 10 feet and 12 feet.
Purchase of a hitting mat is required to enable indoor use.
2. OptiShot Golf In A Box Pro
OptiShot's s Golf-In-A-Box Pro remains a serious contender in this price category.
This package includes a retractable screen enclosure and a hitting mat.
Components Included:
OptiShot2 Infrared Optical Swing Pad
Retractable Screen Enclosure & Mounts
OptiShot Hitting Mat
Ceiling Mount Short Throw Projector
OptiShot2 Software
15 World-Class Golf Courses
USB Cable (10 ft)
Adjustable Rubber Tees
Two Foam Practice Balls
The minimum space required is 8 ½ feet high, 10 feet wide, and 10 feet wide.
The minimum space required is 15 feet wide, 20 feet deep, and 10 feet high.
Final Thoughts
Optishot provides excellent features on the Optishot 3 and other simulators in their range.
Ultra HD imaging of 65 world-renowned courses, driving range, and accurate analytics is part of the OptiShot Vision package.
Although it requires quite a substantial setup, once installed it is easy to use and presents great graphics and audio feedback.
The 3-camera overhead technology measures club data to provide instant accurate feedback of ball flight and other data points on a TV or impact screen.
Competing with pros and other golfers from around the globe will enable you to measure yourself and identify areas that you can improve.
If you are not into serious competition, you can simply use the Optishot 3 to have fun with family and friends at home.
Related Articles
Nick Lomas is the founder of GolfSpan, an avid golfer, not quite a pro but has over 15-years of experience playing and coaching golfers from all over the world. His mission is to bring the golfing community a better experience then it comes to choosing the right golf gear, and finding the right set up for your game.