You love golf and everything associated with it. Whether it be playing 18 holes at your favorite course or reading up on the latest equipment, accessories, and apparel.
"If only I could get it all delivered to my home" you think to yourself.
Well, now this is possible every month by subscribing to a golf subscription box. You will be surprised at the quality items that are packed and there's sure to be something that you like with each delivery.
These boxes contain accessories and apparel from the most popular brands, and you may even find something in the box to broaden your knowledge about the sport in general.
Let us go for a deep dive and explain in more detail how some of the best golf subscription boxes work and what they offer.
Best Golf Subscription Box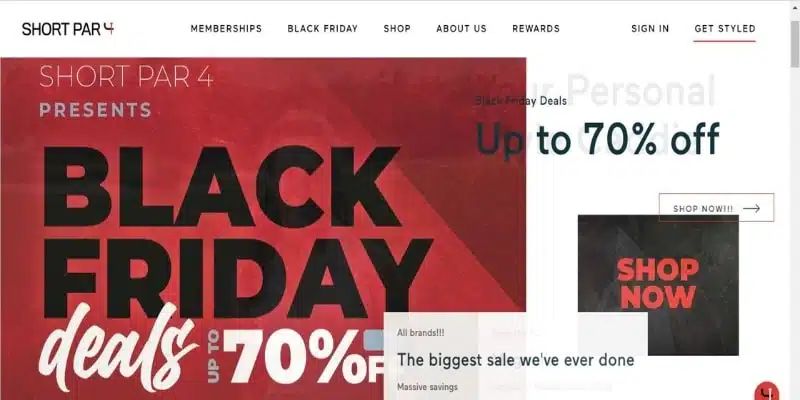 Pros:
Good overall value
Good customer service
Personalized based on profile selections
Quick delivery
Top brands included in your box
Easy subscription
Multiple subscription options
Cons:
Some plans are pricey
Magnolia and PGA subscriptions deliver every second month
Golf subscription boxes are not a new concept and Short Par 4 is one of the leading companies in this industry.
You subscribe to your preferred membership type on the website, take a quiz on your personal preferences, pay your subscription fees, and wait for your Short Par 4 Subscription box to be delivered monthly.
Your range of golfing apparel and accessories will grow every month without you having to spend hours shopping. This is the time that you can rather spend on the golf course. You may even find that every box offers some items that you would not have considered if you did your shopping.
Short Par 4 uses the information supplied during the quiz to select the best-suited items for your personal preferences.
Short Par 4's website states that "Handsomeness is guaranteed" and their mission is to ensure all their members look and feel handsome wherever they go.
Membership subscription
The options enable everyone to subscribe at a price that suits their budget and lifestyle.
Signing up for any of the four options on Par 4 takes three simple steps.
Select membership package
Take a style quiz
Have the subscription box delivered
Memberships
The Fairway Membership
The Fairway membership offers the best value for money providing high-quality brands at affordable prices.  The plan is aimed at men wanting to look elegant at a fair price.
Delivering an exceptional style that will improve your confidence on and off the course comes at an average price of $49.95 per month.
The Executive Membership
Executive membership is aimed at men that are ready for VIP treatment, aspire to the absolute best, and prefer premium golf brands. Quality is the hallmark of this membership option.
Brands that you can expect in your monthly box are from leading brands such as Travis Mathew, Ralph Lauren RLX, Sunice, and Greyson.
The membership comes at an average price of $99.95 per month and is only available to men
Access to exclusive deals and VIP Customer Service prevents you from having to deal with chatbots.
The Magnolia Membership
The Magnolia membership is exclusively for ladies and was developed together with LPGA pro, Lexi Thompson. This distinctive box includes is filled with high-quality and fashionable apparel, accessories, and gear inspired, and curated by Lexi to empower strong and talented female golfers everywhere.
This membership at an average price of $99 per month and will only be delivered bi-monthly, not every month as per the other memberships.
The PGA of America membership
The top of the range subscription is only sold in limited quantities taking the PGA of America membership to another level of sophistication in golfing circles.
This box includes apparel and accessories with the PGA Championship logo, Ryder Cup logos, and other commemorative collectibles.
This membership is available to both men and ladies at an average price of $150 per month.
Covid19 had a significant impact on the PGA Tour schedule and some of the planned packages had to be revised.
Take Style Quiz
Once you have selected the membership type you will be taken through the Style Quiz and within a few minutes, the Style Caddies will know what to stack your box with to suit your style and lifestyle requirements.
There are 4 distinctive styles that you can choose from.
Athletic style
This is suitable for men that prefer modern, clean, and stylish attire with solid, stripe, and subtle texture patterns.
Loud and wild style
If you want to differentiate yourself from a crowd, this is the style for you. Nothing boring about this style.
Traditional style
The traditional style is for demure golfers that require conservative and classic colors with solid and subtle texture patterns. Neutral colors with some muted accents are generally part of this style.
All styles
This will provide you with a variety of fashions to suit all occasions with colors ranging from neutral colors in the traditional style to the bold colors found in the loud and wild style.
In the styling process, more individual information related to your apparel sizes, handicap, and golfing preferences are gathered to ensure your box comes with the best-matched accessories and apparel.
Style Delivered
The last step in the process is the delivery of your box to your selected address.
Deliveries are done once a month for the Fairway and Executive subscriptions and once every second month for Magnolia and PGA Tour subscriptions.
Billing
Billing is done on the first day of the month and it must be canceled by 11:59 PM EST on the 28th day of the month if you do not want to be charged for the next/ month. The billed amount includes shipping costs.
Shipping
The Fairway, Executive, and Magnolia Box are shipped on the 15th of the month or the first business day after the 15th.
The PGA Tour Experience box ships on the 20th of December, February, April, June, July, August & September.
Delivery is expected between 4 to 8 business days after shipping.
Rewards program
Short Par 4 offers a rewards program where you can earn SP4 Bucks for credit to the Vault and an upcoming Subscription!  Points are earned for every purchase and for engaging with the brand through social media and other platforms.
Canceling your subscription
You can cancel your subscription at any time via the website, via live chat, text. Your account will remain active until you receive a confirmation of the cancellation.
Cancellation via email is not acceptable.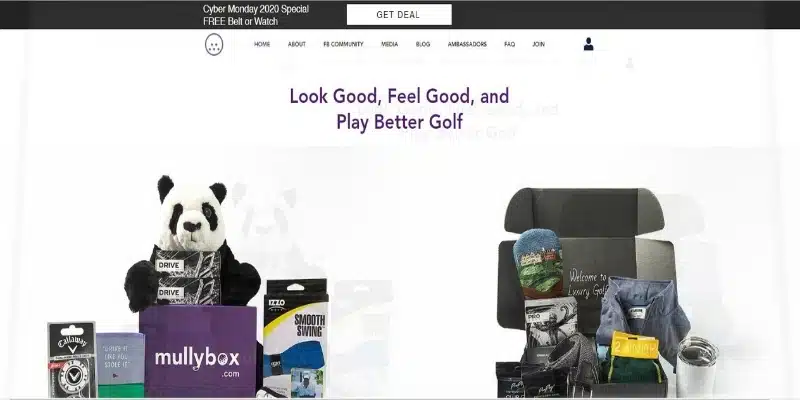 Pros:
Good overall value
Good customer service
Very reasonably priced
Quick delivery
Easy subscription
Cons:
Not personalized
Only one price point
Hard to predict each month's value
Mullybox was previously known as iGC and rebranded to get their product recognizable and available to all enthusiastic golfers.  Its main aim is to provide golfers with game improvement equipment.
In mid-2017 it launched a generalist golf subscription box.  Based on customer feedback and new business relationships, Mullybox decided to make game improvement equipment the core of its offering.
Unlike some of the competition, Mullybox does not offer a wide variety of subscription options. They offer a Better Golf monthly subscription and a Luxury Golf quarterly subscription.
Mullybox sets a monthly theme (putting, ball striking, etc.) that is followed through in the selection of the accessories loaded into your box.
The Better Golf box includes golf balls, tees, and accessories to assist individual players for game improvement.
Generally, you will receive a box full of well-known branded quality golf balls, a pack of eco-friendly tees, 3 brand new golf accessories that are aligned to the monthly theme.
To increase brand awareness, you can get Mullybox water bottles, Mullybox towels, and even Mullybox hats.
Generally, the gadgets included in the box is aimed at making your golf game better by assisting with swing improvement, putting, and individual strengthening devices.
This box is not just filled with usable items, but it is a lot of fun to open.
Verdict
Overall, the Mullybox provides fair value for money and the contents of the box are usable. Although it does not always include premium brands, the contents will not disappoint when you use it.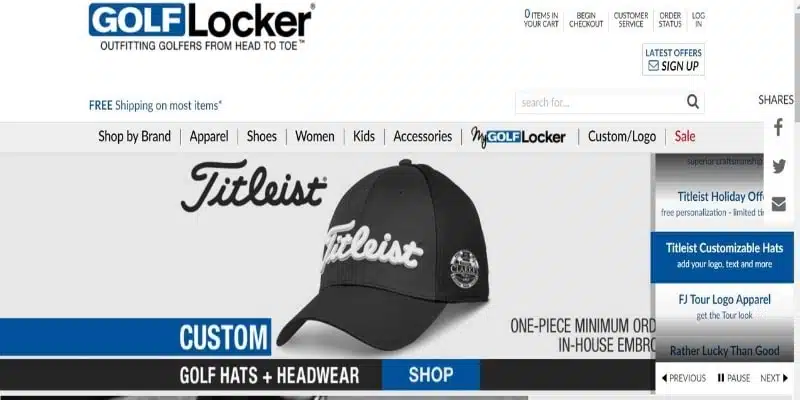 Pros:
You can set your budget
Knowledgeable buyers
You can make suggestions
Returns acceptable
Quick delivery
Easy subscription
Cons:
Not the cheapest
Hard to predict each month's value
MyGolf Locker is a personalized golf subscription service that allows you to set your budget for a carefully curated a curated selection of apparel, based on your preferences. Unfortunately, MyGolf locker only caters to men at the moment.
You select a budget ranging from $50 to more than $800.
PGA Professionals and apparel industry veterans do the shopping for you. Suggestions from your perspective are welcomed on the "Locker List" feature on the GolfLocker.com website.
The MyGolf Locker team collaborates with all the major golf brands to provide you with the latest upmarket golf apparel.
This may increase the cost of the box compared to some competitors, MyGolf Locker commits to keeping the cost at the lowest possible prices on these styles.  If you find the same apparel for less elsewhere, MyGolf Locker will refund you the difference.
The straightforward subscription model takes you through a series of well-designed steps
You start by filling a questionnaire to provide personal information, your style, brand and equipment preferences, delivery frequency, and your budget.
After the subscription process is completed, MyGolf Locker will hand-pick a selection of items based on the information provided, the time of year, and your location. There is no shipping charge charged for the initial shipment.
Upon arrival at your address, you have 14 days to decide what you want to keep. It is not compulsory for you to keep any of the contents of the box.
You can return or exchange items with free shipping both ways.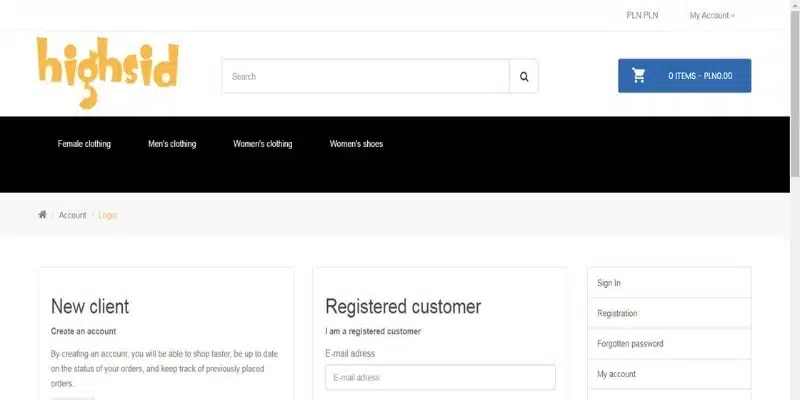 Pros:
Good customer service
Appropriately priced
Delivery date flexibility
Easy subscription
Cons:
Too many plans may make it difficult to choose
High Side Golf is a new company that is implementing its style to the subscription-based model offering essential golf equipment at economical prices.
Subscriptions can be done on an ongoing basis payable monthly until you cancel the subscription, 6-monthly, or on an annual basis.
There are quite a substantial number of plans available to choose from. These plans are divided into Master Plans and Smaller plans.
Master Plans
Where convenience meets quality. This plan includes a Cabretta leather golf glove, your choice of top-tier golf balls, a bag of wooden tees, and "Drills & Skills" that are updated each month.
Where convenience meets affordability. This plan includes a Cabretta leather golf glove, your choice of mid-tier golf balls, a bag of wooden tees, and "Drills & Skills" that are updated each month.
Convenience, with an attitude. This plan includes a Cabretta leather golf glove, your choice of colored golf balls, a bag of wooden tees, and "Drills & Skills" that are updated each month.
Each plan can be customized to meet your requirements.
Smaller Plans
Range Rat
The Tee Party
TaylorMade
Callaway
Srixon
Bridgestone
Volvik
Wilson
Each one of these plans offers a single item whether it be a glove, tee, or golf ball.
These plans are an inexpensive gift idea if you have a golfer in your life.
The High Side Golf logo adds an individualized touch to items decorated with the logo.
You can select whether you want the box delivered on the 1st of the month or the 15th of the month
Verdict
High side Golf offers variety to the subscription box industry offering a wide range of options ranging from individual items to a combination of selected products. All products supplied are premium products.
Final Thoughts
Subscription boxes are a novel idea to enable you to update your golfing equipment, accessories, and apparel regularly without having to give it too much thought.
Just wait for the delivery every month and tear that box open to see what surprises are in store for you.
Most of the subscription boxes offer unique value and product combinations at a wide range of prices, the tough part is deciding which will be the best golf subscription box for you!
In my opinion, Short Par 4 is the best golf subscription box, catering to the biggest market segment. It is pricey but you can expect excellent value and content.
Nick Lomas is the founder of GolfSpan, an avid golfer, not quite a pro but has over 15-years of experience playing and coaching golfers from all over the world. His mission is to bring the golfing community a better experience then it comes to choosing the right golf gear, and finding the right set up for your game.