Katie Kearney is an American-born model, social media golf influencer, and beauty pageant contestant. In 2012 she won the Miss Missouri pageant and since then has become famed for sharing posts of hitting golf balls while dressed in a bikini, with her more than 400,000 followers on Instagram. 
Katie is the daughter of former NFL journeyman Tim Kearney who was on the roster of multiple teams between 1972 and 1980 before an injury forced him into retirement.
Kearney has enjoyed a successful modeling career, appearing in runway shows, magazine covers, and commercials for big fashion brands. Including Neiman Marcus, Saks Fifth Avenue, Redken, and Escada.
Statistics
Age:32

DOB: 5th July 1988

Birthplace: St. Louis, Missouri 

Nationality: American 

Relationship Status: Single

Net Worth: $500k to 1million (estimated)
Biography
Personal Life
Katie Kearney was born on July 5th, 1988, in St Louis, Missouri. While, much is known about her father, former NFL linebacker Timothy Kearney. There is no information in the public domain regarding her mother or siblings.
Tim played football for Northern Michigan University and, he was inducted into the institution's Hall of Fame. His merits earned him a spot in the fourth round of The 1972 NFL Draft pick when The Dallas Cowboys snatched him up. However, his celebrations were short-lived.
The Texas team waived him on September 7, 1972, and he was claimed by The Green Bay Packers, only for them to waive him three days after joining. 
A day after being waived by The Packers, The Cincinnati Bengals claimed Kearney. He finally settled in Ohio for a few years, playing as a special teams player, covering middle linebacker. 
In 1975, he was traded to The Detroit Lions, but a failed physical exam leading to him being released. The Kansas City Chiefs jumped on the opportunity and recruited Tim for that season. 
He was waived by The Chiefs in the following year and signed by The Tampa Bay Buccaneers. He would only spend one week on Florida's Gulf Coast before he was, once again, waived. This time, St Louis Cardinals came to his rescue, offering him an opportunity as a starting inside linebacker.
Kearney spent six years with The Cardinals until a neck injury led to him failing a physical and being released in 1982, ultimately forcing him into retirement.
Katie was born six years after her father retired from football. She was bred and raised in Missouri and attended the Catholic Jesuit institution, St Louis University, where she graduated with a degree in communications.
In 2012, she has crowned Miss Missouri, which earned her a place in The Miss USA Pageant. While Katie did not make it far in the competition, it gave her a platform to launch her modeling and media career.
Golf Stuff
Although her dad introduced her to golf at a young age, she stopped playing until she won The Miss Missouri crown. Her duties required her to play in charity scramble competitions every week. So, she practiced and played more so as not to embarrass herself.  
While living in Cape Town, South Africa, and working as a model, she was able to play more golf in her spare time, rekindling her passion for the game. Her favorite course in the world is the Jack Nicklaus designed Pearl Valley, outside of Cape Town.
Although Katie is a higher handicap player, she has combined her beauty, education, and passion for golf to forge a career in the industry. She has been the on-air host for multiple golf tournaments, including a PGA Championship. And, she is a luxury travel and golf editor for The World's Best Golf Destinations.
Modeling
Kearney has enjoyed great success as a model and has traveled the globe as a result. After graduating, she journeyed to Athens, Greece, to kick start her modeling career. 
She appeared in print magazines, runway shows, and commercials for brands across the European continent and has done work for Neiman Markus, Redken, Saks 5th Avenue, and Escada. She also featured in a shoot for Maxim Australia.
Broadcasting
While Katie was enrolled at St Louis University, she took a keen interest in broadcast journalism and worked for Fox 2 News. Since then, she has gone on to host a variety of sports talk shows and broadcast several golf tournaments, including a PGA Championship.
Business
Kearney set up Strings Swimwear in 2018. The company donated a portion of funds from each sale to an anti-human trafficking foundation based in South Africa. It seems that the brand is no longer in operation.
Relationship
Despite the limited information available about Kearney's life, it is common knowledge that she was dating Bob Menery. 
Menery is a comedian and parody commentator. He is a popular figure in the world of sports. His work has earned him the nickname "The man with the golden voice." He is most famous for parody commentary on various sporting plays and is the host of the podcast Zapped.
In 2019 he posted a video on Facebook of himself commentating on Katie throwing the first pitch at a St Louis Cardinals game.
Bob has built a respectable following through his endeavors, has just under 3 million followers on Instagram, and over 100,000 YouTube subscribers.
There is little detail over their current status. However, neither have posted anything about each other since 2019, sparking speculation that the two are no longer a couple.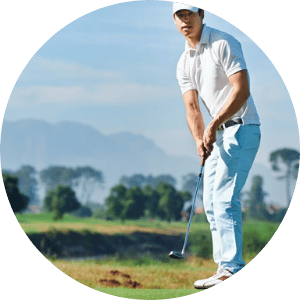 Nick Lomas is the founder of GolfSpan, an avid golfer, not quite a pro but has over 15-years of experience playing and coaching golfers from all over the world. His mission is to bring the golfing community a better experience then it comes to choosing the right golf gear, and finding the right set up for your game.