The rain is coming down in sheets and the wind is at gale force and there's no chance of getting on the golf course today. Why not cozy down and watch a golf movie instead?
Here are our suggestions for the best golf movies:
This quicky and popular "classic was released in 1980, and starring Chevy Chase, Bill Murry, Ted Knight, Rodney Dangerfield, and Michael O'Keefe. The story centers on the Bushwood Country Club.
This is more of a slapstick comedy with the characters scripted for the particular talents of the stars.
There is this young caddy, seeing how the adults live, searching for sponsorship to go to college and avoid going to work in the lumber yard. Then you have the judge and president of the club who wants to turn the club into a property development. Next, there are two characters who show no respect for the social norms of country club etiquette. Lastly, a madcap groundsman trying to rid the course of a pesky gopher, succeeding only in causing far more damage than the gopher ever could.
The critics vary on this movie from calling it a classic having a cult following even amongst non-golfers, to those advising parental guidance as the humor was "pushing the envelope" at that time. There are many memorable quotes from this movie not the least of which is "get in the hole!"
Another must-see golf movie is the 1996 Tin Cup. The movie features Kevin Costner, Don Johnson, and Rene Russo.
Roy "Tin Cup" McAvoy is a has-been pro golfer running a driving range and giving golf lessons. Dr. Molly Griswold, a clinical phycologist, enrolls for some lessons and she notices Roy taking a shine to her. Her boyfriend, David Simms is a pro golfer and asks Roy to caddy for him. When Simms lays up a 230 yard shot instead of going for the green he is mocked by Roy. Roy shows him how it"s done and promptly gets fired.
This motivates Roy to qualify for the US Open and he asks Molly"s help to prepare him mentally. They strike a deal, She will receive free golf lessons while helping him to rebuild his confidence.
Roy qualifies, battles through the early rounds and is finally in contention on the final day. Then it happens. Does he lay up or go for the green? You guessed it, he goes for it and lands in the drink. Now instead of dropping in front of the hazard he reloads and goes for it again, and again, and again, seven times, and blows himself out of the tournament. Classic, great drama.
Costner has stared in many athletic movies and gives a very convincing performance as a golfer.
This is another favorite that was released in 2000 starring Will Smith, Matt Damon, and Charlize Theron,  also features Bruce McGill.
Rannulph Junuh is a highly talented young golfer who has wasted his opportunities.  He was drinking too much and ends up working in a golf shop. Seemingly out of nowhere this mystical figure, Bagger Vance appears out of the mist. Bagger is the all in one, caddy, coach, mentor and psychologist, and gets young Junuh to face his demons and deal with his issues.
Junuh is then invited to play in an exhibition match, over two rounds, against the pompous Walter Hagan and the serious Bobby Jones. The story ebbs and flows as Junuh struggles with his swing, the crowds following them, the impact of being a nobody in the company of these two greats. Hagen's superior attitude does not help and old demons threaten to make their return.
In the end, the underdog and local boy is carried shoulder-high from the course and Bagger disappears into the air from whence he came.
A 1996 release staring Adam Sandler, Christopher McDonald, Julie Bowden, and Frances Bay.
When the bank threatens to repossess his grandmother's house, Happy Gilmore has to make a plan.
Happy, a former hockey player, enters a driving competition and wins $40. The now-famous "running start golf swing" is invented. He wins a few more competitions and decides to try his luck on the pro circuit. Happy strikes up a rivalry with Shooter McGavin and is ably assisted by his one-armed caddy Chibbs. Not too familiar with the rules and etiquette of golf, many hilarious situations ensue. One famous scene has Happy squaring up to Bob Barker and Lee Trevino also makes a cameo appearance.
Rated by many as the best of the top ten golf movies, yet others see it more for the comedy, the slapstick, and the many quotable lines. Happy Gilmore has also attained "cult" status and is good entertainment even if the purists are critical of the quality of the golf. The running start golf swing is still imitated to this day.
This historical 2005 flick stars Shia LeBeouf, Stephen Dillane, Elias Koteas, and James Paxton.
The Greatest Game Ever Played is a highly rated movie that tells the story of the young 20-year-old Francis Ouimet who gets to play against his boyhood hero Harry Vardon in the 1913 US Open. Hagen won the open in 1900 when Francis was only 7 years old.
Francis is determined to prove his talent and against his father's wishes, bets everything to qualify. He misses the cut by a single stroke and ends up working in a golf shop. US Open invite Francis to play the 1913 event as the local amateur without the need to qualify. He has this young lad to carry his bag and both are mocked as they try to face up to the pros. Scorn turns to shock as the young amateur forces a playoff against Vardon and wins. The whole golfing world is shocked by this event and the popularity of golf spreads like wildfire.
A nice bit of history, presented with sensitivity, and the young caddy nearly steals the show.
A 2004 presentation featuring Jim Caviezel, Claire Forlani, Jeremy Northam, and Malcolm McDowell.
A tribute to the legendary Bobby Jones, the greatest golfer ever. He dominated during his short career and retired at the age of 28. He was a serious young man and somewhat short-tempered and failed at his first attempt at the British Open. He came back to win The Open and thus to complete the Grand Slam, and remains the first and only amateur to achieve this milestone. The great Arnold Palmer never managed to complete this feat.
Bobby played in the days before big money professionalism and was a true beginner playing for the love of the game. He was forced to quit the game at an early age due to a rare spinal disease which eventually saw him wheelchair-bound. He was a lawyer by profession.
The movie ends with Bobby standing on a ridge overlooking a plantation which was to become the fulfillment of his dream, Augusta Country Club. From there came the fourth major, the Augusta National, the only major that is always played on the same course.
Released in 2002 starring Mason Gamble, Gary Sinise, Phillip Baker Hall, and Dylan Baker.
Timmy Price, a 13-year-old teenager, learns not only about golf but also life values.
Timmy's father is a member of an exclusive golf club on the East Coast and is not encouraging his son to follow suit. Timmy, however, is keen as mustard and believes that he has enough promise to succeed at the game. He begins as a caddy, carrying the bag for the best and the worst. There are good golfers and average golfers. There are rich, famous and influential members and middle-class workers, and Timmy is being exposed to a variety of characters and personalities.
Eventually, he finds himself a coach, one Foster Pearse, Who not only coaches Timmy on golf but teaches him life skills as well. Foster was an amateur golfer who gave up the game after winning his first tournament but remained involved through coaching.
Timmy wins his first tournament and continues with Coach Foster going from strength to strength. Slowly he begins to see why Foster quit the game and begins to realize that there is more to life than winning and more to life than golf.
A serious look at golf, a gentleman's game, and the meaning of life, the complete opposite of Caddyshack and Happy Gilmore.
An older one in this genre is The Caddy, released in 1953 and staring the comedy duo of Dean Martin and Jerry Lewis, co-stars Donna Reed and Barbara Bates.
Harvey Miller, Played by Lewis, is expected to follow in his father's footsteps as a professional golfer. He has a phycological fear of performing in front of crowds and is far more comfortable as an instructor. He teams up with his pal Joe Anthony, Dean Martin, and acting as his caddy helps him to become a famous professional.
Lewis is at his goofy best with Maritn being the witty foil, and this sets them off on their comedy journey. No movie with Martin would be complete without music and song and the famous hit "It's Amore" comes from The Caddy. There are guest appearances by Ben Hogan, Sam Snead, and Byron Nelson.
A 2011 release with Lucas Black, and Robert Duvall in the lead, with co-stars Melisa Leo, and Ann Woll.
Luke Chisholm is a rookie pro making his debut at the Texas Open. He has a major blowup and tries to escape the humiliating publicity and his abusive father by taking to the back roads of Texas. To add insult to injury he crashes through the fence of rancher Johnny Crawford In the town of Utopia. Crawford, a retired golfer, offers to help Luke recover his game in one week, seven days.
Crawford, a rather eccentric unconventional golf and life coach with his own private golf course, sets Luke up in luxury and starts to rebuild his confidence. He reshapes his game from the bottom up changing his grip and showing him how to come from behind and turn losing into winning.
In one particular scene, they are up in a light aircraft and Crawford cuts the power leaving Luke to find a safe landing. He also gets Luke to stop drinking and to find faith and the influence of God in his life. This aspect of the movie makes it very popular in the Southern States and the Bible Belt.
Luke is back on the circuit and in the next Texas Open is in a playoff against K J Choi, a real pro. Choi putts first and misses, Luke has to sink his putt to win. The scene ends with the ball rolling towards the hole. To find out what happened we are told to go to www.didhemaketheputt.com.
This is a made for TV movie starring Robert Urich, Meredith Baxter, and Ernie Hudson.
Mitch McKinley is an AD Executive who suddenly loses his job at the age of 50. He decides to follow his dream and to become a pro golfer on the Seniors Tour. His passion for the sport and his dedication to achieving his new goal leads to the neglect of his wife and family.
This is yet another example of weighing the values in life against a total commitment to a career. It asks the question, is this worth it if it means alienating your wife and children. A good story presented with taste and compassion.
Final Thoughts
So there you have it, enough to see you through the stormy weather. These 10 are presented in no particular order and most critics would have Tin Cup, Caddyshack and Happy Gillmore amongst the top three. Enjoy.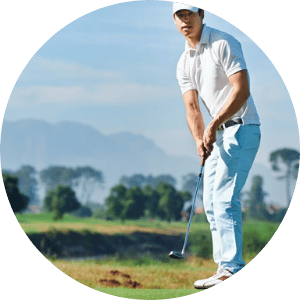 Nick Lomas is the founder of GolfSpan, an avid golfer, not quite a pro but has over 15-years of experience playing and coaching golfers from all over the world. His mission is to bring the golfing community a better experience then it comes to choosing the right golf gear, and finding the right set up for your game.