In this article we will look at the best online options to buy used cobra golf clubs, but first, a brief history of the renowned Cobra Golf company.
Cobra Golf was founded in 1973 by amateur golf champion Thomas Crow and soon became one of the most innovative golf companies. They released a club named the "Baffler" in 1975 with a patented sole-plate design. This was the front runner for the extremely popular hybrid clubs.
Other areas where Cobra Golf played a leading role are the longer 46-inch shaft, graphite shaft, and oversize iron head size all released in 1979, first U.S. club manufacturer to offer stock graphite-shafted woods and irons in 1985 a proprietary compression-curing process autoclave system to strengthen graphite shafts in 1989.
The innovation continued into the new millennium when Cobra Golf released the CXI iron range with a variation on width, radius, camber, and an "X" reinforcement bar in the cavity for increased stability. This was followed by the introduction of the first iron graphite shaft weighing less than 50 grams.
Putter technology took another forward step when Cobra Golf released the first putter using fiber optic technology in 2005.
Cobra Golf was acquired by PUMA AG in 2010 creating a golfing conglomerate supplying PUMA Golf's footwear, apparel, and accessories combined with innovative equipment and accessories.
Rickie Fowler is one of the most identifiable players on the professional tours playing under the PUMA Cobra brand with his bold and distinctive color combinations.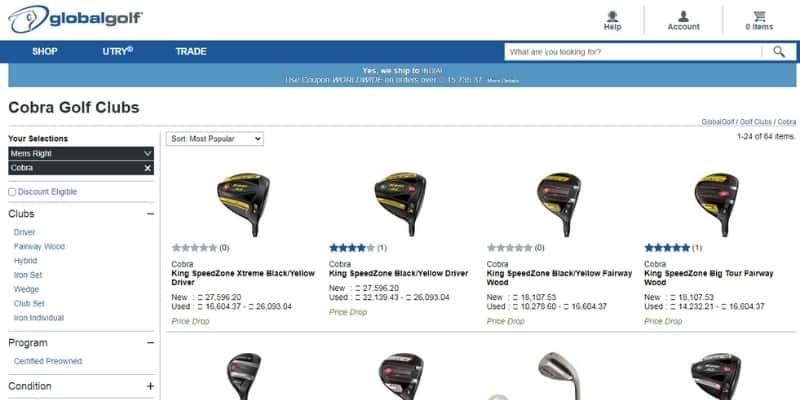 Founded in 2001 the company was aimed at providing a marketplace for golfers to trade used golf clubs comprising all brands and product ranges. Trades on the platform will earn you loyalty points that you can redeem on future purchases.
Trading in your Cobra golf clubs is a straightforward process and Global golf offers the best prices on trade-ins. If you are unsure about the clubs you want to acquire, the UTRY program will enable you to try out the clubs for 14 days by paying a $50 deposit upfront.
An extensive range of clubs are available to select from with 92 Cobra golf clubs in stock on their website of which 57 are used clubs
You can filter by club type, program, condition (new or used), and product line. The filtered list can be sorted by Most popular, Ascending and descending price, newest, Best reviewed, Most discussed on their blog.
Domestic shipping to 48 contiguous states is expected to be completed within 5 days using the Economy Delivery option or within 4 business days using the Standard/Ground option. Next-day, 2-day, or 3-day options are available when you cannot wait to put your new clubs into action.
Non-contiguous states and territories such as Alaska, Hawaii, and Puerto Rico can expect deliveries within 3 to 7 business days.
U.S. Postal Service Priority Mail is compulsory for all Military APO/FPO deliveries and will be completed between 2-4 weeks from dispatch.
Most locations within Canada can expect delivery within 2 to 3 business days after dispatch.
Any international order that can be filled from stock will be dispatched to more than 125 countries within one business day of payment verification.
International Economy deliveries can be expected between 5 to 10 business days, International Standard between 4 and 9 business days, International Priority between 3 and 7 days, and International Express between 2 and 5 days after dispatch.
A flat rate is charged for domestic deliveries to the 48 contiguous states regardless of the number of items purchased. The flat rate for Economy is $4.99; Standard/Ground $9.99; Military APO/FPO $19.99; 3 Day $14.99; 2 Day $19.99; Next Day $29.99.
The flat rate for deliveries to non-contiguous states is $9.99.
International shipping costs are determined by the weight and destination zone of the items. Quoted prices exclude customs duties and taxes levied by the recipient's country.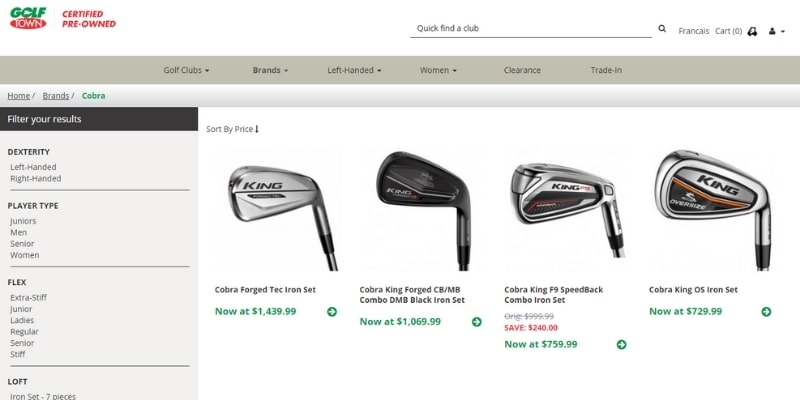 A feature offered by Golf Town that is not generally offered by its competitors is that if the price of a purchased item is reduced within 15 days of your purchase, a credit for the difference in price will be issued to you for future purchases. Sale items are excluded from this feature.
Items on the website can be filtered by Dexterity, Player type (Man, Woman, Junior), Shaft flex, Loft, Shaft material, Overall condition, Brand, and Price. The filtered list can only be sorted by ascending or descending price.
Dispatching orders is done during business hours on weekdays excluding holidays. Payment must be confirmed before shipping commences.
Deliveries via most renowned shipping companies are used such as UPS and Canada Post.
The Standard shipping option will be delivered between 3 and 7 business days while Express shipping will be completed between 2 and 3 business days.
Pricing of your delivery includes insurance and is based on the size and weight of the item, selected shipping method, and the delivery location.
International shipping outside of Canada and the United States is handled by UPS World Saver and is generally delivered between 2 and 5 business days after dispatch. Customs duties and taxes are payable by you upon delivery to the shipping company.
Individual customers can return the purchase within 30 days for a refund for the full price of the item. Items returned between 30 and 45 days will be charged a 15% re-stocking fee. No returns will be accepted after 45 days.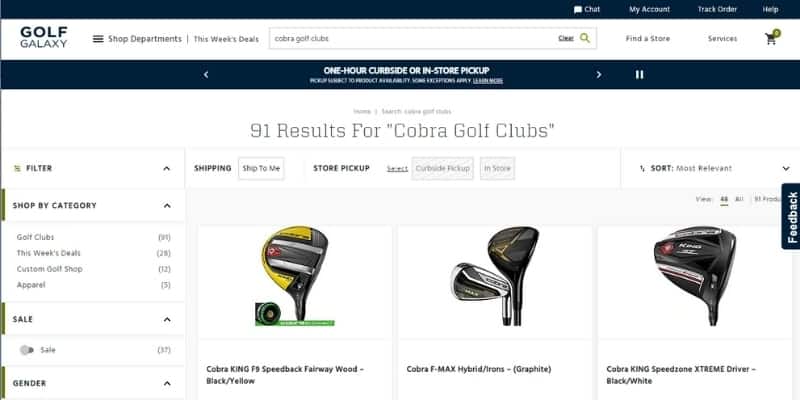 There are 86 Cobra golf clubs available on the website.
The clubs can be filtered by Brand, Product type, Dexterity, Special features, or price. The selection can then be sorted by Top sellers, Savings in descending sequence, Price from low to high, Price from high to low, New products, Brand, and Most relevant
No deliveries can be done to P.O. Boxes, APO, or FPO addresses, or destinations outside of the United States.
Delivery of clubs is done by carriers like UPS and FedEx while gift cards are shipped via parcel service.
The various options available for delivery are Ground shipping, 2nd day, or 1-day service.
The cost of non-bulk order shipping within the contiguous 48 states for Ground service is $5.99; 2nd Day delivery $10.99; 1 Day delivery $25.99.
Rates for non-contiguous states is $15.99 for 2nd Day service and $25.99 for 1-Day service.
Returns accompanied with an original sales receipt or pack slip will be refunded in the same format as the original payment.
Items purchased with a gift receipt will be offered a gift card or exchange
Purchases with ScoreCard Reward points or where a coupon was redeemed, will receive an adjusted refund amount.
All exchanges are subject to prior approval from the customer services department. Pre-owned and demo golf clubs may be exchanged within seven (7) days under the same conditions they were sold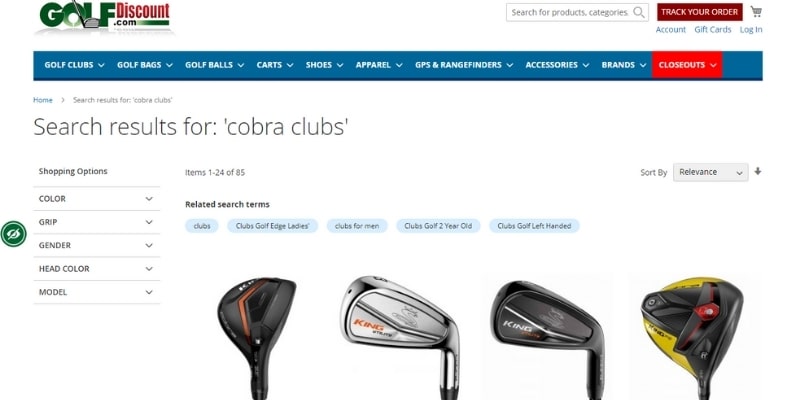 Golf Discount's first store was opened by Randy Silver in 1977 to offer golfers a wider range of equipment options, including in-depth personalization and the lowest prices available, After growing the number of stores to five locations, GolfDiscount.com was launched in December 1995 as one of the first online golf superstores.
There are 81 Cobra golf clubs in stock on the Golf Discount website
GolfDiscount.com uses SSL technology and all information provided on the website is authenticated by GeoTrust, a leader in Identity and Trust Services.
All major brands have certified GolfDiscount.com as an authorized internet retailer. They will match the lowest prices offered by authorized dealers, offer free shipping on orders over $99, and have received a 5-star Google rating for customer service.
Orders are processed within 2 business days after confirmation of payment. Backorders from the manufacturer will be shipped once it is received at the Golf Discount premises. Dropship orders will be processed and shipped at the earliest possible time but generally between 3 and 7 business days.
Domestic deliveries are done by FedEx Next Day service and 2-Day Air service. PO Boxes and APO addresses must be delivered by USPS. Deliveries are done on weekdays excluding holidays.
International deliveries are delivered by FedEx International Express to more than 142 countries worldwide including Canada. International customers are responsible for all taxes and import duties levied by their governments upon delivery.
Insurance is included as part of the quoted price.
Orders exceeding $99, except PING products, will be free and orders less than $99 will be charged a flat rate of $9.99.
To qualify for an exchange or full credit in the form of a gift card, a return must be initiated within 30 days of receipt.
Returns must be in the original packaging, including tags, all components, and documentation.  The clubs must be in a like-new condition, unused, and show no sign of wear. Clubs that have been used are eligible to be returned under the 30-day satisfaction guarantee.
Customized golf clubs are subject to return under the 30-day satisfaction guarantee policy and customers may only make use of this once per calendar year per category. No return of personalized or altered clubs will be allowed. No acceptance of returns can be guaranteed more than 90 days after receipt and no returns will be accepted if it is more than 120 days after receipt.
Any club returned for an exchange or a gift card will incur a 20% restocking fee
Condition of the clubs for sale are rated as New clubs have not been used or modified and includes all original accessories, Excellent clubs show slight signs of use with very slight surface scratches on the face and head and includes all original accessories, Very Good clubs show some visible ball marks and scratches on club heads, but paint damage. Good club heads have light scratches or abrasions from normal play.
Final Thoughts
Cobra golf clubs have been at the leading edge of innovation and style since 1973 and continue to deliver high quality golfing equipment. The merger with Puma in 2010 enabled the company to grow in the way it represents itself with a wide variety of bold colors.
Most of the online golf equipment resellers offer a range of new and used Cobra golf equipment for sale, each with their pros and cons.
Global golf offers excellent service and a website that is straightforward to navigate. Filtering and sorting the available equipment to create a shortlist is quick and efficient. This website is highly recommended as one of the best online golf equipment sellers.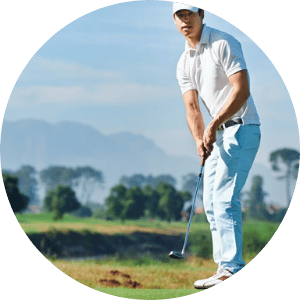 Nick Lomas is the founder of GolfSpan, an avid golfer, not quite a pro but has over 15-years of experience playing and coaching golfers from all over the world. His mission is to bring the golfing community a better experience then it comes to choosing the right golf gear, and finding the right set up for your game.