Odyssey is generally considered to be the number 1 putter in and was acquired by Callaway Golf in 1997.  They only design and manufacture putters and no other golf clubs. Odyssey, followed by the release of the Odyssey White Hot Putter Line in 2000. They are not cheap, but we will evaluate a few websites where to buy used Odyssey putters
With hundreds of wins on professional tours worldwide, this is a highly sought after putter. From your first interaction with an Odyssey putter, you will experience the unique feel offered by the best.
The signature technology that makes Odyssey putters unique is the part graphite shafts that are transformed into steel near the putter head resulting in optimal weight distribution and feel.
Micro hinge face inserts generate an immediate and smooth forward roll. The high Moment of Inertia (MoI) makes odyssey putters extremely forgiving.
All putters in one of the largest ranges of putters on the market, are manufactured from premium materials and receive great attention to detail. It is regarded as one of the smoothest swinging putters available.
The Odyssey range offers blade and mallet putters in a variety of shapes and colors. Odyssey was among the first companies to roll out the mallet-style putter and they have continued to refine the style through the years.
Recently Odyssey released the Triple Track putter to assist you when lining your triple track golf ball

The company was founded in 2001 to trade used golf clubs from all brands and product ranges. Purchases and sales on Global Golf earn loyalty points that can be used for any future purchase.
You can furthermore trade your existing putter in on an Odyssey putter at some of the best prices available. If you are not sure about the putter you require you can use their UTRY program to evaluate the putter for 14 days before committing to the purchase by paying a specified upfront.
Global Golf has a range of 87 Odyssey putters in stock on their website with shaft lengths ranging from 32 inches to 43 inches.
Putters can be filtered by certified pre-owned or UTRY program, shaft flex, shaft length, shaft material, lie angle, type (belly or standard), condition (new or used), and product line.
The filtered list can be sorted by Most popular, Ascending and descending price, newest, Best reviewed, Most discussed on their blog.
Shipping to contiguous stated can be delivered within 5 days using the Economy Delivery option. Non-contiguous states Alaska, Hawaii, and the territory of Puerto Rico can be completed within 5 business days.
Delivery to contiguous states can be done via Standard/Ground within 4 business days.
There is an option to expedite deliveries by using the Next-day, 2-day, or 3-day options.
Non-contiguous states and territories, Alaska, Hawaii, and Puerto Rico, are usually delivered within 3 to 7 business days.
Military APO/FPO Shipments must be shipped via the U.S. Postal Service Priority Mail and delivery will take place between 2-4 weeks from dispatch.
Global golf delivers to more than 125 countries. Orders that can be filled from stock, will be dispatched within one business day of payment verification.
Delivery to most locations within Canada is typically within 2 to 3 business days after being dispatched.
Deliveries to most major international metropolitan areas can be expected within 2-5 business days after dispatch.
Domestic deliveries are charged at flat rates for all customers within the continental U.S. irrespective of the number of items purchased.  Economy $4.99; Standard/Ground $9.99; Military APO/FPO $19.99; 3 Day $14.99; 2 Day $19.99; Next Day $29.99. Alaska, Hawaii, and Puerto Rico are charged at a flat rate of $9.99.
The shipping rate for international deliveries is based on the weight and destination zone of the items ordered.
International Economy deliveries are made between 5 to 10 business days, International Standard between 4 and 9 business days, International Priority between 3 and 7 days, and International Express between 2 and 5 days after dispatch.
Customs duties and taxes are not included in the quoted rates.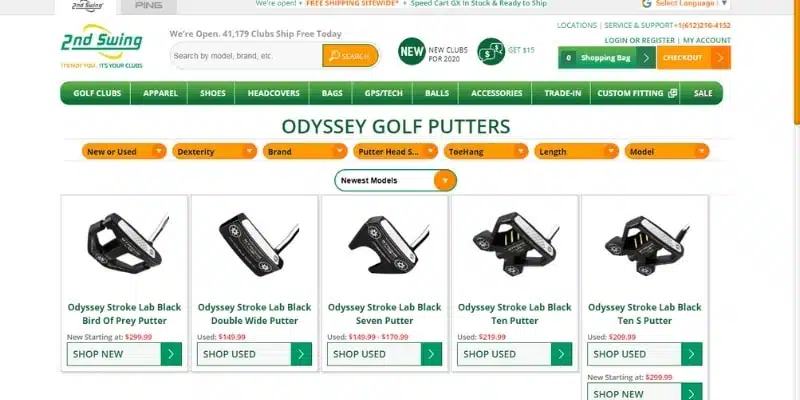 2nd Swing Golf has a large variety of Odyssey putters available on their website.
The company was started in 2006 to create a market for trading used golf clubs with their first shop opening in Minnesota in 2007. Two stores were added to the footprint in the Twin Cities area; 3 in Scottsdale, Arizona in 2015; Wilmington, Delaware in 2017; Columbia, Maryland in 2019.
Being a virtual market, trades are done directly with 2nd Swing and no trades are allowed with 3rd parties. To avail your putter for sale, you have to trade it in. However, this should not be a major obstacle as 2nd Swing offers the best prices for trade-ins on their website.
You can filter your putter selection by status (new or used), dexterity, brand, putter head style, toe hang, shaft length, and club model.
The results from the filter process can be sorted by the newest models, oldest models, relevance, best sellers, ascending price, or descending price.
All equipment sold on the website carries a 30-day guarantee.
There is a free delivery option on 2nd Swing to all contiguous states.
Processing of orders is generally completed within 48 business hours after confirmation of payment. Orders are only dispatched weekdays during business hours but not on holidays.
FedEx Ground or USPS Priority will be responsible for Standard shipping and deliver orders between 2 and 6 business days.
USPS will deliver orders to non-contiguous states, Alaska, Hawaii, and Puerto Rico shipments, and expedited shipping will be sent via FedEx.
Domestic shipping costs for putter and shoes are $9.99, 2 Business Day shipping $24.99, Next Business Day shipping $44.99. The FedEx shipping rate to Canada is $29.99
You will be responsible for all taxes, import duties, etc. upon delivery.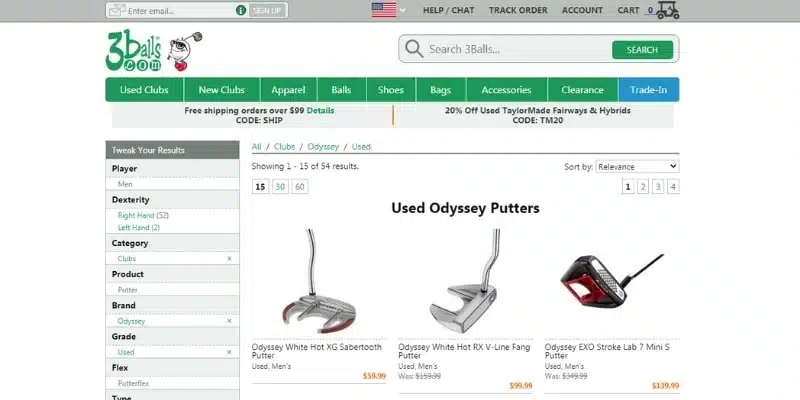 The 3 Balls website has 39 Odyssey putters for sale on their website.
You can select the player type (men, women), dexterity, brand, grade (used or new), shaft flex, putter type, shaft length, shaft material, and product line.
US Shipping Times
Where the full order can be filled from stock, it will be shipped within 1 business day after receipt of payment.
Residential orders are only delivered on weekdays excluding holidays. Saturday deliveries are possible is some limited areas.
Commercial deliveries can only be done from Monday to Friday excluding holidays.
When shipping, your order will arrive within these delivery estimates based on your location and selected shipping speed.
Deliveries to contiguous stated will take between 3 and 12 business days on the Economy deliveries option, between 2 and 6 days, Ground delivery option, and self-explanatory options next day deliveries, 2-day deliveries, and 3-day deliveries.
APO/FPO deliveries are completed between 2 and 4 weeks.


Sidelineswap has 273 odyssey putters for sale on their website
Founded in 2012, Sidelineswap created a virtual market for trading a variety of sports equipment, not only golf equipment. This virtual market was aimed at individuals buying from each other and not from the company itself. Commission on every transaction executed on the website is the income generator for Sidelineswap.
Navigating your way around the website is straightforward. Filtering and sorting your selection is quick.
Filtering the available equipment is easy to understand and you can filter by a category, brand, condition, model, site location, item type, seller type, and price range. All options are available via dropbox selection and you do not have to type it in.
Sorting the filtered lists can be done by recommended, newest, oldest, last uploaded, ascending price, descending price, and trending items.
Payment for the purchase is done at checkout. The funds are then transferred to an escrow account until ownership passes to the buyer whereafter the funds will be released to the seller.
For peace of mind, all payments are processed by Braintree while Payoneer processes bank transfers. Both providers conform to the most stringent level of certification available being PCI Service Provider Level 1.
Some conditions have to be met before the money can be transferred to the seller.
Approval by the buyer that the putter conforms to the condition on the website. If no confirmation is received from the buyer after 72 hours, the funds will be released to the seller.
Sidelineswap offers a Buyer Protection program for peace of mind
The shipping of orders by the seller is expected to be done within 3 days after concluding the transaction. If not shipped on time, SidelinSwap will contact after 2, 4, and 7 days. Orders not shipped after 7 days with no communication from the seller will be canceled and the buyer refunded in full. Sellers not fulfilling their obligation may be blocked from any future sales.
Domestic USPS Priority Mail shipments normally take 1-3 business days to deliver. UPS Ground and FedEx Ground normally take 2-6 business days.
USPS Priority Mail is used for trades within contiguous states and Canada Post for Canadian shipments.
FedEx and UPS options are available for domestic shipments within the U.S. when these carriers provide better rates.
Final Thoughts
Odyssey putters are the most used putter on professional golf tours worldwide due to their well-balanced swing weight and quality.
The websites selling new and used Odyssey putters all have some unique features that set them apart from the competition but deliver a remarkably similar service and function.
All the websites are straightforward and uncomplicated. 2nd Swing does not provide information on how many putters they have available and you have to browse through all their inventory unless you filter for a specific putter.
All other websites make it easy to determine the number of putters available and then you can filter if you do not want to look through the list.
Global golf is our preferred website due to the quality of the information provided, ease of use, and their UTRY program.
Related Articles
Nick Lomas is the founder of GolfSpan, an avid golfer, not quite a pro but has over 15-years of experience playing and coaching golfers from all over the world. His mission is to bring the golfing community a better experience then it comes to choosing the right golf gear, and finding the right set up for your game.