For someone just starting to play,  getting into golf can be more expensive than anticipated. The cost of equipment that is needed ranges from golf clubs, to a golf bag, golf balls, correct shoes, a glove, and correct clothing to wear adds up. Then there are membership fees or entrance fees to golf courses. A good way to save money is to look at the best off brand golf clubs.
At a glance: The Best Off Brand Golf Clubs
Top Brand Name vs. Off Brand Golf Clubs
Golf should be affordable to all but purchasing a top-of-the-range brand name club set such as Taylormade, Calloway, Titleist, and Ping will tend to fall out of the budget range of the average golfer.
These Brand name golf clubs are renowned for producing golf clubs of high quality and made with top-quality materials. They are continuously striving to produce the most innovative design techniques to improve the golf club performance with regard to distance and accuracy achieved.
Achieving these high standards and continuous improvement requires lengthy research and development costs. Advertising and sponsorship of both tournaments and the world's top golfers lead to the cost of their products being too expensive for the average golfer.
Most people believe that branding is important, whether it is a shoe, computer or, coffee. This is also true with golf clubs. If it has a good Brand name then you are guaranteed a good product and just the logo makes them worth purchasing.
While the Brand name can be a good indication the truth is that if that Brand product is too expensive for your budget then other alternatives are available that are more affordable.
Choosing Golf Clubs for Beginners
Many players, beginning to play golf or, with high handicaps place too much emphasis on their equipment. Until you can play golf to a skill level where you are now reducing your handicap and enjoying your golf it is not worth spending huge amounts of money on golf clubs.
A single top-of-the-line driver can cost close to $1000 whereas you can buy a full set of off brand golf clubs for $400 or less. This is for a set of good-quality golf clubs that you will feel comfortable with. As your skill levels improve so you can begin to upgrade your clubs
Off-Brand (Clone) clubs are available to the beginner or average golfer and are made to look and function just like the top clubs on the market but for a much lower price.
Off Brand, vs Knock off Clubs
Before we go any further a distinction must be made between Off Brand and Knock off clubs (Illegal imitations or counterfeit).
Off Brand Golf Clubs
Off Brand (Clone) golf clubs use the same design practices and materials that some Top Brand manufacturers use, to perform as closely as possible to the Top Brand products but, use their own particular Brand names to market and sell them. They are completely legal.
Several reputable companies manufacture Off Brand golf clubs that are well designed and whose function, look and, feel are comparable to that of Branded golf clubs. The main difference is that they cost substantially less and are therefore affordable to the average golfer.
Knock Off Golf Clubs
Knock-off clubs are made of poor quality and cheap materials but try to convince you that their product is the original Top Brand by having that brand sticker, placed on their inferior golf club. They are illegal. Like a Rolex watch for $15. They must be avoided.
The Best 5 Off Brand Golf Clubs
Quick Overview: The Best Off Brand Golf Clubs
Choosing a suitable Off Brand golf club will not be as easy as finding the right Brand Name golf club, mainly because there is not as much information available online to get a better understanding of what they have to offer.
Whereas the Brand names have websites to guide buyers, Off Brands do not have the same online capabilities to explain the design and, quality of their products and to market their products as effectively.
Although not as well known Off Brand (Clone) clubs are branded with their unique logo and trademarks thereby allowing these companies and manufacturers to establish their own identity.
Ensure that you read as many reviews as possible to assist in understanding how they perform on the fairway and whether they will be suitable for your requirements. They offer products similar in design to expensive Brand names without breaching any trademark or copyright legislation.
The following are the 5 Best Off Brand Golf Clubs available.
Precise Golf has more than 30 years of experience in the manufacture of golf clubs. This full golf club set comprises of a Titanium Driver, 3 wood, 21 hybrid, 5, 6, 7, 8, 9, PW, putter, deluxe golf bag and, 3 headcovers.
Clubs are made for men between 6'1" and 6'4". The titanium driver is accurate and can produce excellent speed that would be appreciated by even low handicap or scratch golfers.
This full set has all the features of Brand name clubs yet comes as an affordable and accessible package.
The LAZRUS golf irons set consists of seven irons ranging from a 4 iron to a 9 iron plus a pitching wedge. It can also be bought as a 2 piece set consisting of a 2 and 3 iron Some of the Top Brand Name irons are made in the same place as the Lazrus iron set.
The LAZRUS iron set has a design similar to Callaway's and has some of the same great features but is a quarter of the price. While steel shafts used on Brand name irons will provide great consistency and durability the alloy steel shaft certainly produces comparable results at a much lower cost.
The flex of the shaft is rated as regular which is ideal for beginners who have a slower swing speed, as the distance achieved from a slower swing is increased by using regular flex shafts. The deep grooves in the clubface allow for great spin, control and, consistency from fairways, fringe or rough.
The only negative noticed is that the clubheads feel heavy compared to the shafts and may be difficult to swing until you get used to it.
These irons come with a 100% risk-free purchase. If you are not satisfied with the irons then you can return them. Combined with the quality of construction, durability and, overall performance of these irons plus the very competitive price make this a good product to look at.
These iDrive Hybrid irons are designed with Senior golfers in mind. The set consists of 3, 4, 5, 6, 7, 8, 9 and, PW. The shafts are made of black graphite and are lightweight for easy handling. The shafts are fitted with oversized, arthritic grips for a firmer grip and comfort.
The aerodynamic design of the iDrive hybrid reduces drag and assists seniors in hitting further with slower swings. The Deeper Cavity Back creates a tighter shot dispersion that increases the accuracy on off-center hits.
The iDrive Hybrid set might not feel as good as the Brand Name Hybrids but the advantages greatly outweigh the small differences in quality.
Pinemeadow is a well-known manufacturer of Off Brand golf clubs and has a reputation for making high-quality golf sets. They have been active since 1985 and are still producing golf sets of good quality thus making them a reliable Off Brand golf set to consider.
Single-length irons although not new on the market, are becoming more and more popular again. With one length you can use one swing for all of your irons. The consistent weight and length will give a true feel throughout the set of irons.
The iron set consists of 7 irons( 5,6,7,8,9 + PW + GW) that are made of high-quality durable stainless steel. A balanced center of gravity makes them easier to hit and more forgiving and consistent leading to easier shots.
If you are just starting to play golf, have a high handicap and, have a tight budget then this set of irons is worthy of your consideration especially with the competitive and affordable price.
The Mazel Single Length Golf Club Iron Set consists of 9 irons from 4 iron to 9 iron + PW + AW + SW. Each club in the set is the same length as a normal 7 iron (37.5 inches long). This means that the setup is the same for every iron shot.
Many golfers especially beginners are not sure if their setup is correct for the iron they are playing. With the irons all being the same length this problem is eliminated. These irons are suitable for both men and women.
The lower center of gravity on the 431 stainless steel irons assists in getting the ball higher and straighter while the larger sweet spot allows for greater accuracy.
If you are just beginning to play golf then this is a good set of irons to start with.
Final Thoughts
For someone just starting to play golf or with a tight budget the Off Brand (Clone) golf clubs are recommended as long as careful research is done to ensure the clubs have received favorable reviews and are from an Off Brand company that is well established.
In our assessment, the Pinemeadow PGX Single length irons stood out as the best value for money for Off Brand Golf Clubs.
Please add your feedback in the comments section below.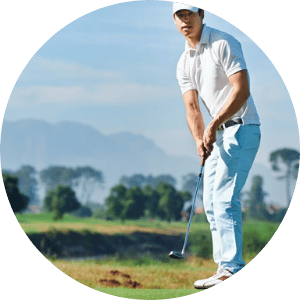 Nick Lomas is the founder of GolfSpan, an avid golfer, not quite a pro but has over 15-years of experience playing and coaching golfers from all over the world. His mission is to bring the golfing community a better experience then it comes to choosing the right golf gear, and finding the right set up for your game.