The most popular sport among US Presidents is Golf. Almost all Presidents in the last 75 years have been known to hit the links at some point or another. Some are better than others, some play too much Golf (according to the American people), and some avoid the game as much as possible.
We will give you a rundown on which Presidents have played the most Golf and a little insight as to who the sweetest swinger is as well.
1. Woodrow Wilson
Wilson, the twenty-eighth president of the United States of America, holds the record for most rounds of Golf completed during a presidency. In six years, he played over 1200 rounds of Golf. His golfing career was sadly cut short by a stroke.
Wilson said that Golf was a way for him to escape the pressure and stress of the presidency. He played Golf even during uncertain and historical times in history. In fact, on the day he declared war with Germany, he fit in a round that morning with his wife. Interestingly the American people were much less critical of Wilson and his golf course adventures than they are of a modern-day president.
Despite playing over 1000 rounds of Golf, Wilson never seemed to figure out this crazy game. Perhaps that is what kept him coming back. Some referred to Wilson as a hacker or a duffer, but we will be politically correct on this one and call him a high handicapper.
2. Dwight Eisenhower
Dwight Eisenhower is one of these people in the history of the game that perhaps did more for Golf than he got out of it. He was inducted into the World Golf Hall of Fame for his contributions in growing the game of Golf. Eisenhower is the one responsible for a putting green being installed at the White House.
Eisenhower didn't grow up playing the game; he started as a 35-year-old man. He very quickly made up for lost time and broke 80 within his first year of playing. Breaking eighty is something that takes even the most celebrated players quite some time to accomplish.
Eisenhower made many trips to Augusta National. His earliest golfing days also coincided with Arnold Palmer's prime years. The combination of the President and "Arnie" helped America fall in love with the game all over again. Golf shifted from being the rich man's sport to every man's sport.
During his eight-year presidency, it is widely believed that Dwight played over 800 rounds of Golf. Certainly not more than Wilson but a close second.
3. John F Kennedy
The Nation's thirty-fifth president is known not for how many rounds he played but instead for his golf swing. John F Kennedy played Golf for Harvard, and despite struggling with a bad back, his swing was excellent.
In some old footage of his swing, you can see how he protects his back through impact, but the fundamentals are there.
JFK stayed off the golf course during his presidency as he didn't want to be looked at as a rich man and not the people's President. Had his back been better and had he allowed himself the time to play, he could have very quickly been a single-digit handicapper.
4. Barack Obama & Donald Trump
There are a variety of comparisons between these two presidents, both politically and on the links.
Donald Trump is known for criticizing how much golf Obama played during his time in office. During his years as President, Obama played approximately 333 times. Although Trump seems on track to better Obama, it's hard to tell if all of his rounds are considered a complete round of Golf.
Trump being the owner of several golf courses, visits his properties quite often. Does he always play a round? That will be hard to determine fully. One thing for sure is that Trump loves the game and often uses it as a way to conduct business on the golf course. This can be said for a large portion of the golfing public, lots of business transactions go down on the golf course.
Which US President was/is the Best Golfer?
Donald Trump is said to have the lowest handicap among presidential golfers. His handicap is reported to have gone as low as eleven at one point. Some critics claim that Trump is not all that honest in his scorekeeping ability. This certainly proves that at the Presidential level, there is nothing left uncriticized.
Which US Presidents Decided It Was Best To Stay Off The Course?
Several Presidents chose not to play for varying reasons. FDR was a great player in college and then was unable to play after contracting Polio. Richard Nixon learned how to play while working as the Vice President under Eisenhower, but he struggled socially on the golf course. It seemed too much pressure for him to focus on Golf and politics all at the same time.
Ronald Reagan was never a big golfer. It just wasn't his thing, but he gladly took an invitation to play at Augusta national. Famously during his round at Augusta, a man crashed through the gates, took hostages, and insisted that he needed to speak with Reagan. Perhaps Reagan was correct in wanting to stay away from the game of Golf.
Conclusion
More than any other sport, Golf, plays a part in Presidential history. There is a putting green at the White House that has been removed and relocated a few times. Trump is said to have put in a full room golf simulator so he can work on his game indoors. There is no question that the level of stress these men deal with can be just as high as that putt for 79.
Will we see another President reach 1200 rounds during his time in the office? I highly doubt that with the demands of the job and the criticism from the American people that we will see that happen again.
What is your take on all of this? Should Presidents be playing as much Golf as they do?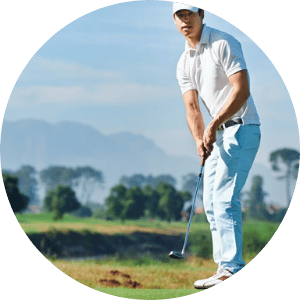 Nick Lomas is the founder of GolfSpan, an avid golfer, not quite a pro but has over 15-years of experience playing and coaching golfers from all over the world. His mission is to bring the golfing community a better experience then it comes to choosing the right golf gear, and finding the right set up for your game.