When you think of golf, romance probably isn't the first thing that comes to mind. But who says that you can't find love on the golf course? Golfing pickup lines can be a fun and quirky way to spice up the game and bring a hint of playfulness into this otherwise diligent sport.
Whether you've matched with a golfer on Tinder or tried to woo a cute golfer at the bar, these golf pickup lines will surely earn you extra points. Not only are these great conversation starters, but they'll also show them your unique wit and sense of humor.
Let's get into them!
Cute Pick-Up Lines
Found the woman or man of your dreams on the course? Well, now's your chance to draw their attention, and what better way to do that than with a swoon-worthy pickup line?
Here are some flirty golf lines that are sure to make them blush.
Is your swing as sweet as your smile? Because I'm getting hooked on you
Excuse me, are you looking for the fairway? Because you grabbing a drink with me is the only fair way for this evening to end.
Are you a caddy? Because I can't find my way around this course without you.
You must be a golfer because you've just driven straight into my heart's fairway.
If I could rearrange my golf bag, I'd put 'U' and 'Me' together in the same pocket.
If you were a golf club, you'd be a Driver… because every time I see you, my heart races.
I'm betting you've won all four majors because you look like a grand slam.
Do you prefer a fade or a draw? Either way, I'm drawn to you.
Is your name Putter? Because every moment with you feels like a smooth stroke.
Ever tried a golf-themed date? We can start with some tee time and finish with some me time.
If love was a golf tournament, this could be our Masters moment.
My heart's like my golf balls – every time I see you, they soar.
Much like golf, love is all about taking the right approach. How about we take a swing at it together?
Your eyes remind me of Pebble Beach – beautiful, mysterious, and challenging to navigate.
Are you a top-tier golf glove? Because I can't imagine gripping my future without you.
Are you sure you aren't an Albatross? Because you are a rare catch.
I'd be interested in watching you putt because I see some smooth lines from here.
Do you believe in love at first putt? Because I have a tee time for two and my buddy canceled.
You must be one of those drunk golfers driving a cart too fast because you're making me crazy.
Do you have a rangefinder with GPS? Because I might get lost on your back nine.
Are you a sand trap? Because you've got me stuck in your love bunker.
Are you a fairway? Because meeting you has put me on the right path.
Are you a golf ball? Because I'd like to mark you as 'mine' and play through life with you.
You might be a hole-in-one because you are Par-fection.
I just want to go from tee time on the course to tea time at home with you.
Do you have a tee time? Because I'd like to pencil you in for a date.
Do you play golf? Because you've driven a hole-in-one straight through my heart.
Are you a sandtrap? Because you've got my heart stuck on you.
If your swing is as smooth as your smile, we're in for a great round.
Is your name Tiger? Because you just made my heart roar.
You must first be well-versed in all the golf terms to impress someone with a good pickup line.
Check out this article for common golf terms and level up your game both on and off the course.
Funny Pick-Up Lines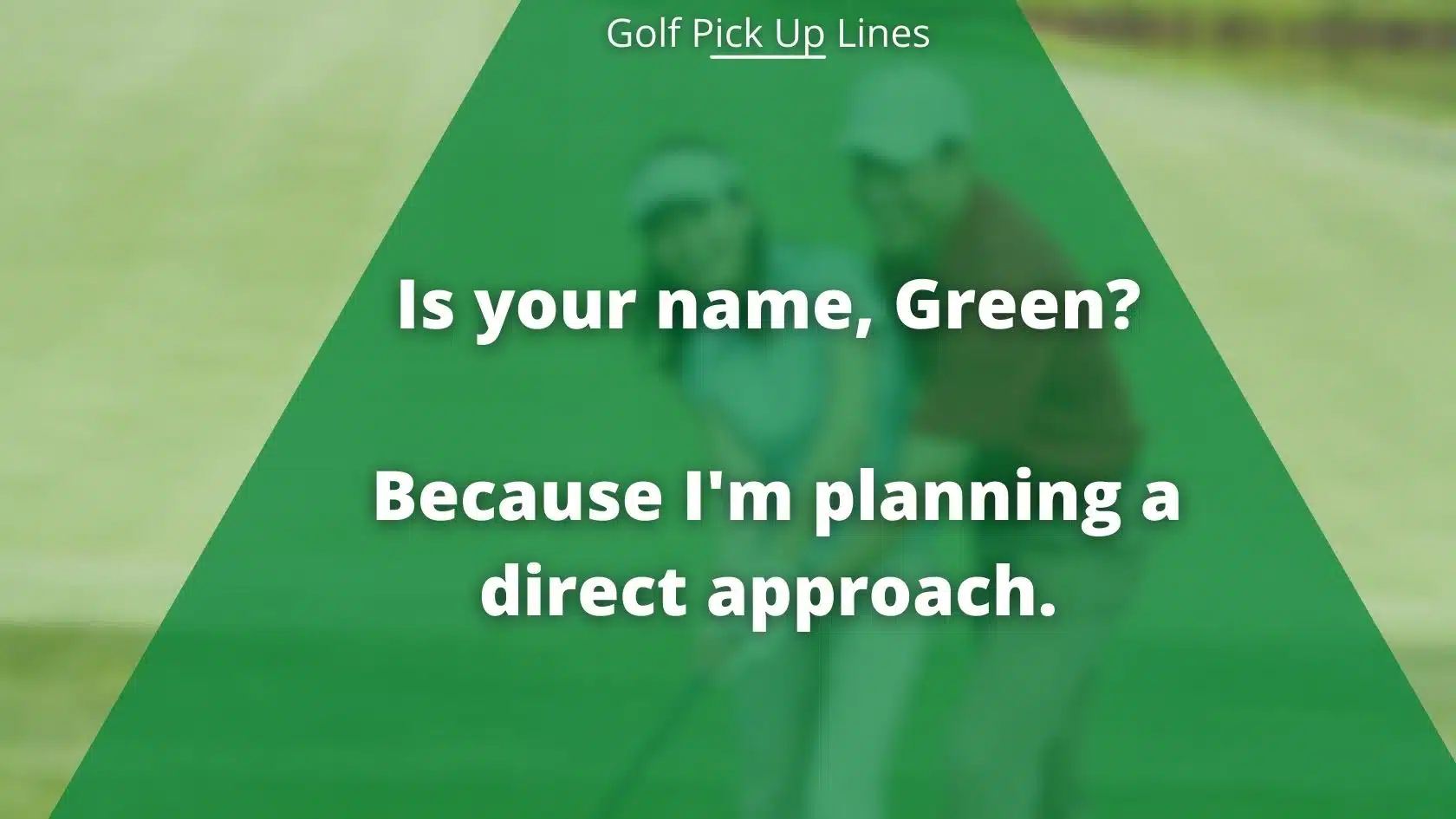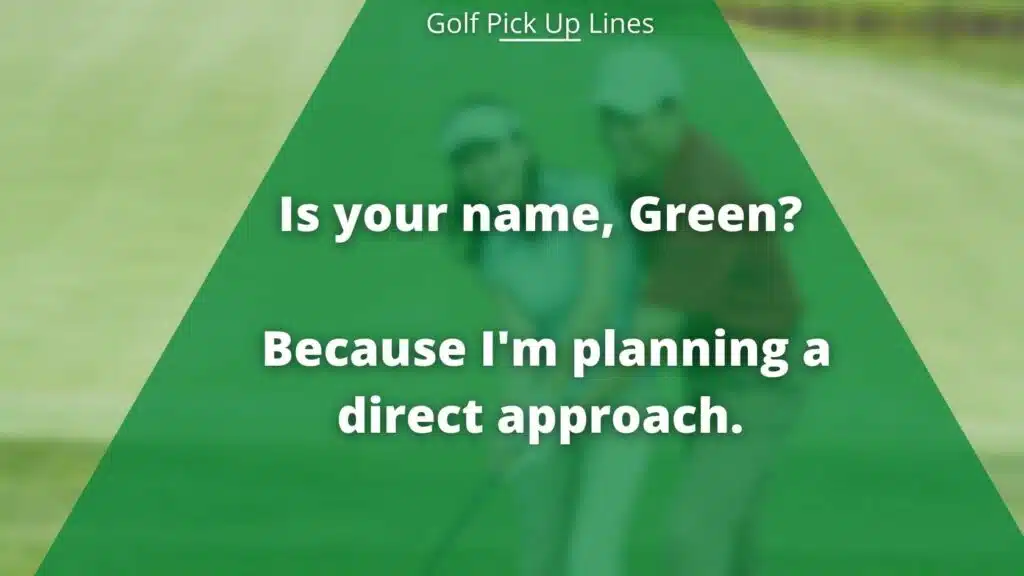 These punny golf pickup lines will make any golfer laugh if you use them correctly.
Is your name, Green? Because I'm planning a direct approach.
There's something wrong with my scorecard. It doesn't have your number on it.
You remind me of a Pro V1 golf ball… Soft, dimpled, and expensive.
Nine holes and chill?
Do you believe in love at first swing, or should I take another shot?
Your butt looks great in that position. I mean putt.
You're such a dime I could just use you as a ball marker.
My handicap needs work, but I'm well-known for ordering coffee. Join me for a round?
You're better than a two-on on a par-5.
You look like someone who enjoys a good swing.
Do you believe in love at first swing, or should I tee off again?
Are you a clubhouse? Because I always want to come to you after a long game.
Is your name eagle? Because you're scoring high points on my heart.
Is your name green? Because I am eager to put my flag in your hole.
You remind me of St Andrews' bunkers— dangerous.
You remind me of a fairway — well-groomed and a pleasure to hit on.
Check out this article for some fun golf puns, and maybe you can come up with some unique pickup lines of your own, too.
Golf Pun Pick-Up Lines
Puns are popular on dating apps and can be seen as less risky, so here are some great golf one-liners with puns.
If love is a sport, we'd definitely be playing best ball.
Just like a birdie, you've made my day better than par.
Meeting you was definitely a hole-in-one moment for me.
Are we on the green? Because it feels like we're getting closer to the pin.
Every time I think of you, my heart does a little chip shot.
With you, every moment feels like a mulligan – too good to be true.
Just like in golf, I'm aiming for the long game with you.
Is it my turn to tee off? Because I've been waiting to take a shot with you.
I'd never putter around when it comes to someone as amazing as you.
If dates were golf rounds, ours would be a major championship.
Dirty Golf Pickup Lines
Looking to get a little more risky with your pickup lines? Well, smartly incorporate some golf slang into your conversation and make the shot.
If you need help, these dirty golf one-liners are sure to spice things up. But be careful who you use them around because some of these can be quite R-rated.
We would make beautiful golf prodigies together.
Are you a birdie? Because I want you 4 times in one round!
How about you be my caddy and wash my balls tonight?
I'm a bit tired, so can we just play your back nine tonight?
My drives aren't always long and straight.. but I can show you what is!
Do you want to go golfing, baby? I'll let you put your balls in my hole.
We need one more player for our foursome… Would you make this the best round of our lives and join us?
Come; let's play an exciting game of golf together. Tell me the number of strokes you want, and you will get it.
Hey Maria! Do you want to see my Cobra clubs later tonight?
I will drive you so hard with these balls you'll be screaming "fore."
Is that my driver cover in your jeans? Because I'd love to put my wood in it.
You are like a water hazard… Once my balls go in, I can't get them out.
I'm known among these golfers for having a lengthy club. If you know what I mean?
Want to see a clubhead that's bigger than 460cc?
I'm not good at golf, but I can wedge my balls into your sand trap.
Hey Anna, come here, and I'll show you my 9 iron.
Hey Maria! Do you want to be my 19th hole once I'm done playing these 18 holes on the course?
We could be boring and play strokeplay or strip down and try skins.
I hope you like it rough because I don't replace my divots.
Do you want to see my super stroke?
Damn, girl, you sure know how to give a bloke a vertical shaft angle.
How about grabbing two of your friends so we can play a foursome?
You might want to get a large bucket because I don't stop hitting till I'm satisfied.
Check out this article for more golf quotes.
Golf Pick-Up Lines to Say to Guys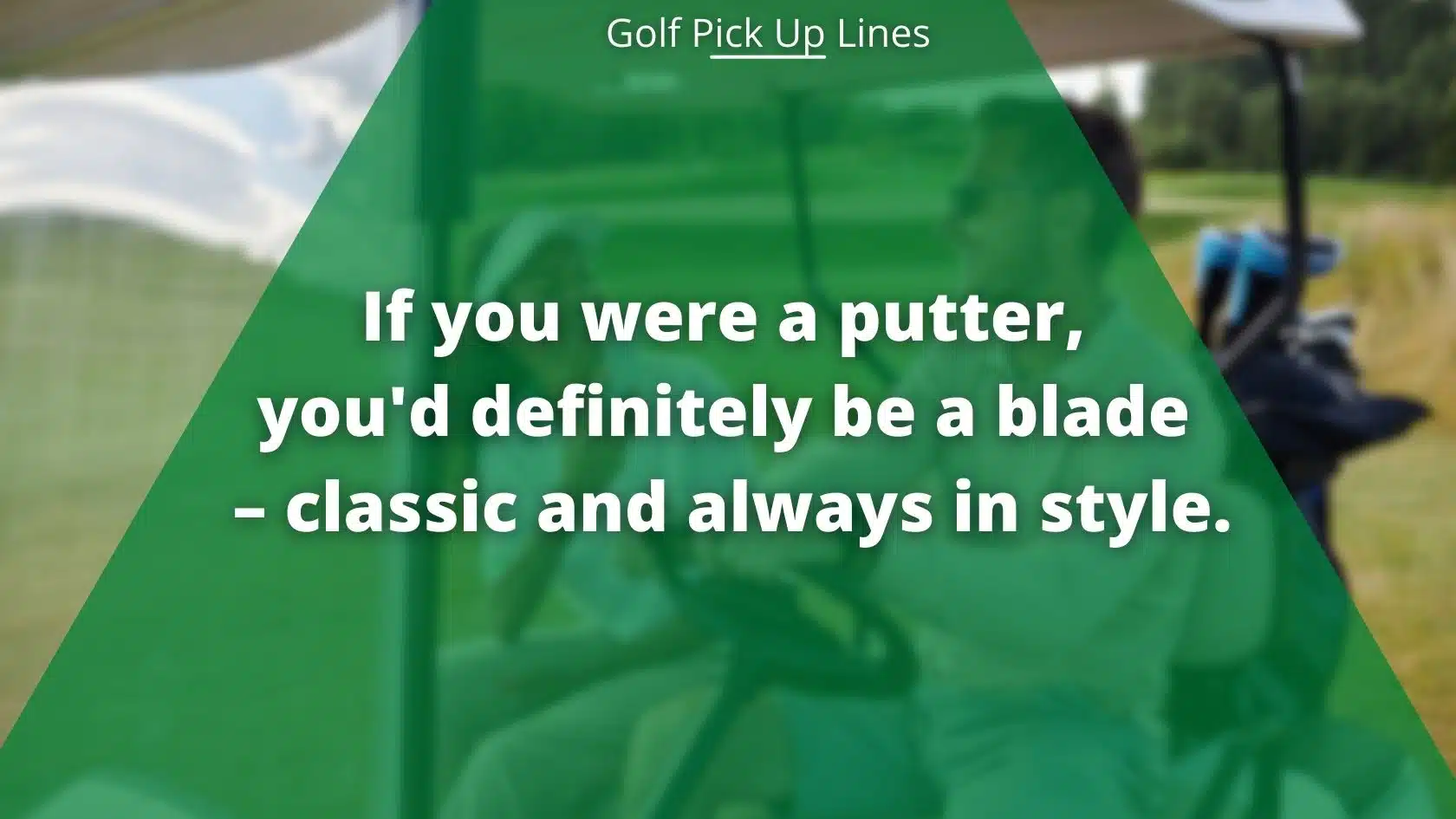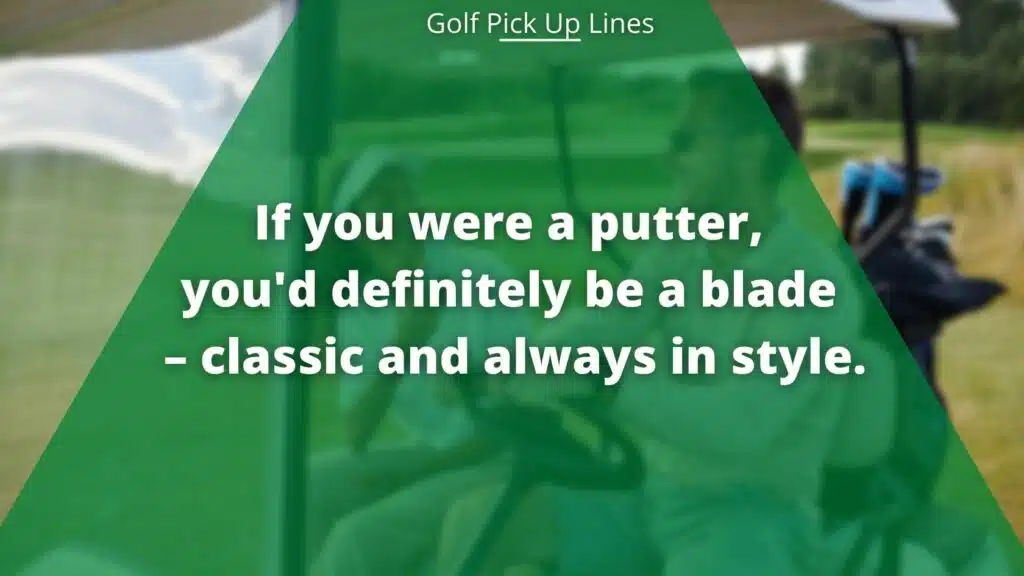 Who says pickup lines only work on women? Less is usually more. But you can try one of these golf pick-up lines to say to guys, and watch how it grabs their attention.
Sir, if you were a putter, you'd definitely be a blade – classic and always in style.
I've always been told that in golf, the follow-through is crucial. So, how about we follow through with coffee after the game?
If your golf game is as polished as your shoes, I must insist on some lessons.
You, sir, have managed to drive straight into my thoughts.
Is your heart as open as the 18th hole? Because I'd love to explore it.
Darling, if golf were a dance, would you care to join me for a swing?
Were you named after a famous golfer? Because every time I see you, my thoughts turn to the Masters.
Do enlighten me, when you play golf, do you always aim for a woman's heart, or is it just mine you've targeted today?
Play here often?
Got plans after this hole?
Like my swing?
Need a caddy?
Flirty Golf Captions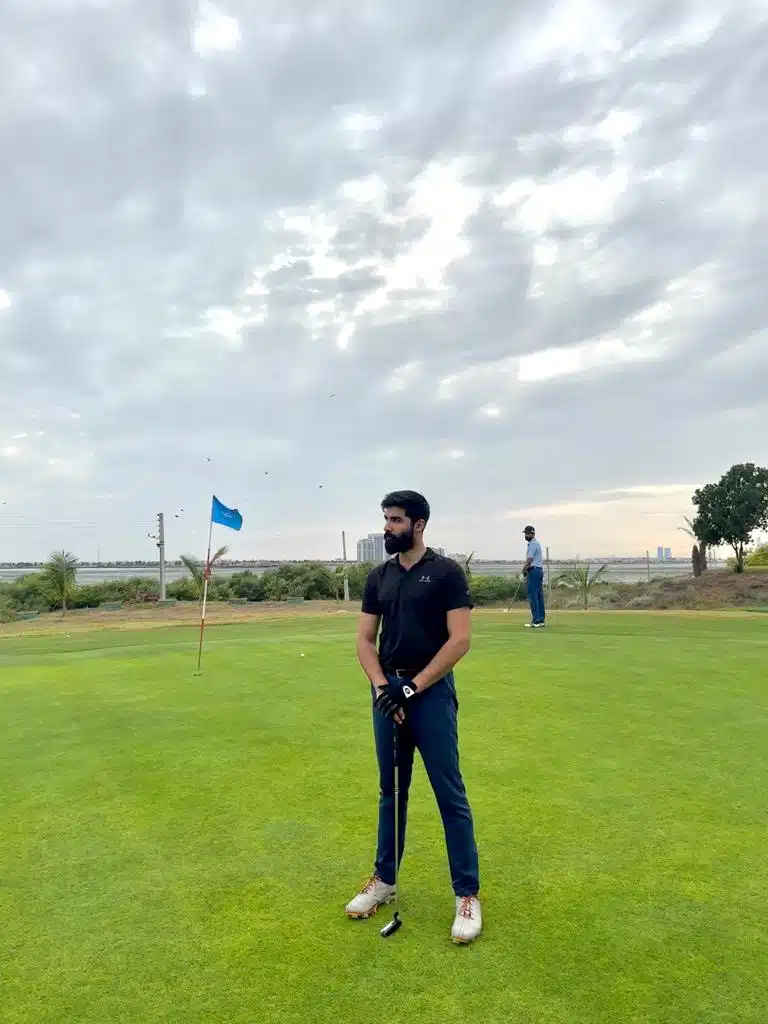 One way to attract the attention of a golfer that you have your eye on is with a social media post and a flirty golf caption. Here are some options you can post with your golf posts.
Swinging into your heart one stroke at a time. ⛳️❤️
Playing the field until I find my hole-in-one. 😉
Hole lot of fun when I'm on the green, even more when I'm with you. 🏌️‍♀️
Got my driver out, now all I need is a co-pilot. Any takers? 🏌️‍♂️✨
Trust me, it's all in the hips. Care for a lesson? 💃⛳️
Eyes on the ball, heart on the lookout. Spotting any takers? 💕🔭
Golf course today, date night tomorrow? 😘
Grip it and rip it! Fancy joining me on the next round? 💥⛳️
The fairway might be my playground, but I'm looking for someone to make every day an adventure. 🌍❤️
On par with my golf game, but upping my flirting game. How'm I doing? 😜🏌️‍♀️
They say love and golf are all about the follow-through. Ready to play? 🖤⛳️
Seeking someone to be the birdie to my eagle. Let's soar together. 🦅❤️
Golf isn't the only game I play. Fancy a match-up? 🔥
They say golfers have the best drive. Care to find out? 🚗💨
Feeling tee-rific today! Who's joining me for the next round? ⛳️😉
Final Thoughts
In the quest for the best golf pick-up lines, it's essential to find that sweet spot between humor and charm.
Shorter lines, in particular, have proven to be more effective on dating apps – concise, playful, and to the point, they're a surefire way to grab attention.
While a cheeky, dirty line might elicit a chuckle, remember they're best used with someone you know well, ensuring you don't step out of bounds.
Regardless, giving these lines a shot might just land you in the relationship fairway.
After all, in the dating game, as in golf, it's all about the approach. So, take a swing at these lines and let us know your success rate – we're all about celebrating those hole-in-one moments!

As a skilled golfer and wordsmith, Abdulmoiz brings a fresh and engaging voice to the golfing world. Whether he's on the course or at the keyboard, he strives to improve and inspires others to do the same.