When talking about a grip in golf, most people think about how you hold the golf club. However, the material you hold onto at the top of the club, the grip, is also extremely important. We take a look at one of the leading grip options in our Lamkin UTX review.
Lamkin grips were founded in 1925 when the founder, Elver Lamkin, began manufacturing premium leather grips in the garage of his suburban Chicago home.
The company began manufacturing leather and rubber hybrid grips in the 1960s, under the direction of Elver's son Robert E. Lamkin, and eventually, synthetic rubber grips to provide golfers with a more affordable and consistent-feeling golf grip.
Committed to producing excellent grips, Lamkin continued to be an industry pioneer and endeavors to bring in ground-breaking ideas, new material, manufacturing, texture innovations, and designs aiding golfers to have more fun regardless of style, skill level, or aesthetic preference.
Whether you are a professional tour golfer, a long-drive champion, or just a casual golfer having fun you are sure to find a grip with a functional performance advantage in the Lamkin range.
The founder's grandson, Bob Lamkin successfully continues the astonishing legacy with enormous global growth that comprises clients and manufacturing works around the globe.
Brendan Steele talks about Lamkin grips in this video.

Design and Technology
The Lamkin UTX is an all-weather grip utilizing Lamkin's ACE 3Gen material containing an incredible amount of tack, durability, and vibration dampening traits.
It is specifically developed to add traction in a firm feeling full-corded grip for golfers that generates fast swing speeds.
Lamkin's Tri-Layer Technology blends three unique materials to provide exceptional torsion control and superior vibration dampening. This combined with a full-cord weave makes the UTX strong in the hands with excellent traction.
The Lamkin ACE 3Gen technology is applied to both the inner and outer layers with the base layer being a softer version for enhanced comfort and the outer layer a firmer version to relieve tension in the grip.
Binding the outer and inner layer together is a fabric that absorbs or draw off liquid by capillary action. This material drains the dampness and makes the grip more playable in an assortment of weather conditions.
Specifications
Looks
There are four different color variants available to select from grey, red, blue, and black.
All variants, except for the grey, have a light blue cap and white branding, as well as two white lines below the cap and at the bottom of the grip.
The grey grip has black lines at the top and bottom with black branding. The ACE pattern is clearly visible on the outer cord but slightly less evident on the black grip.
There is enough tack combined with enough roughness that the UTX stands out once it is gripped on a golf club.
Feel
The UTX is sticky and maintains more than adequate grip when wet. Furthermore, the UTX does a respectable job of retaining sufficient grip throughout your swing while providing comfy shock absorption.
Feedback is very precise which touch players will appreciate fully.
The corded grip does not become overwhelming but retains a comfortable feel.
Performance
You can rest assured that the Lamkin UTX is unlikely to slip in your hands even in some of the wettest conditions Mother Nature may send your way while still providing quality feedback on your impact.
Low torque design offers you enhanced command over your club for greater accuracy and shot control
3GEN shock absorption assist in protecting your hands without dulling shot feedback
Who are they for?
The UTX line is for players who want a corded grip that is firm, yet responsive.
Alternatives
1. Golf pride Z-grip
The ZGRIP® is the firmest cord grip available from Golf Pride consisting of two layers of texturing for feedback and control with a firm grip to maximizes feedback at impact.
Moisture-wicking brushed cotton cord adds stability and traction in all conditions.
"Z"-shaped texture pattern winds vertically around the grip to provide superior traction and channels moisture away from the hands.
2. G-rip-a-tac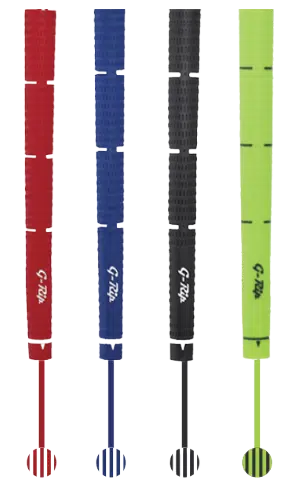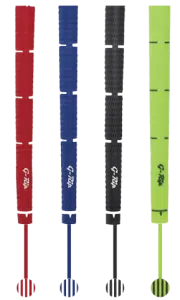 The new A-Tac range of swing grips is made from a Japanese proprietary compound that has a feel all of its own with a tacky feel and when dried with a towel the compound becomes even tackier.
The grip is ideal in hot weather when the hands become sweaty as the moisture from the hands makes the grip even tackier.
A semi-waterproof surface remains sticky when the main surface water is removed. This gives the golfer confidence when playing in rainy conditions.
3. Iomic Sticky 2.3 Grip
Elastomer (resin) has an advantage over rubber grips which has been used as a standard material for grips.
Iomic combined elastomer with plastic material to produce IOMAX.
As a result, it was found that the grip torque generated by IOMAX is between 0.2 and 0.3 mm while other grips are between 0.4 and 0.7 mm.
The reduction in torque creates a smaller dispersion and straighter shots.
Final Thoughts
Lamkin grips have been in the golf grip manufacturing space since 1926 and are currently headed by a third-generation Lamkin.
Through innovative technologies and fabric, they remain at the leading edge and provide grips to nearly all golf club brands, and claim to have the perfect grip for every golfer.
Lamkin's Tri-Layer Technology combined with the innovative ACE 3gen fabric provides a corded grip that performs to expectation and you do not have to be afraid of the club slipping out of your hands.
The Lamkin UTX grip is highly recommended for golfers that play in a variety of weather conditions and want to receive feedback on the impact between golf ball and clubhead.
Grip and rip using your new UTX!!
Related Articles
Nick Lomas is the founder of GolfSpan, an avid golfer, not quite a pro but has over 15-years of experience playing and coaching golfers from all over the world. His mission is to bring the golfing community a better experience then it comes to choosing the right golf gear, and finding the right set up for your game.