The standard-sized golf clubs are made for men 5'9″ to 6'0″ tall. If you're taller than 6″, you'll need clubs that are 0.5-2″ longer. If you're shorter than 5'9″, you need clubs that are 0.5-2″ shorter than the standard length.
To know the right golf club size, refer to my golf club length-to-height chart or use the wrist-to-floor method.
Buying the right-sized golf club is crucial for your golf game. While a shorter golf club can ruin your posture and potentially cause back pain with excessive bending, a too-long one can affect your golf swing and ball contact.
In this article, I'll help you find the right club for your height based on some easy calculations and also take you through the various lengths for drivers and irons and what suits your needs best.
Correct Golf Club Length For Height Chart 
You must first measure your exact height to know the right club length for yourself. No, this is not the time to sneak in an inch or two like you did on your dating profile (yes, we've all been there).
In fact, some golf stores even offer to measure your height and wrist-to-floor measurement (I'll get to that further in the article) to help you choose the correct length golf club.
A golf club size chart and golf club length chart with the alterations needed for different heights of men:
| | |
| --- | --- |
| Height (inches) | Club Length |
| 6'9" – 7'0" | +2 inches above standard length |
| 6'6" – 6'9" | +1.5 inches above standard length |
| 6'3" – 6'6" | +1 inch above standard length |
| 6'0" – 6'3" | +0.5 inch above standard length |
| 5'9" – 6'0" | Standard club length |
| 5'6" – 5'9" | -0.5 inch below standard length |
| 5'3" – 5'6" | -1 inch below standard length |
| 5'0" – 5'3" | -1.5 inches below standard length |
| 4'9" – 5'0" | -2 inches below standard length |
Note: The length of a standard club varies based on the brand and the type of club you're using. For instance, the standard length for a Callaway driver is 45 inches, whereas their putters are 34-35 inches. However, mainstream brands such as Taylormade or Titleist usually follow standardized measurements.
Plus, I've also noticed that steel shafts are normally half an inch shorter than graphite shafts.
The Standard Iron Length and Average Driver Length
The standard length of irons for males is between 36 – 40 inches, and for women, it's between 35 – 39 inches. The length will depend on several factors, including the type of club and brand. In terms of drivers, this increases to around 45 inches.
For any alterations, the iron length by height and the driver length by height should follow the golf club fitting chart to ensure the clubs suit the golfer.
How to Measure the Right Golf Club Length for You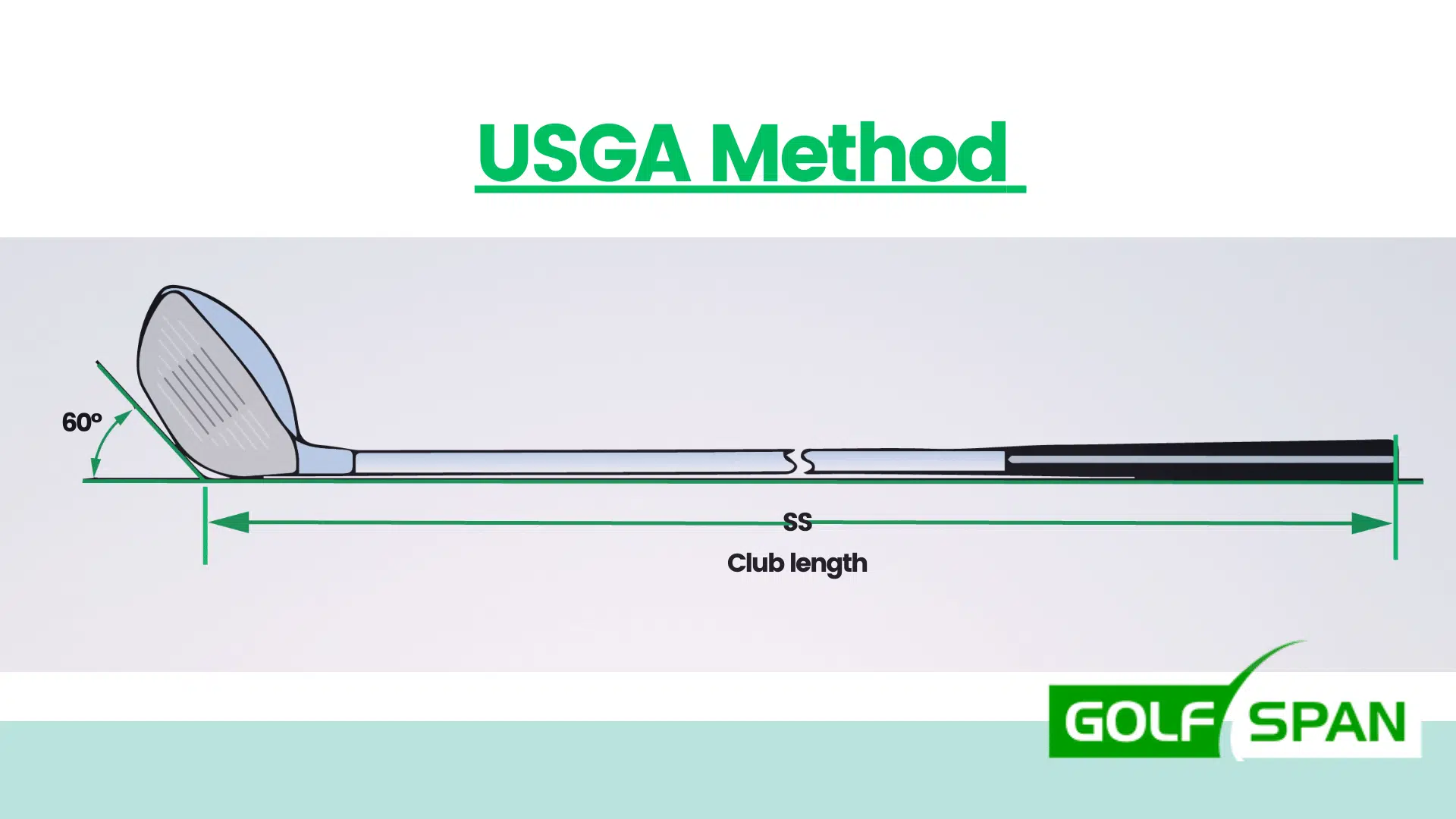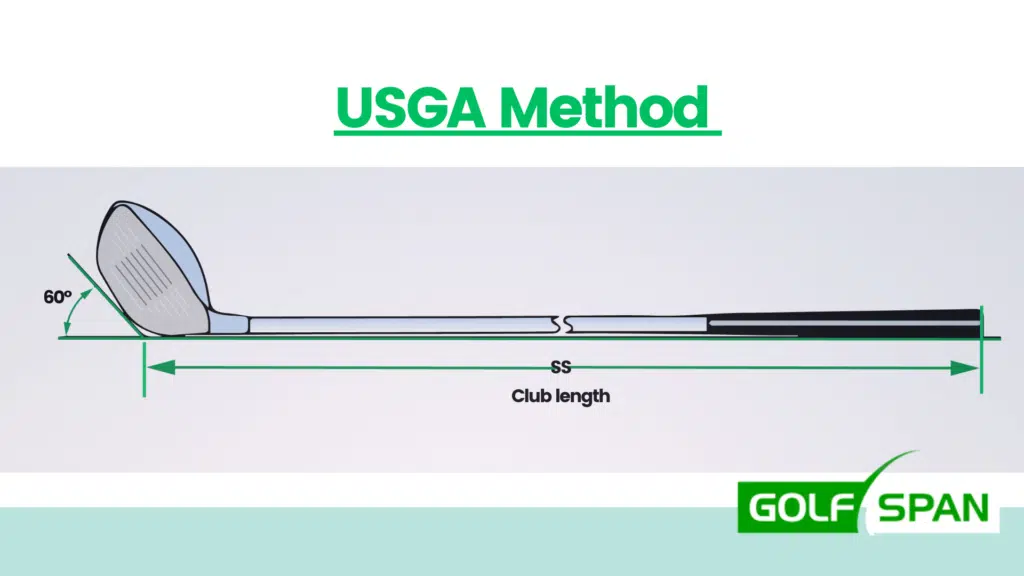 We'll share a standard way to measure your golf club using the wrist-to-floor method and a more intuitive approach below.
The Wrist-To-Floor Method for Measuring Golf Clubs
The Wrist-to-Floor method, or as I like to call it, the "WTF" method, measures the distance between your heel and the upper crease of your wrist. It is the most popular way to measure the desired golf club length since it has the highest accuracy. This is because it factors in your arm length since golfers have different arm and leg lengths.
All you need for this is a yardstick and a measuring tape. First, stand on a flat surface wearing tennis or golf shoes, keeping your stance straight and upright. Then, place the yardstick by your side, touching the floor, and make a note of the point on the stick that touches your wrist. Now, measure this length using a measuring tape.
On average, the wrist-to-floor measurement is 48.9% of someone's height. But this can vary from person to person, so necessary length adjustments for golf clubs may be needed.
Height and Wrist-To-Floor Measurement
| | | |
| --- | --- | --- |
| Height (inches) | Height (feet and inches) | Wrist-to-floor measurement in inches (48.9% of height) |
| 54 | 4'6" | 26.41 |
| 56 | 4'8" | 27.38 |
| 58 | 4'10" | 28.36 |
| 60 | 5′ | 29.34 |
| 62 | 5'2" | 30.32 |
| 64 | 5'4" | 31.30 |
| 66 | 5'6" | 32.27 |
| 68 | 5'8" | 33.25 |
| 70 | 5'10" | 34.23 |
| 72 | 6′ | 35.21 |
| 74 | 6'2" | 36.19 |
| 76 | 6'4" | 37.16 |
| 78 | 6'6" | 38.14 |
| 80 | 6'8" | 39.12 |
| 82 | 6'10" | 40.10 |
| 84 | 7′ | 41.08 |
| 86 | 7'2" | 42.05 |
How To Measure Golf Clubs By Feel
As well as using your height and the wrist-to-floor method, you can work out 'what length of golf clubs do I need' through your feel for a golf club. I think the more you play, the better you'll know if you need a longer shaft club or a smaller one.
You can tend to check out that if your swing is inhibited by being bent over, the club needs to be longer, and if you are overswinging due to it being so long, the height of golf clubs must be more petite for you.
What Size Golf Clubs Do I Need as a Woman?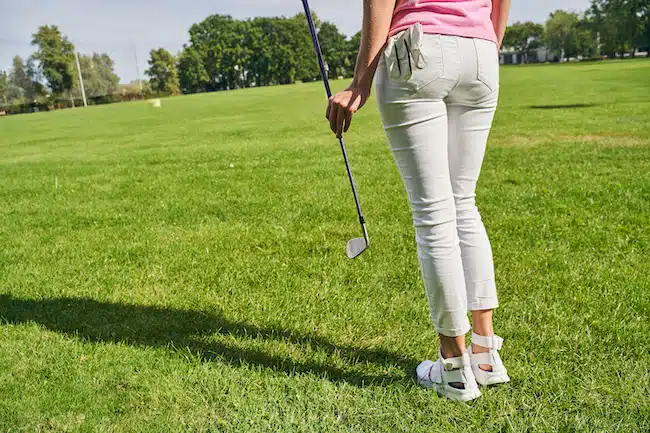 Women's clubs have different lengths, and they tend to be around 1 inch shorter than the men's set of clubs. For example, the standard driver length for women is 44 inches – 1 inch shorter than men's.
This driver length is targeted towards a woman at around 5'7," meaning that the height differences alter for alterations.
Women's Standard Golf Club Length Chart
| | |
| --- | --- |
| Height (inches) | Club Length |
| 6'1" – 6'4" | +1 inch above standard length |
| 5'9" – 6'0" | +0.5 inch above standard length |
| 5'5" – 5'8" | Standard club length |
| 5'1" – 5'4" | -0.5 inch below standard length |
| 4'9" – 5'0" | -1 inch below standard length |
| 4'3" – 4'8" | -1.5 inches below standard length |
Standard Golf Club Lengths
Most drivers have a standard length of 45 inches, compared to the 43-inch standard length that was the norm a few years ago. Drivers usually have longer shaft lengths because, as you know, longer shafts translate to stronger swings and greater distance traveled.
Iron shaft lengths have the greatest variation, with a 9-iron measuring 35 to 35.5 inches and a half-step increase with each iron to the 2-ron.
The golfer's height is a major factor when choosing the right iron.
I personally prefer using a 7-iron or 6-iron for my shots as it has the ideal lie angle and gives reliable results each time. Plus, it also has the perfect shaft length for my height.
You can also check out this article to learn how to measure driver shaft length.
FAQs
Should a Beginner Get Fitted for Golf Clubs?
When considering your golf club's height and whether you should get fitted for the right-sized clubs, it is important to consider how much you want to develop as a beginner. If you just want to learn slowly with some clubs and you are not too bothered about developing hugely, there is not much need to get fitted. Though, if you are a serious beginner and want to start as you mean to go on by growing as a golfer as much as you can, it is well worth getting fitted.
The average cost to get fitted for golf clubs is between $100 and $200.
Does the Size of the Golf Club Matter?
Simply put, yes, the size of your golf club does matter. It affects your swing and your ability to direct the ball where you want it to go. This ultimately impacts your performance on the course and how you will develop as a golfer.
How Do You Know If Your Clubs Are the Right Length?
There are three main ways to know how long golf clubs should be. As well as the wrist-to-floor test and your own feeling, a good gauge is to use your height. Standard-size clubs are made for those between 5ft 9" and 6ft 0". You can make alterations if you are below or above that height range.
Should A Tall Woman Use Men's Golf Clubs?
Any woman who is 5'6 or taller should get measured since she may need to use men's golf clubs. To find out if you're better suited for men's golf clubs, measure how high your knuckle is from the ground. If it's 30 inches or above, you'll play better with men's golf clubs.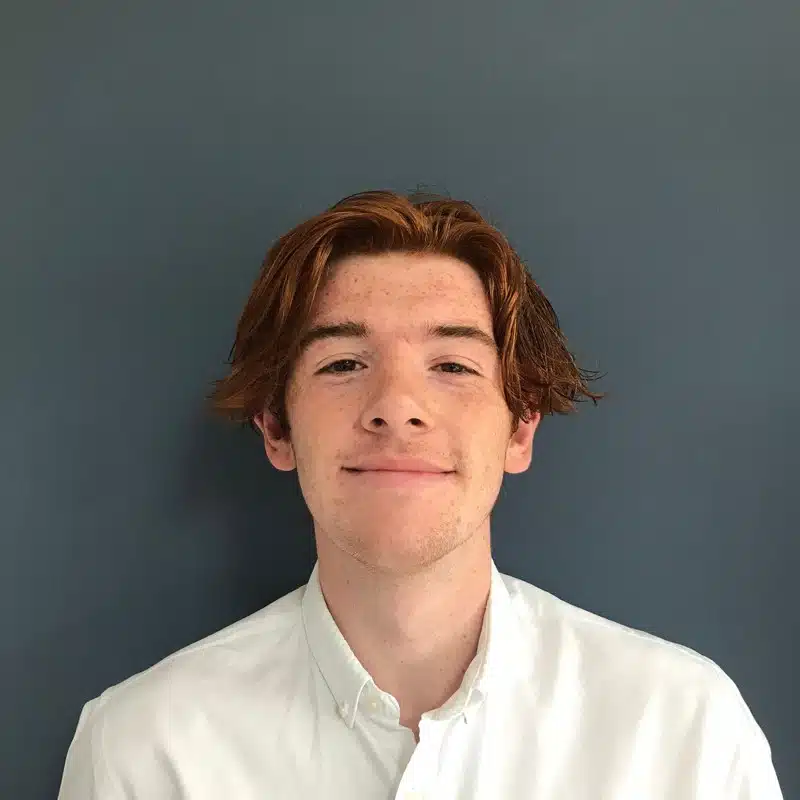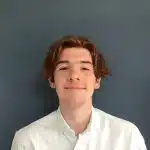 Jack was inspired by his Grandad Ron's golfing and grew up playing this great game. Now, he enjoys both playing and writing about it. He is also a big sports fan too. Jack is always looking for ways to find the edge on the course to share with readers.