After traveling to more than 60 countries in my short life, I have had the privilege of playing some stellar golf courses in epic destinations. As a result, I have gone ahead and put together my 8 best golf trips for guys.
Socializing is potentially the best part of golf. Getting out on the course to shoot the breeze and enjoy the sport with your buddies is time well spent. There is only one thing that beats a round with your mates, and that is a fully-fledged tour.
I have included a mix of local and international destinations, to offer a variety for golfers on all budgets, and schedules. Off we go…
Best Golf Trips and Tours For Guys
1. Cape Town, South Africa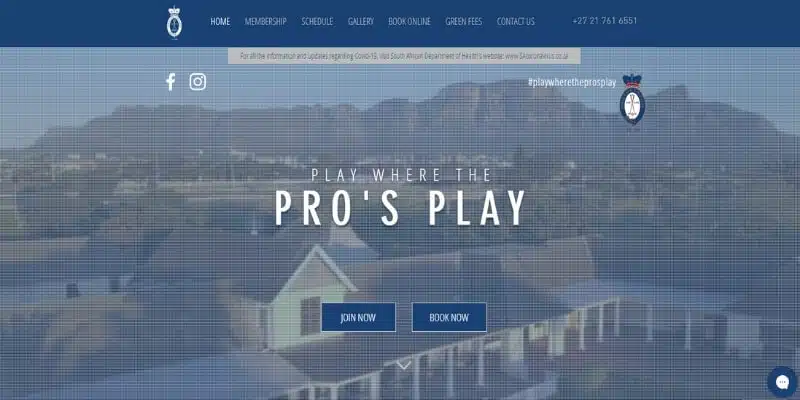 Cape Town, South Africa may not be a destination that pops into your head when you think about golf vacations, but it tops my list. Here is why. They have a trove of world-class golf courses, a variety of activities, quality accommodation and it is super affordable.
The country's official currency is South African Rands, and US$ 1 will get you ZAR 14. To put it into perspective, 18 holes at one of the best courses in the area will only set you back $66.
Courses: 27
Must-Play Courses: Erinvale Golf Club, Royal Cape Town, Atlantic Beach, Pearl Valley
Best Hotels/Resorts: Belmond Mount Nelson Hotel, Cape Grace, De Zalze Lodge. Pearl Valley Hotel
Other Activities: Wine Tours, Beaches, Diving, Surfing, Restaurants, Bars, Museums, Hiking
Best Time To Visit: November – April
Golf Courses Around Cape Town
Cape Town is privileged to have 27 golf courses around the metropolitan, ranging from parkland to links and championship courses. It is suggested that you kick off your trip with a round at Royal Cape, South Africa's oldest golf course founded in 1885. From there you should move away from the City and into the Winelands to play a round at the Gary Player-designed Erinvale Golf Club.
After Erinvale, head over to Gary's mate's course, Pearl Valley. Designed by Jack Nicklaus, the course was ranked number 2 in the 2021 edition of South Africa's top 100. Finally, it's worth capping off your tour with a round at either Atlantic Beach or Milnerton Golf Club, which give you a clear view of the Cape Town city bowl and the iconic Table Mountain.
Activities Around Cape Town
Besides quality golf courses in the Cape Town metropolitan, there are a host of other activities to undertake on your tour. Taste some of South Africa's world-class wines, surf the Indian and Atlantic ocean waves on the same day and savor the taste of an array of dining experiences.
The biggest downside of a golf tour to Cape Town is the lengthy flight, but it is well worth it. You can fly directly to Cape Town from a variety of European and Middle East airports. Currently United is the only one flying direct from the US to Cape Town, but you also have the option of flying on Delta from Atlanta to Johannesburg, and then onto Cape Town.
If you have the time, it is worth taking a three-day safari in the East of South Africa, before making your way home. Sighting the big five after playing some quality courses, is the right way to cap off a golf trip with the guys. As far as bang for your buck goes, Cape Town not only offers one of the best golf trips in the world. But, one of the best golf trips on a budget.
2. Myrtle Beach, South Carolina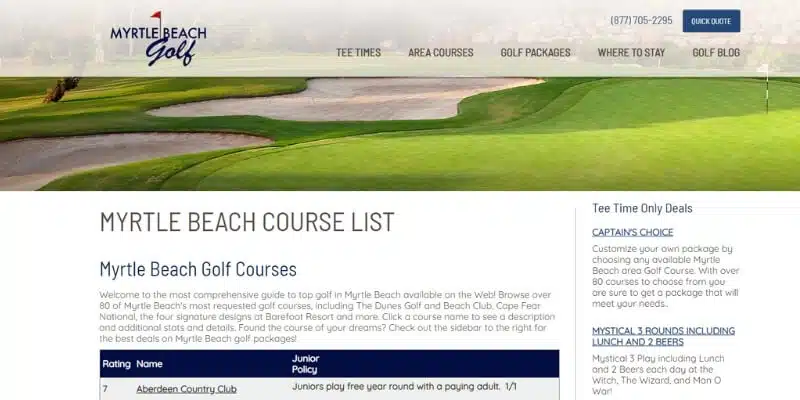 As far as golfing vacations in the continental US go, there are few better destinations than Myrtle Beach, South Carolina. The vacation resort town boasts 90 golf courses, making it the destination on this list, with the most options. The area is also home to 60-miles of pristine beaches offering a wide variety of watersport activities, eateries, bars, and fishing spots.
There is no doubt that Myrtle Beach is one of the best golf trips east coast side that you can get.
Courses: 90
Must-Play Courses: Dunes Golf and Beach Club, Tidewater Golf Club, Caledonia Golf and Fish Club
Best Hotels/Resorts: Marriott Myrtle Beach Resort and Spa, Wyndham Dye Villas
Other Activities: Watersports, Miniature Golf, Fishing, Beaches, Museums
Best Time To Visit: March – June (Courses are overflowing with golfers due to the peak holiday season, so you will need to be patient.)
Golf Courses Around Myrtle Beach
The South Carolina resort town is home to an impressive 90 courses, many of which are designed by golf royalty. The course you absolutely have to book a tee time at is the Robert Trent Jones Sr. designed, Dunes Golf and Beach Club. To make it easy on you and the crew, you can stay on the premises at the Marriott Resort and Spa. Dunes are the top-ranked Myrtle Beach golf course by your favorite PGA Professionals.
Next, it is worth trying a course designed by a local and consistently ranks in the top 5 courses in the area. I am talking about Tidewater, which is one of the most scenic courses in the County. Finally, if you can, sneak in 18 at TPC Myrtle Beach, which happens to be the home course of current world number 1, Dustin Johnson. Maybe a round at DJ's home base will do wonders for your game.
Activities Around Myrtle Beach
With 60-miles of pristine coastline to enjoy, most vacationers will spend their time on the beach. After a round of golf in warm conditions, one can't be blamed for opting to float in the Atlantic ocean for the rest of the day. For the more sophisticated travelers, there are parks, gardens, and a variety of museums to visit.
If you are looking for a feed and a bit of fun at night, Myrtle Beach offers a diverse selection of restaurants and bars.
3. Las Vegas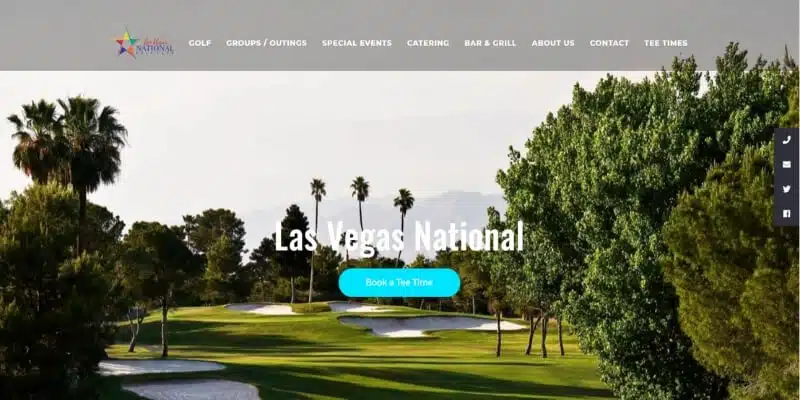 The entertainment capital of the world may have a reputation for its nightlife, and gambling establishments. But, it is also home to some immaculate golf courses, providing a perfect combination of golf and entertainment for a guys tour. With over 70 courses to choose from and a variety of accommodation, activities, and dining options, there is no shortage of options.
Courses: 70
Must-Play Courses: Chimera, Las Vegas National, Cascata Golf Club, Shadow Creek
Best Hotels/Resorts: Wynn Las Vegas, The Palazzo, JW Marriott Resort and Spa
Other Activities: Live Shows, Gambling, Fine Dining,
Best Time To Visit: March-May and September – November
Golf Courses Around Las Vegas
Sin City offers some incredible courses to test your skills in the desert. If you have the $500 budget for a round, it is worth getting a round in at the Tom Fazio-designed Shadow Creek. The course is no stranger to ranking in Golf Digest's top 100 courses to play in the US.
Considering it is was the venue for Tiger Woods' first PGA Tour victory, it is worth booking a tee time at the Las Vegas National Golf Club. The next course you should think about is the Rees Jones designed Rio Secco course, which is also the headquarters of the Butch Harmon School of Golf.
Finally, to cap off your best golf trip for guys to Las Vegas, I recommend a sneaky round at Chimera. The Ted Robinson Jr course offers an unparalleled view of the Vegas strip and Mount Charleston.
Activities Around Las Vegas
Vegas may be smack bang in the desert, but it is not short on activities. Besides the abundance of immaculate golf courses, the City of Sin offers live shows, a wealth of dining experiences, bars, and of course casinos. Lots and lots of casinos.
4. Honolulu, Hi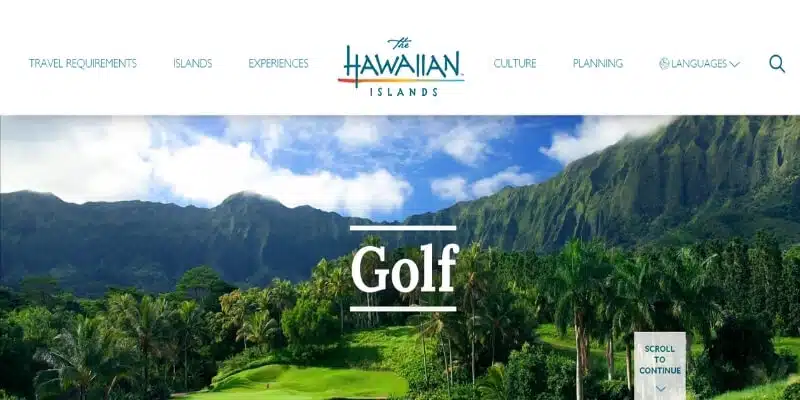 Honolulu is a true slice of paradise in the Pacific. Home to 40 courses, and offering an abundance of natural beauty, activities, and cocktails. Basically, heaven on earth. Honolulu may be renowned for its surfers, but there are more than enough well laid out courses to make this a paradise for golfers.
Courses: 40
Must-Play Courses: Ko Olina Golf Club, Turtle Bay Palmer Course, Hawaii Prince Golf Club, Waialae Country Club
Best Hotels/Resorts: Ko Olina Resort, Kahala Hotel, and Resort
Other Activities: Live Shows, Gambling, Fine Dining,
Best Time To Visit: September – December
Golf Courses Around Honolulu
The tropical paradise of Oahu features 40 golf courses scattered across the island. The first course I recommend that you test is  Ko Olina golf club. Mesmerizing water features are found throughout the Ted Robinson designed layout. It features Golf Digest's Top 75 resort courses in the United States. The next two rounds should see you and the crew take on Arnie Palmer's designs.
First up is Turtle Bay's Palmer Course. Be prepared to enter the wilderness as you navigate natural wetlands and dense Hawaiian jungle in search of par or birdie. Next, take on the Hawaii Prince Golf Club, which was created in collaboration with Arnold Palmer and Ed Seay. The course has 27 holes, with plenty of undulation, rapid greens, and water and sand traps.
Finally, end your tour by planning a round of 18 at Waialae Country Club, home to the Sony Open. A memorable way to cap off a few rounds of golf in paradise.
Activities Around Honolulu
Hawaii was made for outdoor adventurers. Hike on one of the 36 moderate trails, catch a wave at Waikiki beach or do a coral reef or shipwreck dive. If you prefer to take it easy after your round of golf, you can relax on one of the island's 125 beaches.
When you are hungry, Honolulu offers a variety of Asian, Polynesian, and continental US cuisine to indulge. And, when your thirst kicks in, you can enjoy a May Tai, that the Hawaiians seem to have perfected.
5. St Andrews, Scotland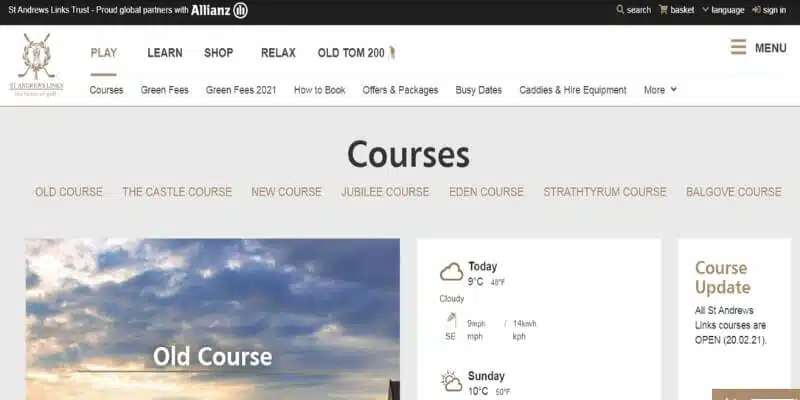 No best golf trips for guys list would be complete without adding the place where the modern game was shaped. The town of St Andrews is a mecca for professional and amateur golfers, and if possible must be visited at least once in your life. The town is home to 7 iconic links-style courses and is Europe's largest public golfing complex.
When you are not savouring the experience of playing at the home of golf. There is plenty of fly fishing to be done, whiskey to be tasted, and trails to be walked.
Courses: 7
Must-Play Courses: The Old Course, The New Course, The Castle Course, The Jubilee Course
Best Hotels/Resorts: Fairmont St Andrews, Old Course Hotel
Other Activities: Whisky Tasting, Walking Trails, Museums
Best Time To Visit: March – June (This is low season, and the weather is mild.)
Golf Courses Around St Andrews
St Andrews is home to seven challenging links courses, with the most famous being the aptly named Old Course. Maybe this is the course you should end your stay with, in St Andrews, because it will leave you with a lasting impression. It is also necessary to be warmed up before you take on a course with hazards named "Hell Bunker."
Other courses that are worth playing during your time in the land of whisky and quilts are the Castle Course, The New Course, and The Jubilee Course. It is recommended that you and the boys play the Castle Course first, as it is the newest in the St Andrew's complex.
Then proceed to travel back in time and play the Jubilee Course that was built in 1897, followed by the Old Tom Morris designed New Course, opened in 1895. Finally, as I mentioned above cap off your trip by playing the oldest of them all.
Activities Around St Andrews
Other than golf, the Scottish seaside town is a place of culture. It is filled with museums, Cathedrals, walking trails, and some pubs and distilleries. Take the time to enjoy a whisky tasting, do a walking tour of the town, or grab a feed at one of the many gourmet pubs in the town.
This is a trip dedicated to culture, golf, and drinking.
6. Mauritius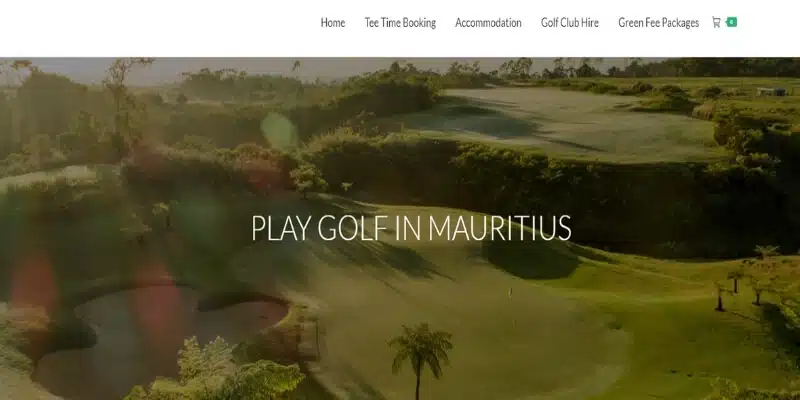 Situated in the middle of the Indian Ocean, the island of Mauritius sits 703 miles off the coast of Madagascar. The breathtaking island offers visitors a wide variety of water sports, hiking, and beach activities. But, most importantly the Country which is seventeen times smaller than the New York metropolitan area, has 9 world-class golf courses.
Courses: 7
Must-Play Courses: Ile aux Cerfs, Heritage Golf Club, Anahita, Tamarina
Best Hotels/Resorts: Anahita Golf Resort & Spa, Heritage Awali, Beachcomber Paradis Golf Resort & Spa, Tamarina, Belle Mare Plage (Legend).
Other Activities: Beaches, Watersports, Rum Tasting, Hiking Trails, Restaurants, Bars
Best Time To Visit: May – November
Golf Courses Around Mauritius
Mauritius offers some of the most spectacular views from a golf course in the world. Lush green fairways, ocean views, and quick manicured greens await you and your buddies. If you have the time it may be worth trying to fit in a round at all 7 courses on the island. If your time is limited I recommend booking a tee time at Anahita Golf Resort and Spa, Heritage Awali, Beachcomber Paradis, and Tamarina.
Activities Around Mauritius
The more mellow tourists can lounge around on white sandy beaches, sipping beers or cocktails, or venture out on a rum tasting. There are plenty of thrilling watersports and epic hiking trails to keep the adventurous kind satisfied.
Finally, Mauritius is renowned for incredible eating as it is home to a mix of cultures who brought their cuisines to the island. Enjoy a food tour through a market, or eat at one of the multiple restaurants on the island.
Honorable Mentions For Best Golf Trips For Guys
1. West Palm Beach, Fl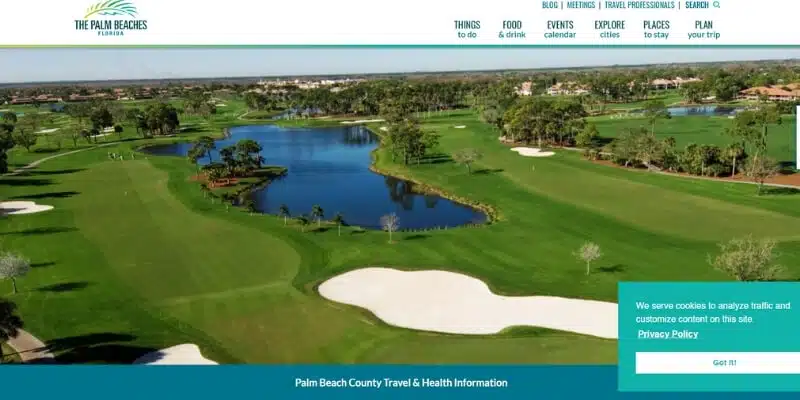 Courses: 100 (within a 20-mile radius)
Must-Play Courses: Osprey Point, North Palm Beach Country Club, PGA National, Abacoa Golf Club
Best Hotels/Resorts: The Breakers, PGA National Resort & Spa
Other Activities: Beaches, Watersports, Restaurants, Bars
Best Time To Visit: October – May
2. Milwaukee, Wi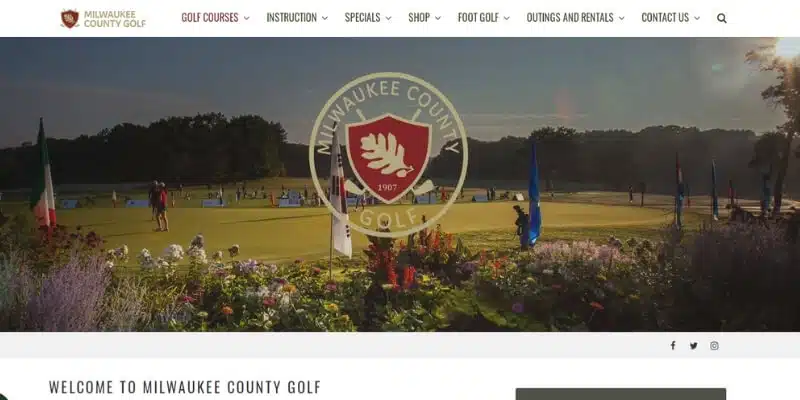 Courses: 46 (within a 20-mile radius)
Must-Play Courses: Brown Deer Park, Erin Hills, The Bog, Fire Ridge Golf Club
Best Hotels/Resorts: The Lodge at Erin Hills, Grand Geneva Resort and Spa
Other Activities: Beer Tasting, Art Galleries, Museums, Lake Sports, Nightlife
Best Time To Visit: June – September
Final Thoughts
So, there you have the six best golf trips for guys around the world. We have searched for destinations that offer a wide variety of courses to enjoy, combined with an array of options off the course. Based on the affordability, bang for your buck, and the abundance of alternative activities we believe Cape Town, South Africa offers you and your buddies one of the best golf trips in the world.
Related Articles
Nick Lomas is the founder of GolfSpan, an avid golfer, not quite a pro but has over 15-years of experience playing and coaching golfers from all over the world. His mission is to bring the golfing community a better experience then it comes to choosing the right golf gear, and finding the right set up for your game.