While many of us focus on traits such as topology and wind when playing a round, golf course grass never seems to get discussed. Sure it's not as important, but it's influential in its own right.
A lot of thought goes into turf grass selection, as each type has its benefits and disadvantages. For instance, the likes of Bentgrass struggle in hot conditions while Bermudagrass is excellent at surviving in drought-like weather.
So don't neglect grass knowledge any longer and stay in the know! In this post, we'll detail everything you need to know about the main types of grass along with any changes you need to make to your game.
Why Does the Type of Golf Course Grass Matter?
Although beginners may not notice it, the type of grass affects your performance. Some grass causes the ball to roll faster, and others can snag your golf club. And it's important you know the differences between each. Often you can take an educated guess depending on the location of the course. As an example, you'll see very different grasses on the rough compared to green.
Beyond playing differences, turf managers also need to consider which grass can survive where. The most influential factor is the climate, both heat and rainfall restrict options. However, they need to consider other factors such as durability and soil type as well.
6 Common Types of Golf Course Grasses
1. Bentgrass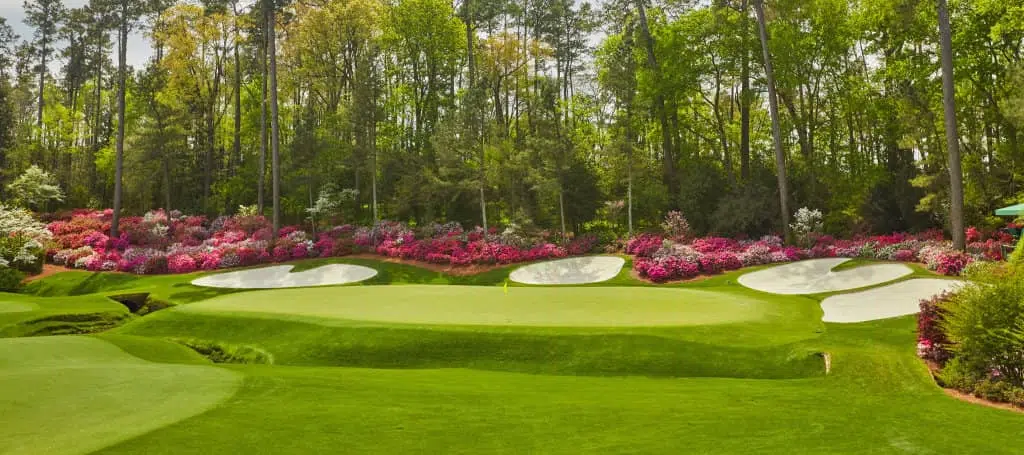 Bentgrass is one of the best golf course grasses for cool conditions. As such, you'll find it throughout the Northeast and Northwest. Bentgrass doesn't have much of a grain and can be mown very closely, making it a great grass choice for greens.
The main downside to this grass is that it doesn't handle extreme heat very well. Usually, it doesn't require a lot of water to maintain, however, in hot conditions it needs a lot. This causes it to become rather soft and a little brown. While this doesn't look aesthetic, it still plays well in this state.
Example Courses
Augusta National Golf Club (Georgia): The Masters
Royal St. George's Golf Club (Kent): The Open Championship
Shadow Creek Golf Course (Nevada): The CJ Cup
Tips for Playing on Bentgrass
Due to its lack of grain, Bentgrass is the perfect golf course greens grass. Nevertheless, turf managers may select it for the rough. Here its additional length and thickness make it tougher to tackle.
We recommend opening your club face and approaching the ball from a steep arc. This way you contact less grass behind the ball minimizing the chance of your club becoming snagged. You'll also need a firm grip and a powerful swing to ensure you generate enough pace to get your ball clear.
2. Bermudagrass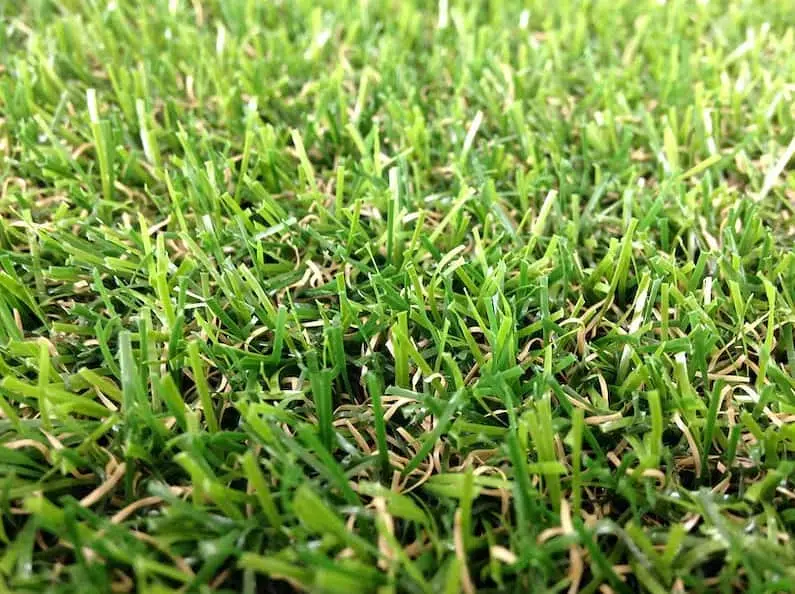 Bermudagrass is the most common golf course grass for warm climates as it does an excellent job of surviving in extremely hot and dry weather. It's also highly resilient to damage, and recovers very quickly, making it a good option for greens. However, it does have an Achilles heel, and that's the cold.
Bermudagrass also responds well to being mowed at varying lengths meaning you can find it at multiple locations throughout a course. What's interesting about this grass is the grain.
On the green where it is very short, you'll likely be putting with the grain. But the way to tell is to look at the shade. If the grass is shiny you're putting with the grain and if it's darker you're putting against the grain.
Example Courses
Bay Hill Club & Lodge (Florida): Arnold Palmer Invitational
East Lake (Georgia): Tour Championship
TPC Scottsdale (Arizona): Phoenix Open
Tips for Playing on Bermudagrass
You need to pay attention to the grain for each shot as it can be jarring. If for instance, you're hitting the ball on a downward slope but hitting into the grain, the ball will travel slower than you think.
In fact, if you're hitting against the grain, we recommend ditching your putter in favor of a hybrid. This way you can hit a bump-n-run style shot and be less impacted by the grain.
3. Fescue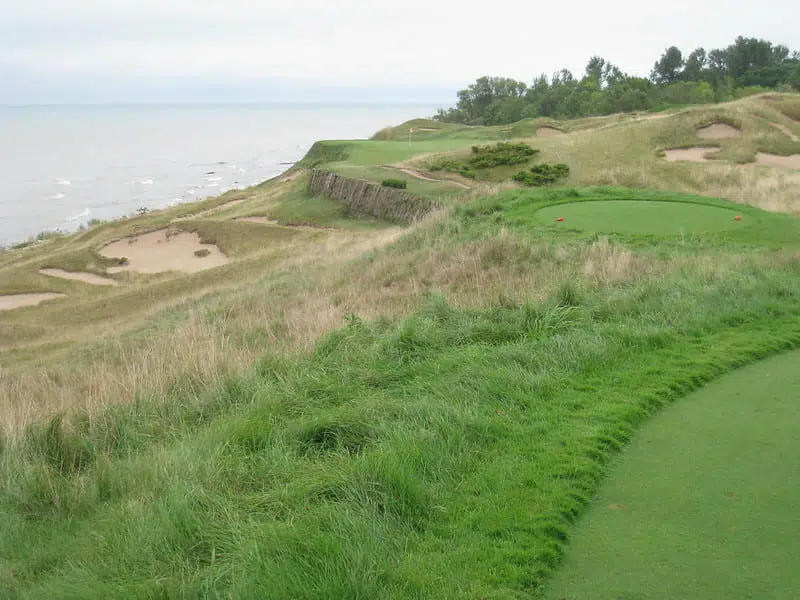 Dan Perry (Flickr) under CC BY 2.0 – unedited
Fescue usually occupies unmowed segments of the golf course. Typically, it's very long and thick and has a golden hue. That being said, groundskeepers can cut Fescue very short so you may find it on fairways and even greens.
Part of the reason it's popular with groundskeepers is because of its low maintenance. It doesn't require a lot of water and it's slow growing, so there's no need to banish it to the rough.
What's more, it performs well in shady areas as well as hot and dry conditions. There are in excess of 300 species to choose from.
Example Courses
Tips for Playing on Fescue
If you find yourself in thick Fescue your main goal is to get out of this troublesome grass — the last thing you want is to mess up your shot and have to try again. As such, playing a safe shot is usually best.
Grab a short iron and strike the ball with an open clubface and a steep swing. You can consider engaging your wrist earlier than you usually would. However, if you have a favorable lie, you have the option to play a more aggressive stroke. Take note of how much grass is beside and underneath the ball.
4. Poa Annua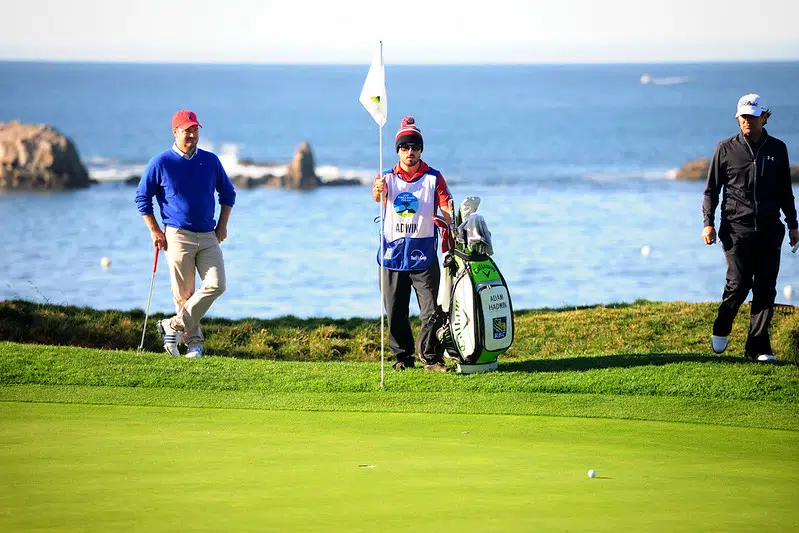 If you ever hear someone complaining about golf grass, chances are they complaining about Poa annua. This fast-growing golf course grass, while superb to play on, has a key flaw when it comes to playability, and that's the grass's seedheads.
You see, seedheads become dislodged after use, and after a short time, this can cause the grass to become bumpy. Therefore the ground is much harder to read if you play late in the day after it has had heavy use.
Generally speaking, you'll find Poa annua in temperate areas as it doesn't respond well to very hot or cold conditions. It also requires a lot of upkeep. This includes plenty of water. Additionally, the grass is susceptible to pests and disease.
Example Courses
Pebble Beach Golf Links (California): AT&T Pebble Beach Pro-Am
Torrey Pines South (California): Farmers Insurance Open
Winged Foot Golf Club (New York): U.S. Open
Tips for Playing on Poa Annua
Poa annua is a somewhat sticky grass which makes it fairly slow compared to other grass types. This means you have to use more force than usual, otherwise, you could find your shots are consistently coming up short with this type of putting green grass.
Take into consideration how much use the course has received before playing — this will affect the prevalence of seedheads which is what slows your shots down.
5. Rye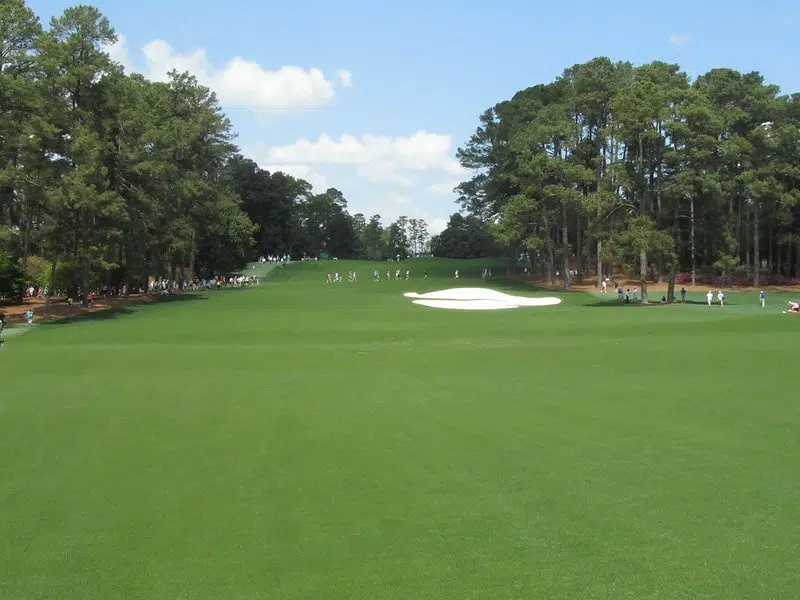 Dan Perry (Flickr) under CC BY 2.0 – unedited
Perennial ryegrass, or rye as it is more commonly called, is a grass that thrives in temperate conditions. Where many types of grass handle a low trim well, rye does not. This means it makes for a poor grass for the green, being much better suited for fairways and the rough.
However, it does have aesthetics going for it — groundskeepers can produce beautiful striping patterns using this grass. It does require a decent amount of maintenance, in part because it's quick growing, but also because it needs overseeding and a lot of water.
Another strength of rye is that it's fairly durable. It doesn't become easily damaged in areas of high footfall.
Example Courses
Augusta National Golf Club (Georgia): The Masters
Pebble Beach Golf Links (California): AT&T Pebble Beach Pro-Am
Tips for Playing on Rye
Ryegrass is mostly erect so it is virtually void of a grain. This means you can don't have to make many adjustments to your core strokes.
However, after overseeding, rye is usually given plenty of water. This results in it having a little bit of stickiness, so use slightly more power than normal, emphasis on slightly.
6. Zoysia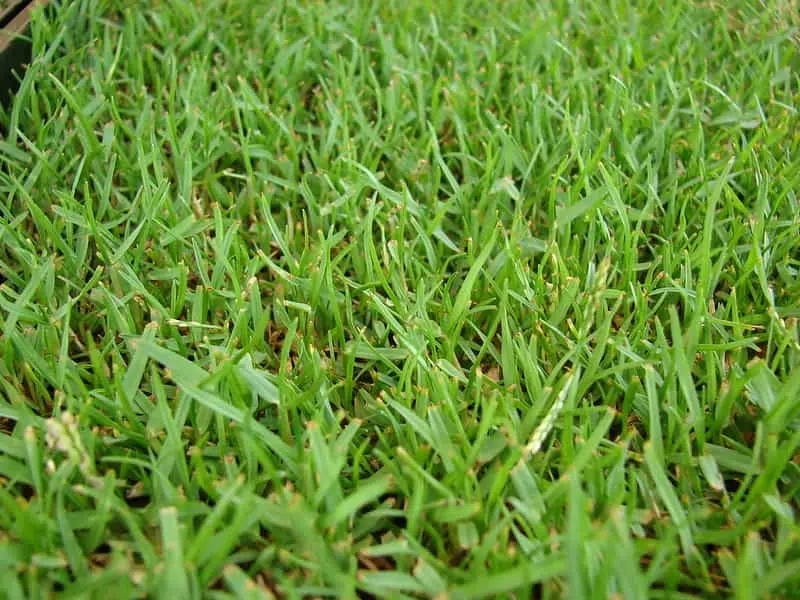 Forest and Kim Starr (Flickr) under CC BY 2.0 – unedited
Zoysia is from the Poaceae family like Poa annua. It grows upright like Rye and is very popular in areas with wide seasonal changes. It demonstrates its perseverance in particularly hot and dry weather, surviving with far less water than most other grass types.
What's more, it maintains its healthy green color for long periods in winter and bounces back quicker than most in spring. While slow growing, it is very tough and will do just fine in busy areas. Most courses choose it for fairways, tee boxes, and the rough — not greens.
The biggest drawback to using Zoysia is its disease susceptibility. It's fairly expensive to properly protect it. That being said, it doesn't require much maintenance other than that, so the cost is offset somewhat.
Example Courses
Trinity Forest Golf Club: AT&T Bryon Nelson
TPC Sugarloaf Country Club (Georgia)
Tips for Playing on Zoysia
As Zoysia grows upright, most of the time you shouldn't have too much difficulty getting under the ball. Instead, you'll notice that the tightly packed and rigid grass holds the ball. This means like with Rye, the ball may play marginally slower than you expect.
FAQs
What Type of Grass Do Golf Courses Use?
Golf Courses use many different types of grass. The main ones include:
Bentgrass
Bermudagrass
Fescue
Poa Annua
Rye
Zoysia
What Is the Most Popular Grass for Golf Courses?
The most popular kind is Bermudagrass. The reason this kind of grass is commonly used on golf courses is that it is resilient and versatile. It survives well in hot conditions and serves well both as short and long grass.
Closing Thoughts
Although most players don't consider grass type all that much, you absolutely should. It affects the way you need to hit the ball and how your ball moves, so take note.
You don't necessarily need to be able to identify all golf course grasses simply from a glance. Just take note of the grass's qualities and that will tell you all you need to know. At the most basic level, account for the length and grain of the grass as these are two of the most influential factors.
Other Interesting Reads