Golfers have caddies for a reason. Their golf bags are stuffed with what seems like an endless amount of clubs, so lugging them around can be a real pain.
Yet, while it may seem as though players have cleaned out golf shops for clubs, they do in fact, have restrictions on how many clubs they can carry.
So how many golf clubs are in a set? The rules restrict you from carrying more than 14 clubs. But if you purchase a pre-made set, it will likely include around 9 to 12 clubs, including 3 woods, 1 hybrid, 7 irons, and a putter. Then you can add extra clubs to make up the 14 clubs.
But some golfers have a unique setup in their bag, which can help emphasize their strengths or hide their flaws. You could miss out on a few easy strokes if you don't know all your options.
Read on to learn how many clubs are in beginner golf sets versus advanced golf sets, the standard golf clubs in a set, and our favorite golf club set that could get you started.
How Many Golf Clubs Are in a Set?
You can buy a basic set of golf clubs from around 9-piece up to 16-piece. However, they usually fall short at around 11 pieces. This means you have to buy a few clubs separately if you want to use the 14-club allowance.
We highly encourage you to do so, as it makes your set more versatile and allows you to select the most useful clubs for your play style.
How Many Clubs Are in a Golf Set for Beginners?
When you purchase a beginner's standard golf club set, it usually includes anywhere from 9 to 12 clubs. You then add to these to get a more rounded set.
Most beginners will get by just fine with the following 12 clubs:
Driver
3-Wood
3-Hybrid
4, 5, 6, 7, 8, and 9 irons
Pitching wedge
Sand wedge
Putter
How Many Clubs Are in an Advanced Golf Set?
Moving onto advanced players, you should make full use of the 14-club allowance. But exactly what golf clubs are in a full set? A full set usually consists of the same clubs as seen in the beginner's set with a 3-iron and lob wedge thrown into the mix.
Driver
3-Wood
3-Hybrid
3, 4, 5, 6, 7, 8, and 9 irons
Pitching wedge
Sand wedge
Lob wedge
Putter
Standard Golf Clubs in a Set
Drivers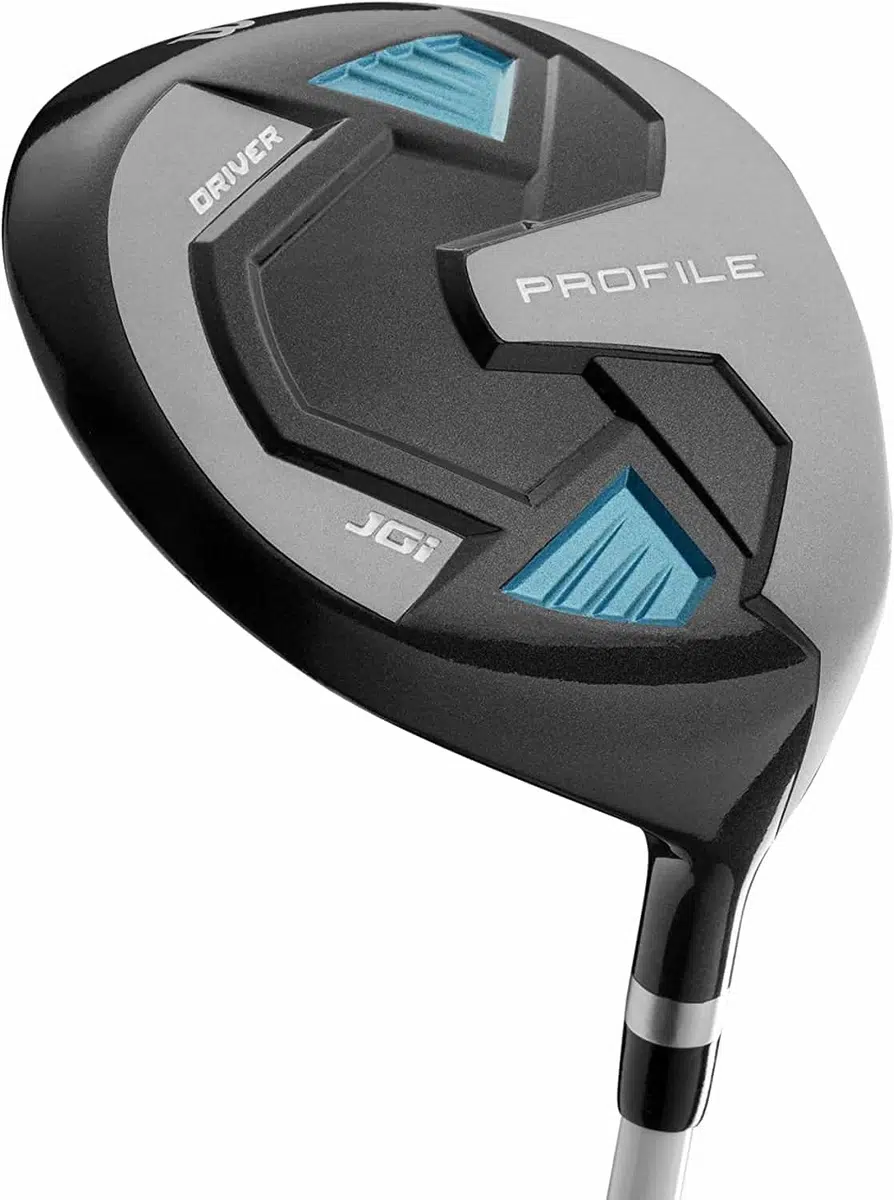 Drivers are almost always only used off of the tee, so you only need one in your set. As the longest club, drivers can be fairly difficult to use. On the other hand, they offer the most distance so you absolutely need one in your golf club set.
Fairway Woods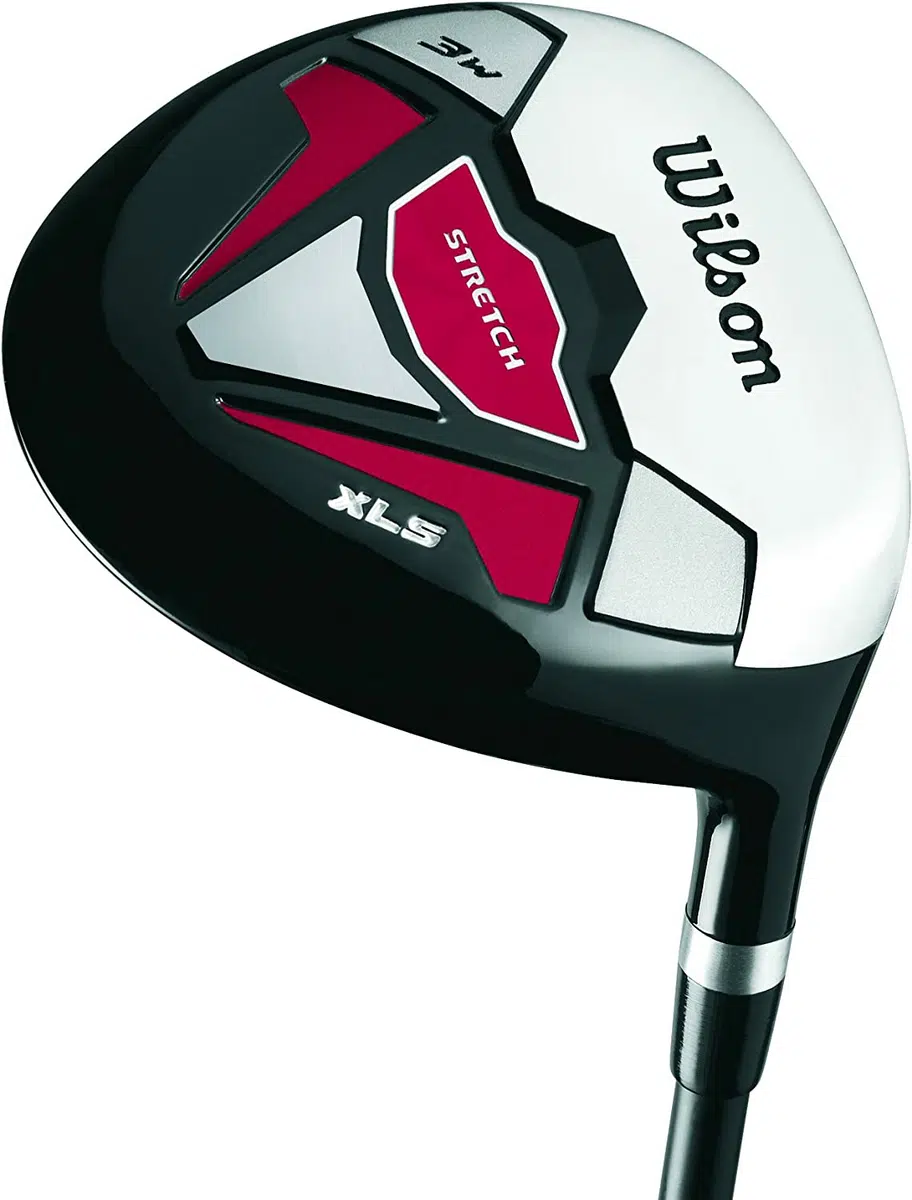 These are your choices of club from the fairway. However, you could use a 3-wood from the tee if you really wanted to, as it does offer good distance.
Most beginner sets include just one wood: the 3-wood, which should suffice for many golfers. That being said, some beginners and more advanced players will want to add the 5-wood to give them the option of a wood at a higher loft should they need it.
Hybrids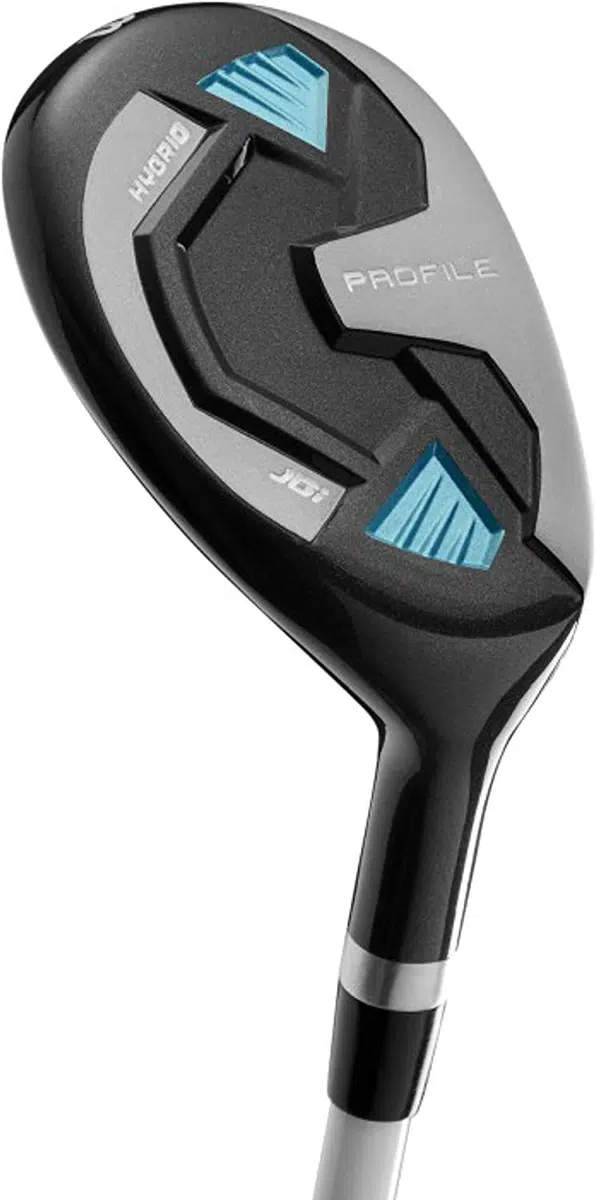 Hybrids are a cross between fairway woods and irons. They have become increasingly popular with beginners and advanced players alike because they offer excellent distance and accuracy. This is because they feature the head design of a wood and the shaft of an iron.
Hybrids usually replace the hard-to-hit long irons, so picking up a comparably lofted hybrid to the iron you are replacing is the route you should take. For example, a 3-hybrid replaces a 3-iron.
Irons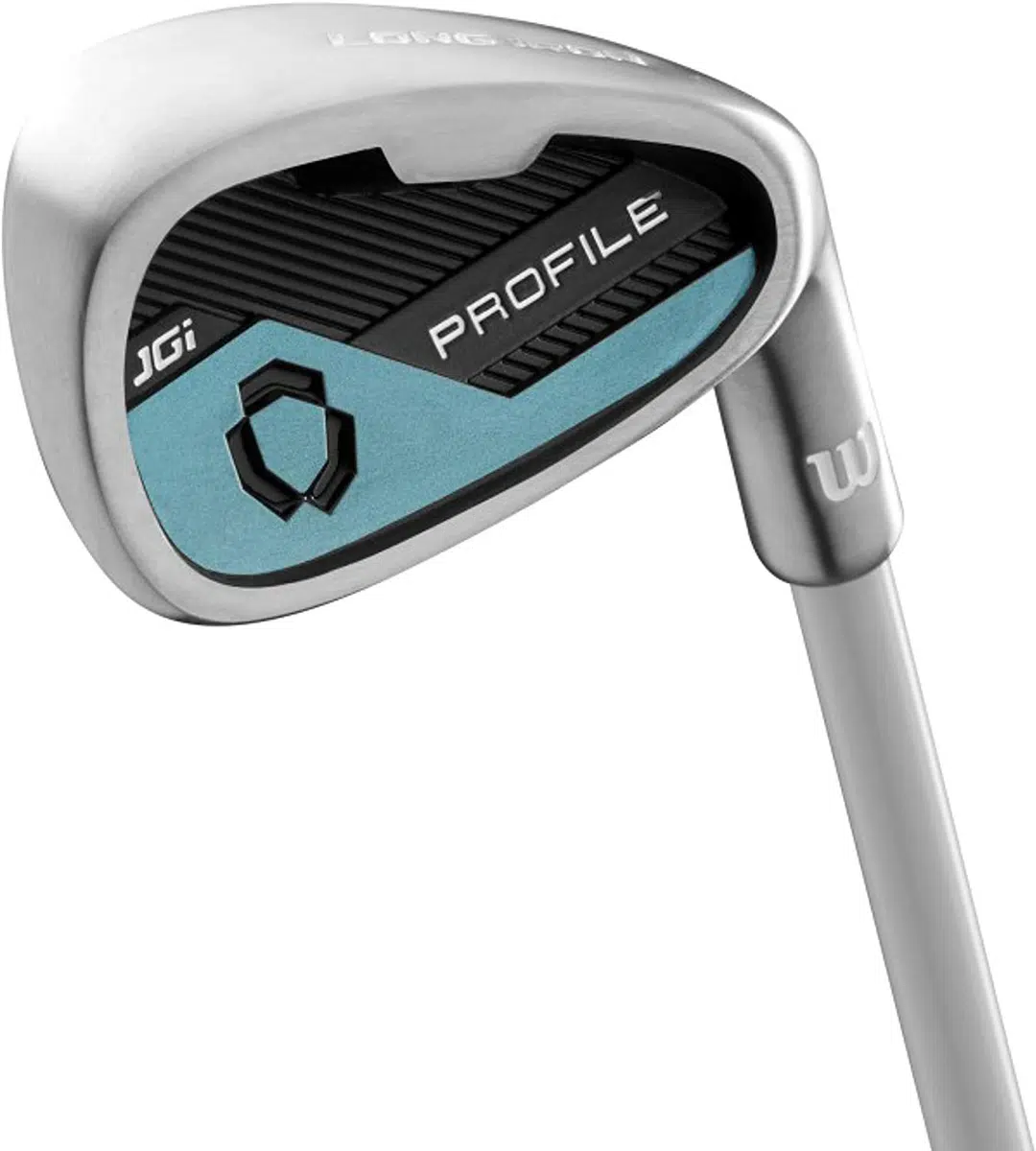 Irons make up the bulk of your golf club set, and you'll be calling on them when you are approaching the green. In total, there are seven irons that you can include ranging from the 3-iron to the 9-iron. However, it's more than likely that you will not want/need all of these.
As mentioned above, hybrids make excellent alternatives for the long irons which plague people's games.
Wedges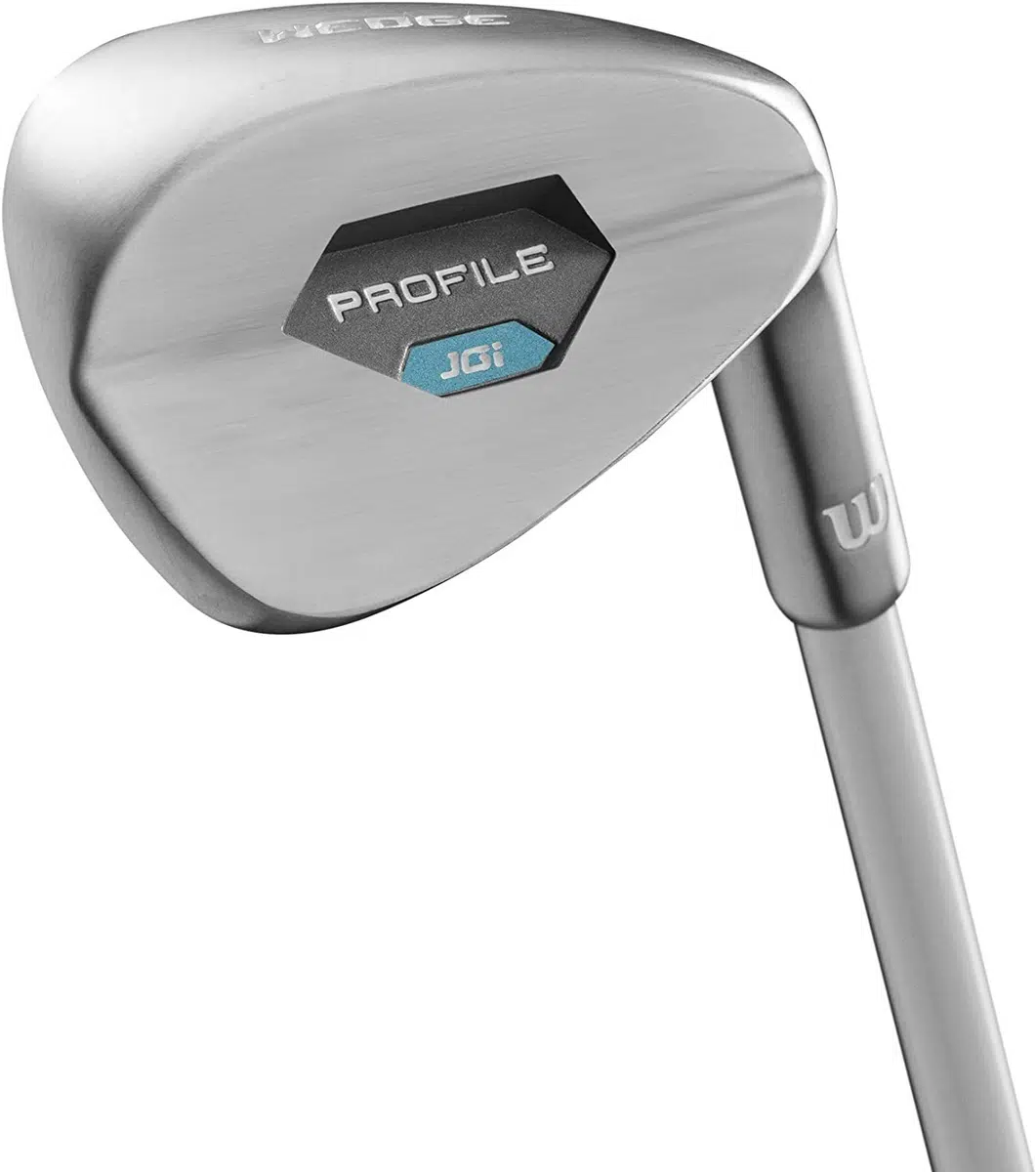 You'll call on your wedges for shorter shots that demand a high loft. There are four to choose from and you should have at least two in your set.
Pitching wedges have the lowest loft at 46°. They offer the greatest distance and are ideal for clearing obstacles like trees. Most sets include a pitching wedge.
Gap wedges have 51° of loft, and as their name implies, they are quite literally designed to fill the gap between your pitching wedge and sand wedge. As such, their distance and trajectory are slap-bang between pitching wedges and sand wedges.
Sand wedges have 54°-58° of loft. These are the clubs you should grab if you find yourself stuck in a bunker. Their wide sole form makes them the best suited to clearing a bunker.
Lob wedges are the most lofted wedges at 58°-64°. Due to the extremely high trajectory they impart on the ball, you may want to use one of these wedges if you find yourself very close to a hazard.
Putters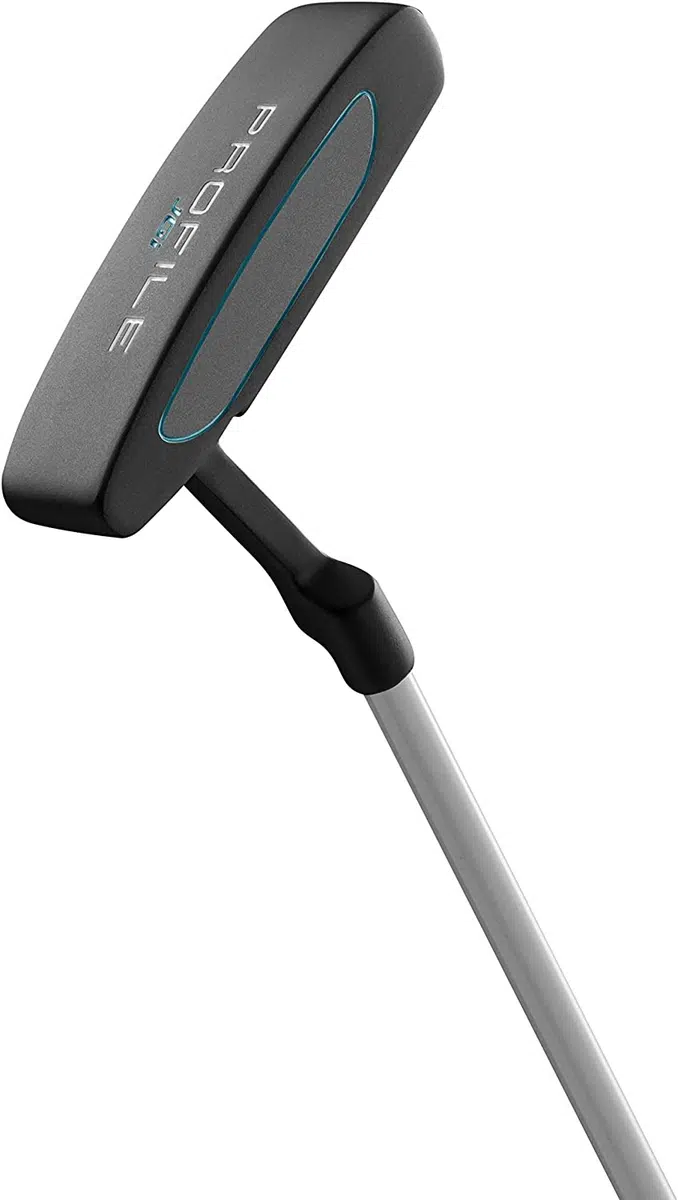 Every golf set features a putter as this is the optimal club when you are on the green and trying to hit the ball into the hole. Unlike the other clubs discussed thus far, the putter does not hit the ball airborne. Rather, it rolls the ball along the ground. You only need one putter for your golf set.
Recommended Golf Club Set
As the best-selling golf set right now, it should come as no surprise that the 16-piece ultimate set by Callaway is a great bundle to pick up. It includes a driver, 3-4-wood, 5-hybrid, 6-9-iron, PW, SW, and a putter.
This set is excellent for mid to high handicappers as it completely scraps the long irons in favor of the easier-to-hit 3 and 4-wood. The bundle is also reasonably priced, and with 11 clubs in total, you can add to the set when you feel that you need to.
FAQs
What Does an 11-Piece Golf Set Include?
The contents of an 11-piece golf club set varies depending on which brand you purchase it from. Watch out for 11-piece sets that don't include 11 clubs. Some may include the bag and headcovers as pieces, so you could end up with a lot fewer clubs than you were expecting!
A real 11-piece bundle usually consists of:
Driver
3-Wood
4-Hybrid
5-Iron-9-iron
Pitching wedge
Sand wedge
Putter
What Is in a 12-Piece Golf Set?
Like with 11-piece sets, there are no designated clubs for 12-piece golf club sets. However, the contents are usually the same with the addition of a 5-wood. As such, a 12-piece set often includes the following:
Driver
3-Wood
5-Wood
4-Hybrid
5-Iron-9-iron
Pitching wedge
Sand wedge
Putter
What Is in a Full Set of Golf Clubs?
A full set of golf clubs featured 14 clubs in total. What's included will depend on which set you buy. However, a fairly standard set comprises of a driver, 3-wood, 3-hybrid, 3-9-irons, PW, SW, LW, and a putter.
Do You Really Need a Full Set of Golf Clubs?
You certainly don't need a full set of golf clubs — especially as a beginner. Some players even recommend starting with a "short set" to become familiar with the more important clubs.
The obvious drawback to not bringing 14 clubs with you to the range is that you will have gapping issues. This can make it difficult to choose the right club for the job.
Now You Know What Is in a Golf Club Set!
Now that you know how many golf clubs are in a set, it's time to choose your clubs and you have plenty of options available. Most pre-made sets won't give you the full array to house 14 clubs, but then again, this isn't much of an issue.
As long as you pick up a set with the essentials, you can just add clubs to your golf bag that you feel are missing. For some, this may be a 5-hybrid if you are struggling with accuracy with your 5-iron. Yet for others, it may be that you find yourself missing an extreme loft, therefore a lob wedge is a perfect addition to enhance your set.