This does not have to stop you from partaking in your favorite sport thanks to the number of indoor golf simulators available on the market.
At a glance: Our Top 5 Picks for Best Indoor Golf Simulator
What's a Golf Simulator?
Golf is a sport that cannot be played all year round all over the world. The winter months bring along the snow and extreme weather that keeps golfers indoors and unable to participate in their favorite sport.
To overcome this, golfing companies developed systems that will simulate driving ranges and golf courses that can be played in the comfort of your home and even include your favorite fourball partners.
They are used for fun and leisure as well as serious practice sessions.
How Do Indoor Golf Simulators Work?
These golf simulators can track and analyze your swing and determine what the ball trajectory will be after the contact between ball and clubhead based on high tech algorithms. After contact, the ball travels a short distance and crashes into a net to enable the algorithms to have a better chance to produce the most accurate results.
Golf simulators are furthermore extremely flexible, and the software will enable you to play several courses from the comfort of your home. This will avoid your game getting stale playing the same course all the time. Many also give you the opportunity to play on courses that would generally be out of the reach of most golfers.
Another benefit of golf simulators is that, in most cases, you use your golf clubs and ball rather than simulating a swing with a virtual club swinging at a virtual ball thus providing you with a realistic feel of how the club and ball react to the shot.
Quick Overview: Our Top Picks for Best Indoor Golf Simulator
Reviews of The Top 5 Indoor Golf Simulators
Set-Up
The sensor that screws into the back of the handle of any golf club is small and inconspicuous weighing in at 0.32 Oz and receives power from a Lithium Polymer battery that delivers roughly 4 hours of battery life.
The sensor links to the software via Bluetooth similarly to your phone pairing to your car's hands-free kit. Lastly, there is an app that needs to be downloaded and installed. Charge the sensor for around 2 hours to fully charge for 4 hours of playtime
What comes in the box?
Phigolf Sensor: 9-Axis club sensor
Compatibility: iOS 9.0+ / Android 6.0+
Battery: 4 hours life, full charge in 2 hours
Bluetooth: BLE 4.1 – Works up to a distance of 10m from source
24.4 inches Swing Stick
Works with 2 Apps: WGT Golf (1 course free, $1.99/month for full access) & Phigolf (completely free)
There is no screen to be set up as there will be no contact between a ball and a clubhead. PhiGolf can be displayed on a big screen TV or a mirrored via the app to a smart TV.
The software allows you to select different clubs to achieve different distances and there are several different functions available to choose from.
Phigolf Swing Analysis – This option will allow you to analyze your swing and will provide a 3D view of attributes such as head speed, swing path, tempo, face angle, attack angle, and estimated distance data required for swing coaching. It will also allow for screenshots to be forwarded to your coach for analyses.
Phigolf Putting Analysis – The unique putting line of PhiGolf can teach you to find the correct putting line and through practice, you can increase the consistency of your putting.
Phigolf Stroke game – This function allows you to play a stroke-play game against up to 4 friends based on an actual 18-hole course.
Phigolf Driving Range – The driving range mode allows you to hit golf balls on the driving range select a club and distance to practice swing and shot tracer to track the trajectory of your shots.
Phigolf Nearest the pin mode – The nearest to the pin mode enables you to practice your short game from 120 yards and less and sharpen your wedge shots while having fun and competition with friends.
Phigolf Online multi-game – This enables you to play competition with golfers anywhere in the world while online.
Editors Thoughts
PhiGolf is a great way to improve your golf game in limited space as there is no contact between club and hardball.
2. OptiShot 2 Golf in A Box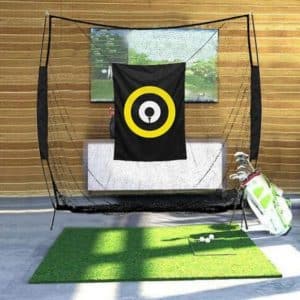 Pros:
15 world-famous courses
Presents a lifelike environment.
Up to 4 players can play
Fairly inexpensive
A frontrunner in golf simulator technology
Play against golfers in real-time from around the world
It can use foam or real balls
Portability
Compatible with Mac OS and Windows
Connect to a projector/TV or computer screen
Ultra-HD Replicas of World-Famous Courses
Top-selling simulator internationally
Cons:
Could be more accurate
Putting is challenging.
The illumination requirement is a bit rigorous
Ease of Use & Setup
Setting up the OptiShot 2 is simple and straightforward. Start by downloading the software and installing it on your computer. Once it is installed, plug the sensor into your computer and it works. The more serious-minded golfers will choose to take a moment and calibrate their clubs to make sure you're getting the most accurate results.
Out of the box the OptiShot 2 comes with:
Infrared Optical Swing Pad
OptiShot 2 Software
2 Foam Balls
10 Foot USB Cord
2 Adjustable Rubber Tees
Quick Start guide
Accuracy
The accuracy of the OptiPlus2 is well within the range for the average golfer but the more advanced golfer will find the accuracy not to their taste.
Measurements
The clubhead speed, face angle, and swing path will be measured and the effective 48Mhz infrared sensors were designed to track the position of the club's head before, during and after impact. This data will allow you to concentrate solely on enhancing your swing
Ball Flight Trajectory
The areas measured collect ample data to precisely determine the ball trajectory and the distance that the ball is likely to travel.
Putting
Putting with foam balls of the simulator matt is extremely challenging
Settings allow you to set a distance for gimme putts
Editors Thoughts
The Optiplus 2 is an extremely reasonably priced system that will enable hours of fun and less accurate than the top-end simulators. A plus point is that it is compatible with the Mac OS
3. Zepp Golf 2 3D Swing Analyzer
Pros:
Straightforward to use
Record your swing
Instruction plans based on your swing information
Automatic video recording and swing analysis
Measures 7 key metrics
Up to 8 hours of battery life
Android and iOS app
Excellent in-app interface
Cons:
Accuracy could be a problem
The most importance is placed on speed and length of backswing
The setup of the simulator and analyzer is straightforward, and it connects via Bluetooth. Power is provided by a battery that can be fully recharged within 1.5 hours and will provide full functionality for up to 8 hours. Measurements are taken via dual accelerometers and dual 3-axis gyroscopes
The Zepp Golf 2 3D swing analyzer calculates your swing; club speed, club plane, tempo, backswing length and permits you to replay and evaluate your swing in high definition exploring at 360 degrees from every perspective while equating it to your favorite professional golfer.
Instant Evaluations
The system provides you with instant evaluations to help you determine which part of your swing requires the most focus thus increasing the improvement in your swing instantly. You can furthermore compare your swing to previous swings and see how your improvements are coming along.
Smart Coach
The Smart Coach program offers personalized training programs that are based on the information compiled from your swing analysis. The program is compiled from Tour players and Tour instructors for rapid improvement in your game.
Easy installation
The Tittle Trugolf simulator is simple and its ultra-compact structure is straightforward to install and with a Bluetooth connection, you will be able to start your game in next to no time.
The Tittle uses a lithium polymer battery with a 72mAh energy rating that is capable of 5 hours playtime following a full charge that is achievable within 2 hours.
It is possible to make use of your clubs for the game, but the exactness of data accumulated can be erroneous.
Multi-player option
The multi-player option permits up to 4 golfers to play simultaneously and will even permit kids to join in on the entertainment.
Variety
There are 12 golf courses offered with the standard software and 3 preselected game modes fostering variety in your entertainment and golf practice.
PC/mobile application friendly
The downloaded software lets you use the PC or the mobile app. However, the software is not compatible with Mac software but only with Windows 7 or later.
Fortunately, the mobile application is compatible with iOS 8 and above or Android 4.3 and above. The app can also be used in isolation from the Windows app provided that there is a Bluetooth connection in place.
Putting
When the software is installed on a system that conforms with the minimum specification you should not have any problems putting on the Tittle. If difficulties are faced as reported on some forums, confirm your hardware and software setup.
Graphics
Even though the system is working great and no major glitches have been registered, the graphics could be enhanced for a superior gaming interface. This may not influence the precision but will make the interaction more pleasurable.
Editors Thoughts
The Tittle X Golf Simulator creates valuable feedback and includes the whole family by including children in the game.
5. Rapsodo R-Motion and The Golf Club Simulator and Swing Analyzer
Pros:
Selection of 15 courses
Accurate sensor
Can use your golf clubs
Multiple player option
Runs optimally on PC
Lightweight and solid design
Straightforward to set-up
Cons:
There are only 4 clips in the package
Fewer features than more advanced analyzers
IOS app is not available
Ease of Use & Setup
Although not an exceedingly trying exercise, the initial setup of the R-motion can be a bit time-consuming. Once set up and ready to play, the system will be ready within a short time for ensuing games.
Once you have opened the pack and unpacked all the items, you will be obliged to charge the sensor, set up your R-motion account and download the R-Motion software and The Golf Club game.  The Golf Club software is quite substantial and will require a good-sized internet connection and a fair amount of time to download.
Once downloaded, follow the installation instructions, and run the software. Once you have affixed the adapters to your clubs, you will be ready to commence play. Relocating the adapters between clubs during a round will be where most time is consumed. Arranging the controls for The Golf Club software are fairly simple.
Accuracy
R-Motion is intended to be a fun way to practice golf at home and not to be a rival to the top end of the simulator market.
Measurements
The R-motion software provides accurate data for you to scrutinize. The sensor measures clubhead speed, face angle, club path. and overall distance. It does not measure the ball speed, launch angle, spin, or quality of contact. The consequence of this is some discrepancies in the results.
Ball Flight Trajectory
The R-motion will track the trajectory of your ball and identify slices, pushes fades, pulls and hooks.
Battery
There is a rechargeable battery that can be charged via USB interface and the battery life is approximately 4 hours which should be sufficient for a 4 ball to complete a round of golf.
Runs on PC/mobile phone application
The R-motion software can run on a Microsoft Windows PC via a dongle or connect to a mobile app via Bluetooth. It is not available on a Mac.
Editors Thoughts
An excellent value product for the price providing great fun and enjoyment and delivering valuable feedback on shots.
Read our full review of the Rapsodo R-Motion here.
Frequently Asked Questions
How Big Should My Golf Room Be?
To set up an indoor golf simulator you will require a good-sized room. The size of the room depends on the simulator that you employ and the clubs you will be using.  If your requirement is to only play or practice your irons, your room requirement will be less than when you want to utilize your driver and woods.
To make a full swing there ought to be sufficient space for the best results. Your swing plane, length, arm length, club selection, etc. will all play a role in the size of the room required. The recommended size for a room to accommodate an indoor simulator is 10 feet wide and 15 feet long.
The height of the ceiling will determine the length of the club that you can swing inside the room. The minimum height required to swing irons is approximately 7 feet and for woods, a minimum of 10 feet is recommended.
Taller golfers or those of us with longer arms may require even higher ceilings, but the dimensions described above should be workable for most golfers. Ensure that there is sufficient space behind the net to prevent creating spots on the walls after contact.
Can a Golf Simulator Improve Your Game?
Playing golf regularly and practicing different shots on a golf course or a realistic virtual environment will have a beneficial impact on your golf game.
The indoor simulator will not only provide you and your friends with endless fun and entertainment but will also keep your game sharp during the winter months and even improve areas that require you to work on. It will give you an advantage over golfers that cannot practice during the winter months.
Do You Putt in a Golf Simulator?
You can putt using the indoor golf simulator and most simulators will allow you to putt directly into the screen where a tracking device will determine the speed and the direction of the ball and calculate the path towards the cup from the information. You also get specialized simulators that focus purely on putting.
How Long Does It Take To Play 18 Holes on a Golf Simulator?
A single player can complete 18 holes between 1 and 2 hours and a fourball will be able to complete 18 holes within about 4 hours.
When deciding on the golf simulator it is important to determine what you want to get out of it. Should you require it only for entertainment and retain your golf swing during the months that you are unable to play golf on a real course, you should be able to benefit from most of the golf simulators on the market.
However, if you aim to improve your golf game it would be beneficial to invest in the most accurate simulators that will provide you with detailed feedback and precise measurements.
Final Thoughts
Golf simulators have become immensely popular for various reasons. These include keeping your golf game in shape during the winter months where the snow or extremely cold weather makes outdoor play impossible or for indoor entertainment while keeping in shape.
You are now able to purchase excellent value for money simulators for a couple of hundred dollars or spend up to $50000 or even more for the top of the range indoor simulators that are used by professional golfers.
We have reviewed simulators at the lower end of the scale in this piece. While they all provide great options and different features, we feel that the Rapsodo R-Motion is our winner as it provides the most versatility and accuracy combined with the option to use your clubs for a realistic feel that can be transferred onto the golf course.