In this piece, we will compare the price and features available on the more popular golf simulators to enable you to form an idea of what is available and to decide what is important to you when purchasing a golf simulator. Most manufacturers offer a range of products or upgrades to improve the experience. These additional items will add to the price of the unit.
1. Full Swing Golf
Mats
Full swing golf provides an Industrial grade carpet and hitting mat and the VirtualGreen is an additional option
Projector
Cinema quality projector and an ION3 high-speed camera
Screen
There is a standard option energy absorbent diffuser screen and a widescreen option that is 30% larger than the standard option
Software
ION3
93+ international golf courses
Swing analysis
E6
13 different multisport and games
Enclosure
The High Definition golf enclosure is available in 60+ size configurations and manufactured in a proprietary metal-frame with solid wood. The draperies are custom made and there are 2 360-degree infrared tracks
Mats
High Definition golf comes standard with a professional-grade nylon turf and an HD Softstrike™ Tee Mat
Projector
HDTV Compatible LCD Projector
Screen
High Definition golf supplies a multi-element nylon screen as standard in 3 different configurations
16:10 curved widescreen
4:3 flat screen
16:10 flat widescreen
Software
puter Vision Technology (CVT)
HD AccuPutt putting
World ch
In-Flight Tracking
Com
Championship golf courses
HD Golf practice range and facilities
Golf tournaments
HD Golf™ Tournament
IST computer vision ball tracking system with Quadvision technology
The HD GOLF™ software provides additional features such as

Games such as Mini Putt, Tic Tac Toe, and many more…
Player statistics
Equipment comparison (clubs/shafts/balls)
Club fitting
Enclosure
The recommended room dimensions for the Trackman simulator are 10 feet wide, 9 feet 6 inches high, and 19 feet deep. The enclosure is customized to your requirements and it includes the structure, screen, impact protection, and foam-padded turf. You can add on Pro Lighting for impact location and video analysis
Mats
Trackman provides a foam-padded hitting mat and turf as standard
Projector
6000+ Lumen projector
There is an HD camera pack available as an optional add on
Screen
The enclosure is customized for your environment but included in the price and includes the structure, screen, impact protection, and foam-padded turf
Software
1-year hardware and software subscription
TrackMan Performance Studio
TrackMan Virtual Golf 2
ADDON TrackMan 4 outdoor license
International golf courses mapped using LIDAR drone technology
Practicing range
Enclosure
The enclosure for aboutGOLF is a modified awning, flooring, and turf options and the curve model comes in many between 18 feet to 30 feet wide, 18 feet to 20 feet deep, and 9 feet to 11 feet tall. The AV integration allows for start-up or shut down to be controlled by a push-button. Lighting comes in the form of automatic and dimmable customized lighting.
Mats
aboutGOLF provides a standard golf hitting mat. You could add on the aG Balance golf measurement system that is a platform that is concealed below the playing surface to measure the weight placed on each foot and the shift of weight during your swing.
Projector
HD projection- Up to 4K Resolution
Screen
There are 3 different configurations available from aboutGOLF in the form of a Flatscreen, Curved screen, and the aG Max. There is an option to add on a Picture-in-picture (PIP) capability
Software
3Trak®Accuracy
aG Flix for swing improvement
Enclosure
There is T1 sensor propriety technology developed by GOLFZON installed in the T1 SensorTwo high-speed camera for precise tracking of club movement, golf ball and clubface impact, and ball trajectory. The booth comes in two sizes, the Basic Type is 13 feet 10 inches and one for Both Hands is 15 feet 5 inches. The projector must be set up 26 feet from the screen and the booth must be 10 feet 5 inches high
Mats
Golfzon comes with a basic plate with a multiple surface fairway, rough, and bunker mat. There are an auto tee-up and ball retrieval system that places your ball that tees up your ball automatically every time at the same height and you do not have to bend down. The moving swing plate simulates uphill, downhill, and sidehill slopes if the course is sloped.
Projector
6,000 ANSI Lumens Full HD projector with a swing replay camera
Screen
Only a basic screen is provided
Software
VISION Software
Swing Replay
Competition play
190+ international golf courses available
Enclosure
The recommended dimensions for a comfortable setup are 15 feet wide X 10 feet high X 20 feet deep and the enclosure comes with side nets.
Mats
Trugolf provides a premium hitting mat as standard
Projector
1080-pixel projector with an overhead light bar
Screen
TruGolf comes standard with a 165-inch crease-free, high definition impact screen with an aspect ratio of 4:3
Software
E6 Golf Connect software makes playing against golfers from all over the world a reality.
TruTrack2 tracking system
2 Year Basic E6 Connect subscription
Library of 27 Golf courses
Final Thoughts
​Golf simulators are available at a variety of prices and with different functionality. The less expensive golf simulators generally provide basic functionality, but you will not have the same in-depth experience as the more expensive golf simulators.
In this piece, we provided a high-level comparison of the most popular golf simulators to enable you to compare the specific areas that distinguish between the various golf simulators.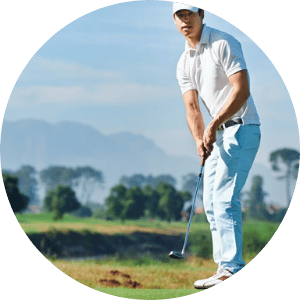 Nick Lomas is the founder of GolfSpan, an avid golfer, not quite a pro but has over 15-years of experience playing and coaching golfers from all over the world. His mission is to bring the golfing community a better experience then it comes to choosing the right golf gear, and finding the right set up for your game.