At this point, it's a well established fact that PING make good putters. Their Sigma G range, which contains 16 models, is no exception. This PING Sigma G putter review will focus on the Anser model, but keep in mind that the face technologies used apply across the entire range.
Having the right putter in your hands can make a world of difference. Though it is very much a matter of personal preference, we are all ultimately looking for the same things: comfort and control.
Things to Consider Before Buying a Putter
Putting is a delicate game consisting of the tiniest of margins. It's important to think carefully about which putter is going to be the best fit for your game, and the best way to do that is to take each of the following factors into consideration.
Forgiveness
Putters are divided into two main categories: blades and mallets. Blades entail a more classic design of putter and have been around since the beginning. They are generally more accommodating to the arced putting stroke, with which many golfers feel more comfortable.
Mallet putters are a more recent development in golfing gear and have been well-received by amateurs and pros alike. They are fundamentally more forgiving than blade putters, providing a higher moment of inertia (MOI) and supporting square strokes.
Performance
Every inch of a putter's design affects how it swings, and how it strikes the ball. If you try out a range of putters, you'll notice subtle differences between each of them. As is the case with any physical product, some putters are simply made from better stuff than others, and are thus better equipped to play better putts.
Sound and Feel
Only you can truly know what kind of putter will feel good in your hands. Personal tastes vary quite dramatically when it comes to putting, which is why there are so many different types of grip available. It should also be an agreeable weight – not too heavy, not too light. Feeling comfortable with your putter can dramatically improve your strokes.
Looks
Putter heads come in all sorts of different shapes and sizes. Though the look of a putter shouldn't entirely influence your decision, it's usually a pretty good place to start. To some folk, looking good on the green is about as important as feeling good – enjoying the way your putter looks undoubtedly has a positive effect on your game.
The Sigma G Anser is a true hallmark of PING putters. It features a classic bladed design which has appealed to generation after generation of golfers, only with a little extra size to squeeze out some extra performance, and a sleek modern finish to distinguish it from its older counterparts.
The key piece of tech with the Anser, and indeed the entire Sigma G range, is a Pebax elastomer inserted behind the milled aluminum face. We'll explore this in more detail later, but needless to say, this is a winning combination that really puts the 'ping' in PING.
For a blade putter, the Anser also has plenty to offer in the forgiveness department. The face has been given extra reinforcement towards the edges, meaning that mishits should still generate sufficient power.
Though this putter works well at all distances, it's between the 10 and 20 feet mark where it really shines. A lot of thought has been put into control and consistency, and as a result, this is the kind of putter that can really help to cut-out those pesky three-putts.
Beginners, intermediates, and pros alike could find success with this putter. The forgiveness element should certainly appeal to higher handicappers, while lower handicappers can enjoy the superior levels of control that can be achieved.
Features and Benefits
Pebax Elastomer Insert
This Pebax technology is essentially a polymer consisting of a firmer piece and a softer piece inserted behind the face. The intention is for golfers to achieve a soft and responsive feel.
We found this to be very noticeable. Rarely did we feel that we were striking the ball too harshly, even on our firmer swings. This was especially useful on longer putts, as we could confidently employ faster swings without fear of the ball zipping past the hole.
Milled Aluminum Face
Inherited from the Ping Vault putters, the Anser features the tried and true milled aluminum face with TruRoll technology. The grooves work with the Pebax insert to create a satisfying yet soft impact – something that you can both hear and feel.
You'll notice that the grooves get shallower as they move away from the center. This is to counteract the natural slowing caused by mishits. No strength is taken away from the middle; it is simply balanced out across the entire face.
The forgiveness that results from this design is very welcomed indeed. Hitting off the edge of the face was barely noticeable – it's plain to see the scorecard-lowering potential of this club.
Grips
The three proprietary grips of the Anser each come with their own rendition of comfort.
The CB60, which is the thinnest of the bunch, helps to promote a smooth tempo throughout the stroke.
The thickest grip is the PP62, part of the PING Pistol series. This one has a foam undercoating, and its ample size makes it perfect for players who want maximum hand stability.
My personal favorite was the PP60 Pistol grip. It combines the classic pistol shape at the top with the non-taper, SuperStroke 2.0 style at the bottom half. This one felt the best to me, but the weight and feel of all three was top-notch.
Alternatives
If, for whatever reason, the Anser isn't quite right for you, then not to worry. Here are some worthy alternatives worth checking out.
1. Callaway Odyssey White Hot Pro 2.0
This is one of the best selling putters on the market – and for good reason. It's been designed to "meet the performance demands of the world's most serious golfers." To give credit to this claim, Callaway engineered a 'white-hot' insert, offering responsiveness and consistency.
In terms of forgiveness, it's probably about the same level as the PING Anser, but this putter has a somewhat unique feel which attracts many players.
2. Cleveland Huntington Beach 1.0
A slightly cheaper alternative to the Anser, this flashy Huntington Beach putter blends classic blade designs with modern innovations to form a quality, shot-reducing club.
The diamond-shaped milling pattern has been crafted for precision: they create friction at impact, encouraging a truer, more consistent roll. It doesn't offer quite the same amount of forgiveness as the PING Anser, but the unique aesthetic, superior control, and rock-solid performance is practically a steal at this price.
This putter is made from 303 stainless steel, which is the same material of the putters that TaylorMade's tour pros play with. The milling process of this club comes after the casting, giving the club a very clean and crisp finish. Performance aside, this putter has a somewhat more premium look to it compared to its class mates.
As for the technical features, the grooves on the face have been implemented at a 45° angle, ensuring that putts roll more and skid less. This gives you superior control over the distance of your strokes.
Final Thoughts
A putter that's as solid as they come. The PING Sigma G Anser offers performance in abundance: its base design, which has really stood the test of time, comes together with a sprinkling of modern innovation, giving players the means to tidy up their green play.
You would be hard-pressed to find a more forgiving blade putter – especially at this price. Though a higher handicapped player would be right to consider choosing a mallet option, getting started with a beginner-friendly blade such as this one might be smarter in the long-run.
Of course, it is all down to personal preference. Try a few different putters out, and see what clicks – but we do highly recommend giving this one a whirl.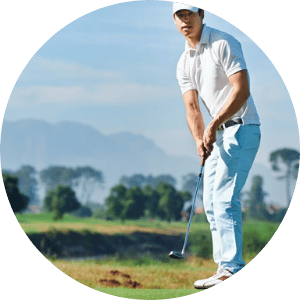 Nick Lomas is the founder of GolfSpan, an avid golfer, not quite a pro but has over 15-years of experience playing and coaching golfers from all over the world. His mission is to bring the golfing community a better experience then it comes to choosing the right golf gear, and finding the right set up for your game.