Finding the perfect driver isn't always easy. There's a lot of choice out there, and each model offers something slightly different. To help you out a bit, we present to you the Callaway X2 Hot Review- an in-depth look at a driver that could very much be worth your attention.
Things to Consider Before Buying a Driver
In an ideal world, we'd be able to decide if a driver was right for us by giving it a good old whack and seeing how far the ball goes. Alas, there's a bit more to it than that, and there are a number of factors we have to take into consideration when choosing our drivers.
Distance
The first and foremost indicator of a driver's quality. We get the driver out because we want to get the ball as far down the fairway as possible. It's the aim of the game, and hitting big shots just feels great.
Forgiveness
None of us, not even the best players in the world, hit the sweet spot everytime. Mis-hits in golf are as common as candy at Christmas, so it's important to have a club that can still play good shots even when you don't strike it out the center.
Loft and Launch
The best drives are the ones that climb steadily into a graceful arc, before falling and finding their place on the fairway. Having the right amount of loft contributes a great deal to your control, so it should always be taken into consideration.
Feel and Sound
As with all golf clubs, driver selection is a very personal choice. How a club feels in your hands might be different for other people, so you should trust your instincts on how good the club feels to hold and swing. Also take note of how good it sounds when it strikes the ball.
Adjustability
Rarely can a single golf club adopt a one-size-fits-all approach to design. To make up for this, many drivers come with toggles to adjust various aspects of the club, such as loft and weight distribution.
Looks
While we shouldn't judge a driver just by the way it looks, it's usually a pretty good place to start. Liking the way your driver looks is bound to have some impact on your performance.
When it was time for it to take its place on the shelves, this driver had big shoes to fill. Its predecessor, the Callaway X Hot, had been a resounding success, granting its users superior distances whilst maintaining full control. On top of that, the X2 had to compete with Callaway's immensely popular Big Bertha models, which were set to dominate the 2014 driving world. So, how did the X2 Hot measure up?
Very well indeed – and then some. Increased distance is the primary goal of this driver, and it has been achieved thanks to a slightly longer shaft and a large, lightweight titanium face.
This larger face is armed with a decent amount of forgiveness. The ball springs off the face even towards the edges, and there is subsequently a higher launch and a high amount of spin. If we were being picky, we would say that there is perhaps too much spin, but this has little bearing on the overall performance.
Looking down on the club as it was sat behind the ball was always a pleasant experience. The traditional Callaway chevron alignment mark looks right at home on the dark, sleek finish of the club head.
This club will probably appeal most to lower handicapped players who are looking to push greater distances off the tee. The longer shaft might feel a bit tricky for higher handicapped players to control, but there is enough forgiveness to make this club a viable option.
Features and Benefits
Large Face
The titanium face is four percent larger than its predecessor, and this is certainly reflected by the forgiveness on offer. But there is far more to this face than its size; it has an explosive feel and the ball blasts away after a solid impact.
Loft also comes very easily to this driver. The face accommodates a higher-launching ball flight, and the large sweet spot ensures a high enough ball speed to make it count. Callaway's promise of an extra 9 yards compared to the original X Hot driver seems to be well-founded: our average distance with this driver surpassed that of the X Hot.
OptiFit Hosel
Adjustability is pretty much a given with most modern drivers, but Callaway's OptiFit Hosel technology has been well-received ever since its inception.
OptiFit helps you to optimize your launch conditions by adjusting the loft and lie. The loft can be adjusted two degrees up or one degree down, and you can also set the face to neutral or draw. The changes are rather subtle, and probably not significant enough for higher handicappers to worry about, but advanced players will likely relish the opportunity for fine-tuning.
Aldila Tour Blue Shaft
Measuring at 46 inches, this shaft has been incorporated for one very simple purpose: more distance. That extra half-inch makes a big difference; our swings felt big and impactful, and the club head speed generated really helped to push the ball those extra few yards.
The catch, of course, is the risk of losing control. Longer shafts tend to be a bit more punishing when swings go awry. Thanks to the forgiving face, this didn't become too much of a problem, but it's definitely something that should be taken into consideration if you are still finding your swing.
The shaft is available in light, regular, or stiff, so you should be able to find something that suits your style.
Alternatives
If you think that this might not quite be the club for you, fear not! Here are some other drivers which you could check out.
If you're looking to achieve a similar distance to the X2, only with a slightly shorter shaft, the Cobra Fly-Z might be the club for you. It utilises a Speed Channel Face, which has been specifically engineered to increase ball speed. Cobra has also removed weight from key areas of the face and hosel areas to allow for a larger sweet spot.The ball really flies even on off-center hits, but it is not quite as forgiving as the X2.
Though it might not fly quite as far as the X2, the Nike Vapor Flex driver can absolutely hold its own. The sweet spot has been widely reported as being smoking hot, providing an explosive impact with a satisfying sound. The spin rates are, on average, lower than the X2, giving it greater performance in windy conditions.
It would be remiss not to talk about the looks of this club: lime green, silver, and black come together to form a very attractive driver.
3. Callaway Big Bertha Alpha
For greater adjustability, look no further than the Callaway Big Bertha Alpha. This was the first driver to incorporate an adjustable center of gravity – the 'Gravity Core' can be manipulated to achieve your perfect loft settings.
Beyond that, it's a real powerhouse of a driver. Ball impact is satisfying, and it flies quickly off the face. The tall face offers a decent amount of forgiveness left to right, but even more so bottom to top, meaning you can worry less about how high you are teeing up.
Final Thoughts
This is a well-built, good looking driver that has all the necessary trappings for big, satisfying hits. It feels great to hold, and if you can handle the longer length of the shaft, you should be able to pull off some impressive swings.
Game-improvers will appreciate the forgiveness of the large face, as well as the ease with which this driver can get a decent loft. It might not be the best choice for beginners, but using this driver to develop your swing could prove to be very fruitful.
If your game is advancing, and you're keen to achieve some extra yardage out of your drives, then the Callaway X2 Hot Driver could be the very thing you've been searching for – check it out here.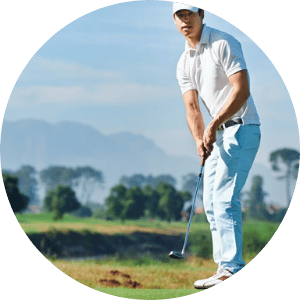 Nick Lomas is the founder of GolfSpan, an avid golfer, not quite a pro but has over 15-years of experience playing and coaching golfers from all over the world. His mission is to bring the golfing community a better experience then it comes to choosing the right golf gear, and finding the right set up for your game.